Only Uhuru can kick us out of Jubilee, Murathe says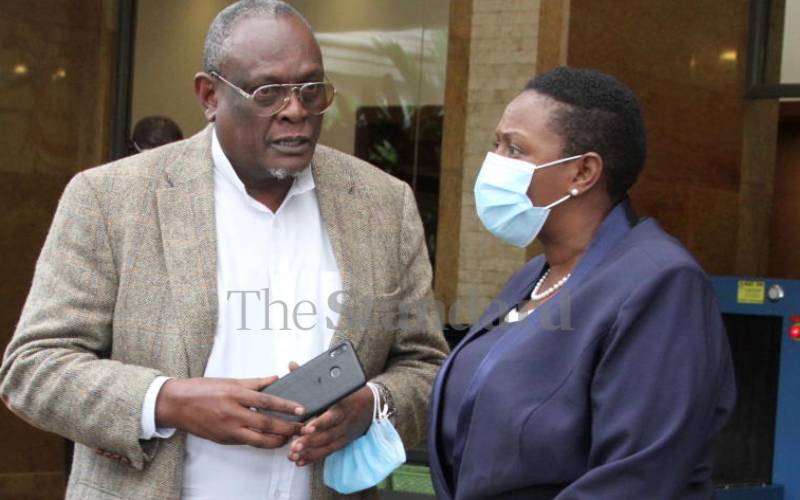 Jubilee vice-chairman David Murathe has dared MPs calling for the ouster of top officials to exit instead of using them as a scapegoat.
He said the interim officials take express instructions from President Uhuru Kenyatta on every decision and he is the only one who can kick them out.
Jubilee Secretary General Raphael Tuju and Mr Murathe yesterday said they cannot allow a few elected leaders to take charge of revamping the party at the expense of other members.
It has emerged that Jubilee Aspirants Forum has written to the ruling party to be incorporated in revitalisation of the outfit ahead of 2022 polls.
But some sitting MPs are said to be opposed to the inclusion of the aspirants.
The remarks by Murathe and Tuju were triggered by a meeting convened in Nairobi by MPs Kanini Kega (Kieni), Sabina Chege (Murang'a), Ngunjiri Wambugu (Nyeri Town), Jude Njomo (Kiambu Town), Ruth Mwaniki (Kangema), Mary wa Wamaua (Maragwa) Gichuki Mugambi (Othaya), Simon King'ara (Ruiru) and Kabinga Wavayo (Mwea).
This even as a report indicated Kega, Chege and Wambugu have been earmarked for disciplinary action.
During the meeting, Chege called for removal of Tuju and Murathe from the party leadership.
"We are the elected leaders, and we are the people who take responsibilities. We cannot wait for those in office to make decisions on our behalf," the Murang'a Woman Rep told the meeting.
Kega vowed to ensure an overhaul of the party leadership.
"That is why we are saying we remove dead woods from grassroots. We will do it up to the top level. Anyone not working in the interest of the party must be removed in this process," he said.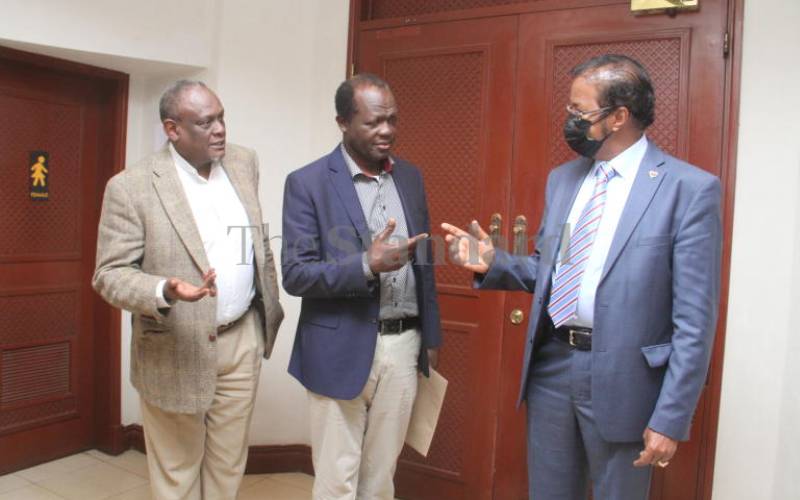 But Murathe told them off and challenged them to face the party leader.
"We are interim officials and if they have a problem with us they just need to call the party leader to get rid of us. We are only responsible to the party leader. We take our briefs from the party leader," he said.
"We cannot allow one group to monopolise the running of the party. They cannot purport to want to run the business of the party at the exclusion of their competitors. We welcome their proposals but not at the exclusion of everyone else because we cannot allow that to take place. And if they are looking for an exit, they should not use us as a scapegoat," added the Jubilee vice-chairman.
Murathe noted that in Mt Kenya, nearly 80 per cent of sitting members do not return to Parliament and it would be detrimental to allow them to control the planned restructuring without involving aspirants.
"So you are telling me to stick with the 20 per cent members to the exclusion of the 80 per cent? No that cannot happen," he said.
"If it is about Tuju and myself they should be clear but we will not allow them to exclude their potential competitors," he added.
Tuju acknowledged that Jubilee Aspirants Forum wrote to the party seeking to be involved in the restructuring process.
He said the matter will be tabled before the National Management Committee (NMC) to decide the way forward.