Gideon Moi: BBI will help in rebuilding the economy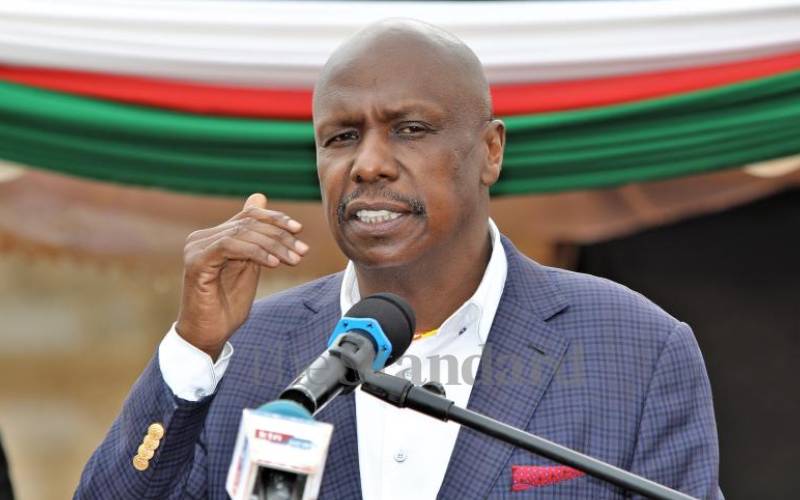 Baringo Senator Gideon Moi has expressed optimism that the Court of Appeal will overturn the High Court judgment that stopped the Building Bridges Initiative (BBI) process.
A seven-judge bench is expected to deliver a verdict on the appeal on August 20.
Gideon said BBI, besides creating extra constituencies, will open a window for rebuilding the country's economy that has been hard hit by the Covid-19 pandemic.
"You should pray that BBI goes through so that it opens ways for more representation. BBI will also leverage economic fortunes," he said.
Gideon was speaking during the funeral service of a family friend, Willy Kipchilat, in Ngata, Rongai Constituency, Nakuru County.
The Constitution of Kenya (Amendment) Bill 2020 seeks to create 70 additional constituencies. However, the High Court on May 14 ruled that the move would alter the structure of the current Constitution.
Majority of the counties and Parliament had already voted in support of the Bill.
"The country is currently going through tough economic times intensified by the pandemic and we need to put resources in the right areas. BBI had a clear structure of enhancing social-economic development of this country," Gideon said.
He urged the public not to be emotional about politics and avoid those that bring about tension.
"Politics come and go, and you should not be emotional about things you are not in control of. Politics should not define how people relate, especially since everyone has a vote," Gideon added.
He said while some political gatherings draw large crowds, they do not specifically translate to votes.
"Let not crowds dupe you to believe that some people have a large following in political rallies, they might be attending to see if they have tails. It is only people who have the votes that can decide on who they elect," he said.
Gideon mourned Kipchilat as a courageous, reliable, dependent and humorous man who touched many hearts, and a great businessman.
"Willy was a great person who impacted many lives. We can keep his legacy and memories alive by following the virtues he lived by and taught us," Gideon said.
Mogotio MP Mathew Tuitoek called on the government to increase the rollout of Covid-19 vaccines in remote parts of the counties, noting that coverage is still very low.
"The accessibility of the Covid-19 vaccine is still low despite mortalities rising. The government should consider rolling out more vaccines," Tuitoek said.
Former Baringo South parliamentary aspirant Cynthia Kipchilat said there was a need for more research on vaccines to help people with underlying conditions.
She urged the government to also take stock of deaths, including of people who had been vaccinated.
"Despite vaccination, we have witnessed cases of people with underlying issues succumbing to the virus when they contract it. There is a need for more research on vaccines that will reduce mortalities on people with underlying conditions," Kipchilat said.
Nairobi Securities Exchange Chair Kiprono Kitony called on politicians to create room for development after elections.
"The challenge that exists is that most politicians go back to campaigning as soon as they are voted into office. Politicians should create room for development as per their agenda," Kitony said.
Download the BBI Judgement by all seven Judges - Civil Appeal No. E291 of 2021