Moses Wetang'ula struts boldly in Ford Kenya one year after coup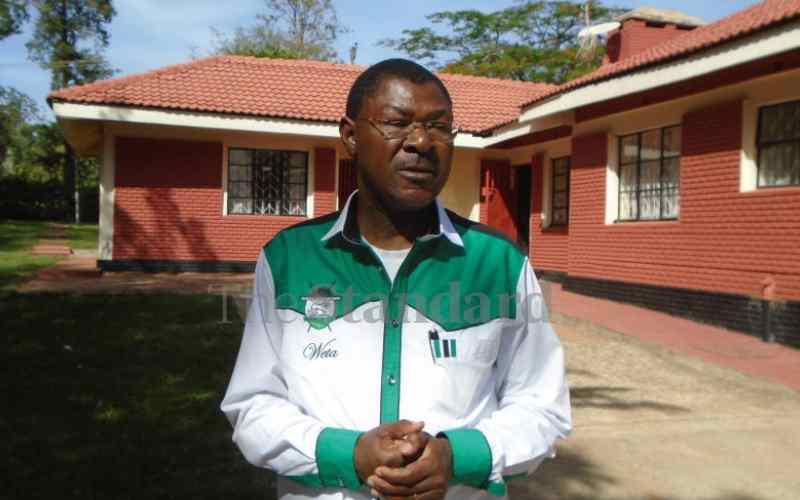 Thirteenth months since Tongaren MP Dr Eseli Simiyu, in his capacity as Ford-Kenya secretary-general, attempted a coup to dislodge Party Leader Moses Wetang'ula, it is the latter who is calling the shots.
Wetang'ula speaks for the party, selects party candidates in mini-polls, endorses future leaders for the party and to a good extent, has put the key coup plotters - Eseli and Kanduyi MP Wafula Wamunyiyi - on the defensive.
In the surprise move by Eseli's group, Wamunyinyi was named interim Ford-K party leader. At the time, NEC accused Wetang'ula of gross misconduct and inability to build a strong, cohesive party.
Eseli opines that "Wetang'ula is running the party like personal property. He does not respect the party constitution and as party leader, has not called a National Delegates Conference since 2011".
While holding party elections has been the bone of contention, Wetang'ula says that "Ford-Kenya will be holding its NDC next month (August). Grassroots and national elections are also going to be held. Plans are underway and all logistics in place to conduct this exercises".
He says this is critical because the "party has plans to field candidates at all levels, including the presidency".
Eseli is, however, sceptical of this promise. "Wetang'ula is simply buying time. The party constitution stipulates that elections must be held every four years, something Wetang'ula has not observed". In essence, Eseli is of the view that Wetang'ula cannot be trusted.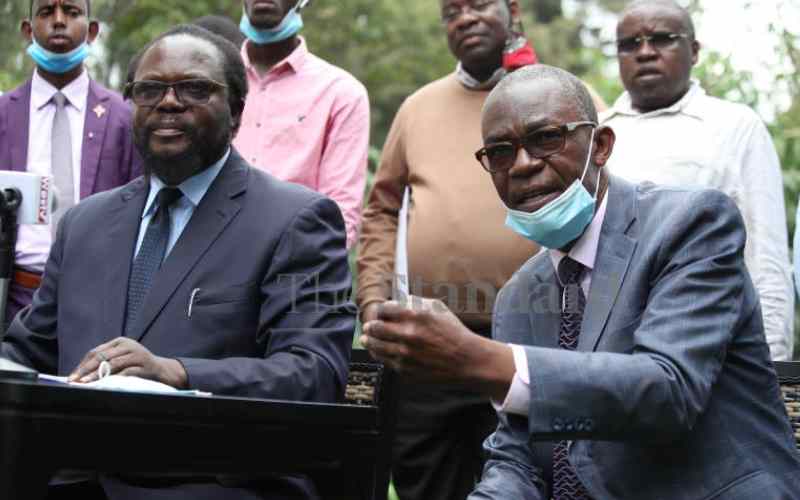 He avers that "Wetang'ula has been running on the goodwill of the party to build his national image but has failed to grow the party. As Ford-Kenya leader, he has been wavering between extremes. One moment he toys with the idea of throwing his weight behind Deputy President William Ruto. The next moment he is with Musalia Mudavadi and before you know it he is declaring interest in running for the presidency but nothing comes out of it".
However, Wetang'ula says he will be the party's presidential candidate next year. In response to whether there is the possibility of Ford-K teaming up with Amani National Congress, Wetang'ula says the two parties are "working towards a common goal. We are talking, and if the talks come to fruition, one of us will be the flag bearer".
After the attempted coup of May 2020, Wetang'ula scoffed at the alleged change of office, claiming it was done in violation of the party constitution that stipulated he could only be ejected through party elections. In his capacity as the party leader, he later declared that the coup plotters had been expelled from Ford-Kenya. He later made a declaration that they will not be allowed to run on Ford Kenya ticket. "Staging a coup in the party amounts to gross violation of the party constitution", he said.
"In the Kabuchai and Matungu by-elections, Dr Eseli Simiyu, Wycliffe Wangamati and Wafula Wamunyinyi campaigned for UDA candidates. You saw what happened. We steamrolled them. The grapevine has it that Wangamati has formed another political party. That means they are not part of us," Wetang'ula declares.
Asked whether Eseli is still the party secretary-general, Wetang'ula said: "No. Eseli is no longer the SG and is not qualified to speak on behalf of the party. The case in court notwithstanding, he and his co-conspirators were removed by a party organ that has the power to do so. Millicent Abudho is the acting secretary-general and has been executing those duties since last year. We have even notified the Independent Electoral and Boundaries Commission and the Registrar of Political Parties of the change".
On this, however, a question lingers. If the conservatory orders reinstated the status quo, isn't it ironical that Wetang'ula should go ahead and expel the so-called party renegades? Yet, as a lawyer, Wetang'ula may know his way around such issues that puts him in good stead.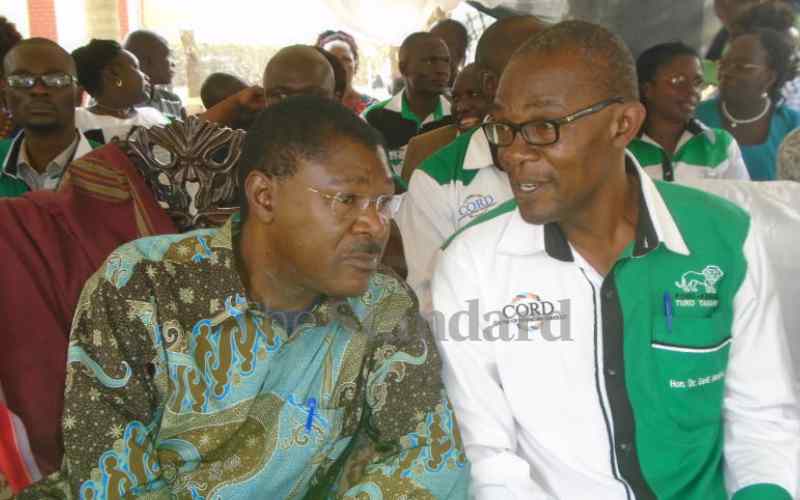 Ford-Kenya appears to be a troubled party characterised by infighting that has resulted in several coups. It came into existence in 1992 after internal wrangling broke up the original Forum for the Restoration of Democracy (FORD). Ford-Kenya's first leader was Oginga Odinga.
Its contribution to the fight for multi-party democracy in Kenya cannot be gainsaid. The demise of Odinga in 1994 elevated Michael Wamalwa Kijana to the position of party leader. At Wamalwa's death in 2003, Musikari Kombo became the party leader, a position Wetang'ula assumed in 2007 through a National Delegates Congress election.
Whether Wetang'ula has a firm grip on Ford-Kenya and commands a large following in Western Kenya is debatable. Whereas some people would swear Wetang'ula and Ford-Kenya are formidable, Eseli scoffs at that idea.
"In Kakamega County with 12 constituencies and 60 wards, Ford-Kenya has one Member of Parliament and two elected MCAs. In Bungoma where there are nine constituencies and 45 wards, Ford-Kenya has three MPs and 18 MCAs. In Trans Nzoia, there are two MPs. Where is the solid support in these numbers".
According to Eseli, plans to replace Wetang'ula as the party leader are still on. "Wetang'ula is holding onto office through conservatory orders that restored the status quo after last year's changes. He blocked an NDC meeting that would have been held last year, but he will be removed. The public should not be misled into believing the case was settled out of court."