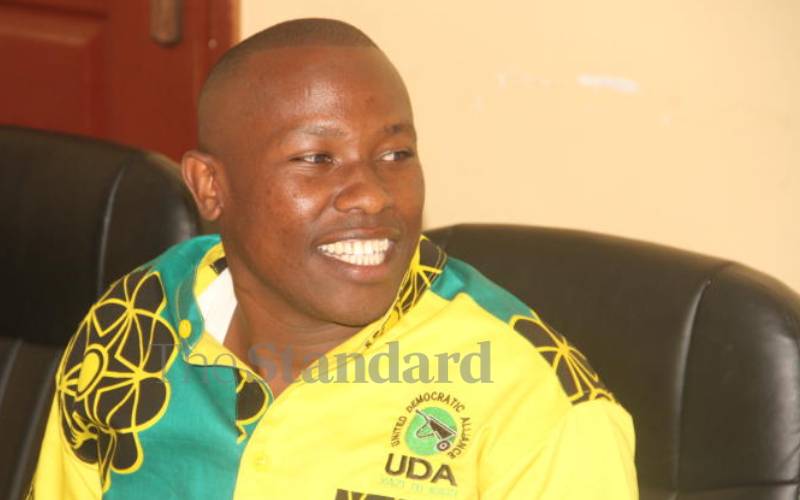 The United Democratic Alliance (UDA) candidate John Njuguna Wanjiku has won the Kiambaa parliamentary by-election.
Njuguna overcame stiff competition from Jubilee Party candidate Njama Kariri to emerge victorious with 21,773 votes.
Kariri garnered 21,263 votes in a contest that went down to the wire.
One hundred and fifty-four (154) polling stations streamed their results by Friday, July 16.
Njuguna took the lead from the start to the end, with Kariri narrowing the gap on several occasions. At one point during the tallying, the difference in the contestants' votes was only 92.
The total votes counted were 43,700, representing a voter turn-out of 45.51 per cent. Kiambaa had 96,020 registered voters.
The third-place finish went to Gichia Evans Wainaina of People's Party of Kenya, who got a measly 80 votes.
The results were announced by the Returning Officer Peter Muigai.
Njuguna will replace Paul Koinange, the former holder of the Kiambaa parliamentary seat. Koinange died on March 31, 2021 while receiving treatment at a Nairobi hospital.
President Uhuru Kenyatta eulogised Koinange as a "steadfast leader".
"He was a leader and gentleman whose undivided focus was the peace, stability and progress of our country. Through the National Assembly Departmental Committee on Administration and National Security where he was the Chairperson, Hon Koinange advanced legislation and policy interventions that sought to create a peaceful, stable and tranquil nation," the President said in a statement on March 31.
Koinange, who was Kiambaa representative to the National Assembly since 2017, succumbed to Covid-19 complications aged 72.
UDA's win in Kiambaa marks an important milestone to the Deputy President William Ruto-linked party, with pundits speculating that the victory strongly indicates the inroad Dr. Ruto has made into President Uhuru Kenyatta's Mount Kenya backyard ahead of the anticipated 2022 General Election.
During the campaigns, John Njuguna, alias Ka-Wanjiku, pledged to empower the small and medium enterprises in Kiambaa Constituency.
"Our campaign in Kiambaa has been about the empowerment of ordinary citizens, especially small business owners," he said on Facebook on Wednesday, July 14.
In another message posted to the social media platform, Njuguna said he was hopeful to win the parliamentary race "by God's will", and not through human intervention.
Posting a picture of himself kneeling on the pulpit, the MP-elect said on Tuesday, July 13: "Some trust in chariots and some in horses, but we trust in the name of the Lord our God."