Raila makes fresh forays in Coast to regain foothold, erode DP gains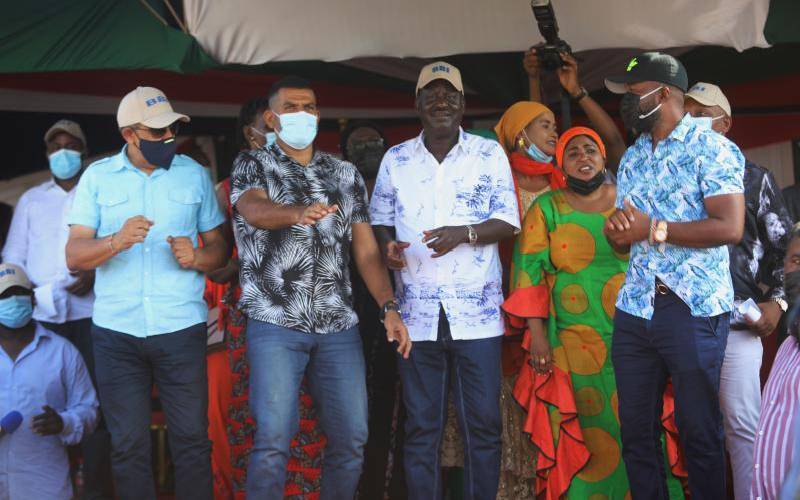 ODM leader Raila Odinga's increased political forays in the Coast is slowly undoing the inroads that Deputy President William Ruto had made in the region.
In the past two years, Ruto had made several onslaughts in the Coast that earned him a number of MPs who shifted alliance from ODM to his Tanga Tanga wing of Jubilee.
But opinion is now divided as to whether Ruto still commands the clout he enjoyed in Coast up to last year after a host of ODM legislators joined his camp. His forays to the Coast have been slowed down by the Covid-19 restrictions while his political nemesis Raila appears to have increased his visits to the region.
In the past three weeks, Raila has addressed two public rallies and held several meetings in Mombasa and Malindi in what is seen to be attempts to form a new crop of allies.
Raila addressed Mombasa residents when he commissioned a Sh130 million-health facility at Coast General Hospital and returned to launch the NHIF medical cover for Mvita constituency.
He stayed for two days to meet his allies and other delegations.
Significantly, some of the so-called ODM rebels that had joined the Ruto camp have either returned to ODM or gone silent in their campaigns for the deputy president.
But Ruto still enjoys support from MPs Aisha Jumwa (Malindi), Owen Baya (Kilifi North), Khatib Mwashetani (Lunga Lunga), Mohamed Ali (Nyali) and former Mombasa senator Hassan Omar.
He has, however, lost the support of Kwale Governor Salim Mvurya and his deputy Fatuma Achani, who appear to have returned to Jubilee faction allied to President Uhuru Kenyatta.
Raila has commanded a big following in the Coast region since 2007 and Ruto has been jostling to penetrate his rival's political base.
Wiper's Taita Taveta Governor Granton Samboja's gravitation towards ODM and Mombasa Jubilee politician Suleiman Shahbal's shift to Raila's camp last month appears to have raised ODM's stakes in the region and slowed down the momentum by the Ruto camp and the proponents of the Coast-based political party.
On the other hand, the Hustler Movement has gone quiet for months at the Coast in what is seen as waning interest for Ruto. The last time he was in the region was in May when he met his lieutenants and professionals at a Kilifi hotel. It was his whirlwind campaigns in the region that saw his preferred candidate Feisal Bader clinch the Msambweni Parliamentary seat last year, previously held by ODM.
Ruto was last in Coast to receive an economic agenda document dubbed "The Coast regeneration plan" that was crafted by professionals as a blueprint for the region.
"I am ready to sign a charter with the people of Coast on what needs to be delivered during my administration," Ruto had declared in Kilifi.
The wish-list presented to Ruto touched on revival of collapsed factories, blue economy, value-additions, special economic zones, tourism and agriculture. "A lot of input must come from the people. The plan will be taken to the wards and villagers because it is about them and not us politicians," Ruto had pledged.
Political analyst Maimuna Mwidau observes that there were no clear signs of the DP having political influence in the Coast except pockets of support by some elected leaders in Kilifi and Kwale counties. She further noted that Ruto mainly enjoys the backing of Jumwa, Baya and Mwashetani from Kwale County.
According to her, Ruto was yet to break into Mombasa Governor Hassan Joho's political fort, despite enjoying support from Omar and Ali.
Mwidau adds that Governor Mvurya, who was a vocal DP supporter, appears to have cooled off his pace following rivalry with Mwashetani.
This is after Mwashetani's declaration to vie for the Kwale gubernatorial seat against Achani, whom the governor has endorsed.
But on the up side, the analyst says Ruto's pledge to turn around fortunes of the Coastal residents has caused a lot of murmurs among the masses in the region, and this could in the long run sway Raila's traditional voters.
"Apart from Kwale and Kilifi counties, the DP has not penetrated the other regions of the Coast. But his campaign agenda has been causing murmurs among the people and this has the potential to move the masses," she noted.
Mombasa lawyer Yusuf Abubakar argued that various factors could be behind Ruto's apparent illusion to gnaw into Raila's political turf.
He claims that Raila has abandoned the push for land reforms and lack of appointments for Coast people after the handshake and these grievances could tilt his popularity.
"The Building Bridges Initiative has also been a matter of major contest between Raila and Ruto in Coast and across the country. When the BBI Bill was approved by many county assemblies, it raised Raila's popularity. But when it was rejected by the High Court, Ruto's profile was raised. I think if elections are called today, Ruto can give Raila a hard time in the Coast," Abubakar said.
He argued that Raila's "isolation" by his NASA partners has also dealt him a political blow.
Behind the scenes
Former Kisauni MP Anania Mwaboza claims that four of six MPs in Mombasa County were in Ruto's camp but were operating behind the scenes, adding that they will soon openly join the DP.
"A lot has been happening behind the scenes and I can tell you for a fact that four MPs are backing the DP although one of them is not very serious. They have been talking to me. So I can confidently say that the DP has influence in Mombasa County," Mwaboza argued.
He also claims that many legislators in Coast were waiting for the appropriate time to publicly shift to Ruto's camp.
He argues that the deputy president was targeting the masses more with the pro-poor bottom-up economic plan.
"The DP's focus is on the masses and he has made inroads at the Coast. It is wrong for anybody to claim that Ruto's influence is on the decline. It is on the rise and many are warming up to him," he insisted.
The former assistant minister for Immigration claimed Ruto's Coast campaigns have been slowed down by the Covid-19 restrictions but will resume in due course.