Court rejection of BBI was 'personalised attack against President Uhuru'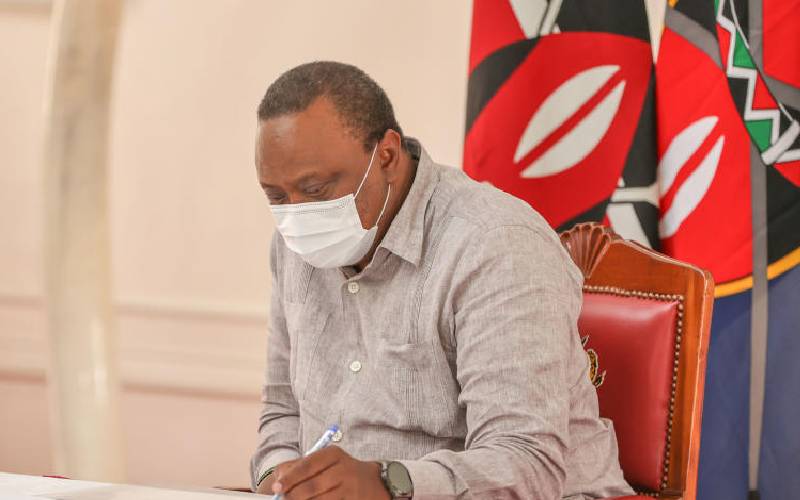 The Court of Appeal has heard that the High Court erred in stating that the BBI was an initiative of President Uhuru Kenyatta.
Solicitor general Ken Ogeto said the claim was a "fundamental factual error on the part of the judges".
He said nothing in the constitution prevents the President from originating an amendment proposal to the constitution.
Ogeto said even so, in the present case, President Kenyatta never played the role the judges claimed that he did.
"Judges ignored the evidence as to who the promoters of the bill were."
He said judges were keen on personalised attacks against the person of the President.
"To them, the facts and the law did not matter, nor the sovereign will of the people."
Ogeto added that BBI was a popular initiative but judges ruled against it in a personalised attack against the President, which he said "climaxed in legally unfounded solutions".
The High Court in February blocked the Independent Elections and Boundaries Commission from subjecting the Building Bridges Initiative Bill to a referendum, throwing the Constitution changing process in limbo.
The AG is aggrieved that the five-judge bench found that President Uhuru has breached Chapter Six of the Constitution. He argued that if the High Court's verdict is allowed to stand, the President and the presidency would be open to a multiplicity of legal proceedings thus impairing the performance of his functions.
He argues that the court conferred powers meant for Parliament and independent commissions. According to him, the court set grounds for any person to initiate legal action against the Head of State without evidence that he had acted against the law.
The AG says will prove to the Court of Appeal that the judges made a mistake in indicting the President when there was another judgment by Justice John Mativo and which cleared his participation.
He cited the participation of the former Prime Minister who is not part of the government but was one of the main drivers of the BBI process, with the President appearing occasionally to drum up his support for the initiative.
He argued that the learned Judges of the High Court erred in law and in fact in holding that the President has contravened chapter 6 of the Constitution, and specifically Article 73(1)(a)(i), by initiating and promoting a constitutional change without reference to any evidence on record and contrary to the doctrine of separation of powers thereby usurping the role of independent commissions and Parliament in determining questions on violations of Chapter 6.
The President, Raila, BBI Secretariat, Attorney General and the electoral commission have claimed the five High Court judges got it wrong by attempting to overturn the people's will to amend the constitution.
Download the BBI Judgement by all seven Judges - Civil Appeal No. E291 of 2021