Rise in chopper numbers as politicians get ready for 2022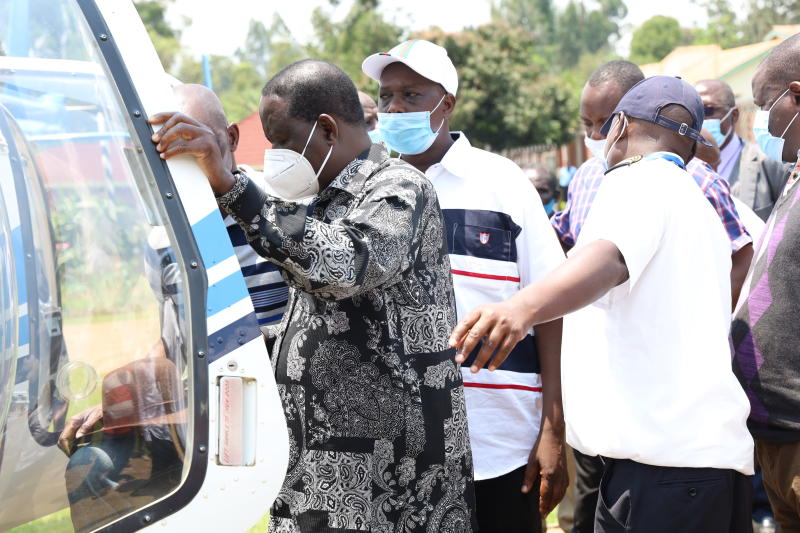 Time and speed is of the essence, as the clock ticks towards the search for President Uhuru Kenyatta's successor in next year's General Election.
The urgency on the political scene is increasing by the day as politicians burn the midnight oil crafting strategies to clinch the six political seats that will be up for grabs in the August 9, 2022 elections.
With the waning time, it appears Flight Number 2022 has already taken off, with politicians' war chest moving to the skies as they acquire helicopters to crisscross the country in the hunt for votes.
Kenya Civil Aviation Authority (KCAA) Director-General Capt Gilbert Kibe says the last three years ending 2020, have seen 67 helicopters registered. Last year alone, KCAA registered 40 choppers.
This roughly translates to about two choppers a month, with last year seeing a slight bump to about three in a month. In the past, the numbers were 24 and 17 annually.
Although KCAA does not give a breakdown of how many politicians own the choppers, sources within the aviation sector say majority of those who have imported them are politicians eyeing their use in the next polls.
Figures from KCAA, the body that registers aircraft and certifies aviation professionals, show the number of choppers does increase towards an election. "Before we reach election time, I am sure they will be more than 100," said Kibe earlier in the week.
The spike in registration, he said, usually begins about a year to six months before the elections.
"But it is for a limited period… about six months before election or at most one year. If elections are in August (2022) we expect the numbers to start rising in August this year," he said.
Deputy President William Ruto, ODM leader Raila Odinga, Amani National Congress leader Musalia Mudavadi, and Baringo Senator Gideon Moi are among politicians who own and frequently use choppers.
Others said to own choppers are retired president Mwai Kibaki, businessman Jimmy Wanjigi, former presidential candidate Peter Kenneth and former Mathira MP Ephraim Maina. Former ministers the late Nicholas Biwot and Simeon Nyachae also owned helicopters.
According to aviation sources, one of the latest importations by a politician eyeing the presidency next year is a custom-made seven-seater airbus compressor with night vision. The politician owns four other AS 350 Eurocopters.
Others said to have acquired the flying machines are a former Cabinet Secretary, a former governor, a sitting governor, and four MPs. One political formation allied to a top politician counts 19 choppers in its reserve, while another one has nine.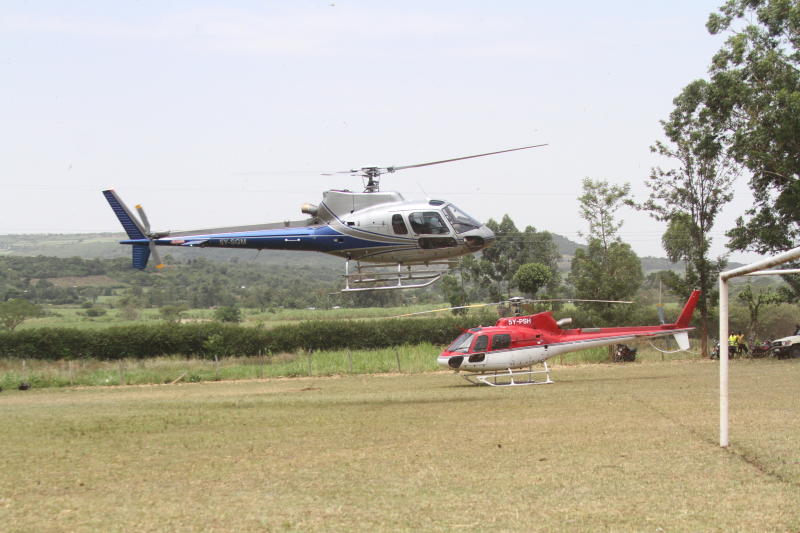 While importation of choppers has increased, their use in campaigns goes beyond their speed and convenience, to that of status and a symbol of opulence.
"Initially, it was only for the exclusive few who would get into Wilson Airport and ask to hire a chopper. Nowadays, there are several governors, MPs and even political aspirants who book to fly. Some even call in late in the night or drive into the airport and ask for a chopper to fly immediately," said one pilot.
He said at any given time, there are a number of choppers locally hired by politicians. Hiring a chopper is, however, does not come cheap, and is calculated per hour and according to seat capacity.
The standard charges for hiring a three-seater is between Sh129,420 and Sh161,775. If the capacity is more, the price will range from Sh183,345 to Sh215,700.
In the run-up to an election, the rates go up due to demand.
Hiring might be more affordable than buying. A Bell 407 chopper manufactured in 2001, for instance, goes for Sh199.5 million as listed by avbuyer.com if bought from South Africa. This price is not inclusive of flying it in or payment for registration with the KCAA.
There are, however, other models that go for more.
KCAA says that most choppers originate from South Africa. "It is just like hiring a car. If you want a Mercedez S500 you will not go looking for it in Kitui, for example. You will come to Nairobi because that is where you are likely to get it. It is the same with choppers because most owners are from those rich countries like Nigeria and South Africa," Capt Kibe said.
But as a measure of ensuring the country's skies are safe, KCAA does not allow just any plane to be registered.
Choppers do not only ferry politicians. Earlier interviews with senior helicopter pilots Captain Evans Sigilai and Capt Thomas Samoei indicate that tourism and medical evacuations are also part of their demanding jobs.
"Currently, we get many politicians hiring the planes for political meetings. There are also medical evacuations and filming done by the choppers, unlike in the past where it was seen as luxury. It is increasingly becoming a necessity for those who want speed and comfort," said Capt Sigilai.
The popular brands of the France made aerospatiale 350B3e Ecureuil eurocopters that had their first flight in 1974 cost Sh230 million for ex-factory price, but the cost of transportation, assembly and insurance push the overall cost to about Sh300 million.
The Bell 407 is a high performance chopper with the ability to cruise at 133 kts/246 km/h.
Its spacious cabin has five club-passenger seats with an additional passenger seat in the cockpit in single pilot operations.
A helicopter consumes fuel worth between Sh30,000 and 50,000 per hour of jet A-1 fuel while parking per night is at Sh10,000.
"Depending on the experience of the pilot, the insurance for a chopper ranges from Sh8 million to Sh10 million. They charge more if the pilot has few hours," said Captain Samoei, who together with Sigilai, are ex-airforce pilots who have flown for over 25 years.
The election cycle that often sees a spike in demand for aircrafts is one businessmen have also mastered. Ngatia Macharia, who runs a car hire business that extends to choppers, confirms this spike.
If this was an ordinary year for Macharia with the General Election set to be held next year, then he would already be seeing spikes in demand.
"But you know with Covid-19, there have been a lot of restrictions so there is not much movement by air," he said.
Capt Kibe also detailed the elaborate process involved in registering the aircraft.
"There are certain aircraft types that are banned in this country and those are generally the Russian types. However Russians are producing aeroplane now able to be registered even in Europe," he said.
If the plane is noisy, or has a poor safety and maintenance record KCAA does not allow it into the country.
The process of acquiring an aircraft whether through purchase or lease starts with a letter of intention to the authority. The letter details specifications of the aircraft like model. If the aircraft model is a common one in the country then the process will be less hectic.
"If it is an aircraft whose type is already registered in Kenya, it is quite easy so we will give you an approval to import it. But before we do that, we would inspect so you need to give us details of where it is, its status of its air worthiness, maintenance…," said Kibe.
"Is it flyable? Can we see the latest certificate of airworthiness? Depending on the situation we may wish to send an inspector or two to where the aircraft is and inspect it before we allow importation or even registration," explained Kibe.
For the very common types of aircraft, however, the owner can bring the aircraft into the country for inspection.
In cases where the aircraft being imported is not common locally, then KCAA sends its pilots, inspectors and engineers to the country of manufacture for training before the process of registration takes place.
And age is just but a number when acquiring an aircraft.
"For an aeroplane, we do not have a limit in terms of age. You can import a 30 year aeroplane. Our primary concern is the state of maintenance of that particular aircraft," he said.
This meticulousness in acquiring aircraft is also replicated in ensuring competency of pilots.
While Kibe admits that some crashes have been blamed on pilot error, taking proficiency checks ensures the right person is in the cockpit.
This involves an assessment of a pilot's skills in a particular area or scenario usually done using simulators.
"We do get instances of pilot errors. We are human beings. We can make mistakes same way a car can have an accident. We are not perfect all the time but as long as pilots do proficiency checks every year, we are reasonably assured that you are a safe pilot but still a human being," he said.
There are nearly 12,000 pilots in the country according to KCAA records.
These pilots are categorised as student pilot, private pilot, commercial pilot and airline transport pilot.