Why Kituyi's 'personal touch' with voters may limit outreach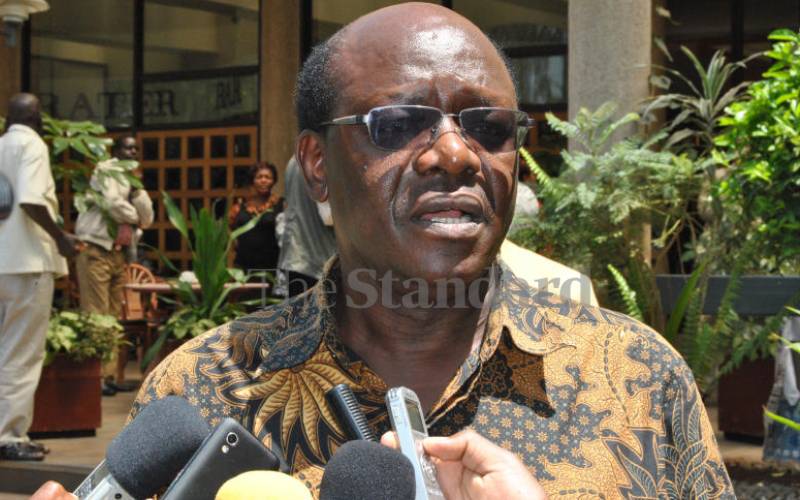 Taking advantage of the political lull at the Coast after Mombasa Governor Hassan Joho halted political rallies in the counties, presidential hopeful Mukhisa Kituyi last week quietly traversed villages in Kwale, Mombasa and Kilifi counties, conducting face-to-face campaigns.
Dr Kituyi campaigned under mango trees while seated on logs, in small eateries or classrooms talking of how he would fix the economy like Mwai Kibaki did; fighting corruption and limiting borrowing from foreign lenders. His week-long campaign took him to Matuga and Msambweni in Kwale, Likoni, Kisauni, Jomvu and Changamwe in Mombasa and Kilifi South in Kilifi County.
Kituyi who returned from Geneva in February where he served as the Secretary General of United Nations Conference on Trade and Development (UNCTAD) also conducted lectures at the University of Nairobi - Mombasa campus and the Technical University of Mombasa. He was also hosted on a local radio station and later met youth leaders at Mombasa's Swahili Pot Centre.
He has been consulting the masses ahead of the unveiling of his political party and manifesto later this year.
But there have been varied reactions to his campaign model with some feeling that it is time-consuming and that he ventured into the presidential race late. Others feel he has scored big with the face-to-face engagements.
Former Msambweni councilor Idd Masemo who was among the 28 opinion leaders who met Kituyi last week, said yesterday that they were impressed by the personal touch the former Trade minister had put into his presidential bid.
"Dr Kituyi came up with a very unique approach to political engagement. He touched us when he sat down and reasoned with us. We were able to ask questions and answered back," Masemo noted.
However, he said the presidential hopeful has limited time and holding small group discussions may not allow him cover the vast region.
"To be effective, he should have at least three meetings with opinion leaders in each of the four sub-counties in Kwale. This can take him up to one month. In the country, this approach requires at least two years of being on the campaign trail every day and he has no such time," argued Masemo.
Pwani University lecturer Halim Shauri said the focused group discussion has been found to be a powerful tool for collecting and dispersing information because it allows for a feedback as opposed to the rallies where the masses have no opportunity to raise their concerns.
Prof Shauri, however, noted time was a challenge when it comes to covering a vast region.
"Face-to-face engagement allows instant feedback and bonding. It gives the perception that one is human and he can also feel the audience. It's cheaper to organise and is effective in collecting information and getting feedback. You also get the perception of simplicity, humbleness and caring. It is more effective compared to political rallies except that time can be a challenge," Shauri argued.
He noted that although one speaks to some groups of opinion leaders, they influence masses in their localities as opinion shapers.
Prof Shauri argued that the ODM rallies in last year's Msambweni parliamentary by-election attracted huge crowds, but the candidate lost because of the lack of feedback from the masses. Mombasa youth president Alfred Otieno said they loved the humility of the politician following the personal engagement at the Swahili Pot Centre.
"It was a rare treat to engage a presidential hopeful at a personal level," he said.
Mr Karisa Kombe from Kisauni said after listening to Kituyi on radio, he noted the difference in his approach to fixing the economy by cutting down borrowing and dismantling corrupt cartels. Mzee Kushinda from Matuga said Dr Kituyi personal engagement with opinion leaders was impressive, saying he was a good bet for the people.
"We are used to being treated to political rallies and we find this a break. We want politicians to engage us and find out what we want them to do for us," he said.
Suleiman Goa from Mwamlai in Miritini, Jomvu Sub-county, said he was surprised to be invited to participate in the engagement with Kituyi.
"I am used to being transported to Tononoka grounds in Mvita to attend political rallies where politicians talk and go. It is a major break to be asked to give our opinion on national issues in such an engagement," he said.