Jubilee, UDA in war of words over MPs monthly subscription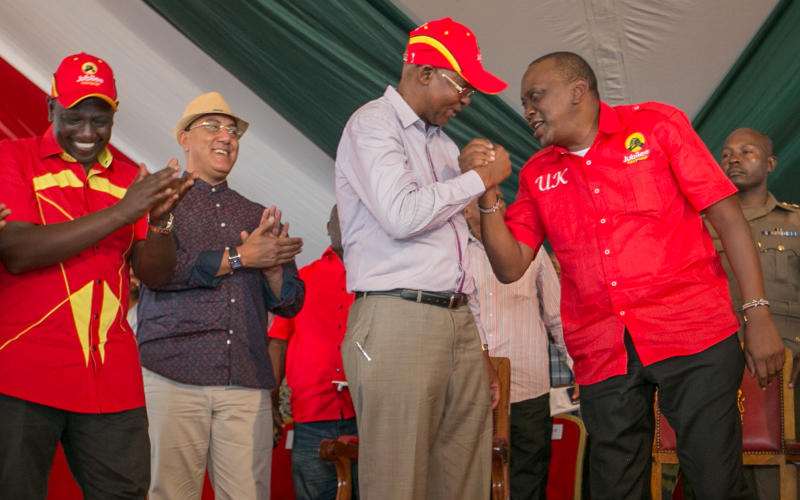 A war of words has erupted between President Uhuru Kenyatta's Jubilee Party and the United Democratic Alliance (UDA) associated with Deputy President William Ruto over monthly subscriptions by MPs.
Jubilee secretary general Raphael Tuju warned that they would not hesitate to punish members who go against the requirement.
"We are still receiving all the money because if they don't then there are consequences to it. They can form a welfare or whatever village grouping but they have to pay," he said.
He maintained that monthly subscription was not just a matter of the party but a requirement anchored in the Political Parties' Act.
But MPs allied to UDA said they have no reason to continue paying the Sh10,000 monthly subscriptions to Jubilee since they do not intend to run on the party ticket in next year's elections.
A section of MPs on Thursday claimed they had reduced their contribution from the required Sh10,000 to as low as Sh1,000.
Kikuyu MP Kimani Ichungwa said he was now remitting Sh100 while his Kimilili counterpart Didmus Barasa revealed that he gives Sh1,000. Baringo North MP William Cheptumo claimed he had also reduced his contribution but declined to state the figure.
Mr Barasa said there was no reason for them to continue channeling money to Jubilee when they were being targeted for their association with Ruto.
The MP termed the contribution exploitative since the ruling party also receives millions of shillings from the Registrar of Political Parties fund.
"If I have no plan to run on the Jubilee ticket, then I have no business paying the money. We are not supposed to pay them even a single cent," said Barasa.
He noted that contribution to political parties only made sense when the outfits were not getting money from the exchequer. Only parliamentary parties are funded by taxpayers' money. Currently, Jubilee and ODM qualify for the funding.
"I reduced my contribution to Jubilee. The issue of Sh10,000 is not cast on stone, one has latitude to review," said Mr Cheptumo.
Mr Ichungwa claimed some leaders decided to reduce the monthly subscription due to lack of accountability for the millions collected from members and the exchequer.
"A lot of members are contributing Sh100, Sh500, Sh1,000 from a high of Sh10,000. There were concerns that this party has failed to adhere to the Political Parties Act. This is the largest recipient of the political parties' fund; funds that have never been accounted for," he said.
"It is my money, not their money. I am elected by the people not by the party," added the MP.
But Tuju and National Assembly Clerk Michael Sialai said they were not aware of any MP who had reviewed their monthly subscription. However, Sialai disclosed that some MPs instructed his office to remit certain amounts to a welfare group. He clarified that the MPs were still remitting the required amount to the party.
"I have no information of any member stopping their contribution. The first time they wrote to me was four months ago requesting to make contribution to Jubilee and another welfare group," said Sialai.
He added: "I cannot deduct or stop without a member writing to me."
Tuju has on numerous occasions stated that the MPs signed a commitment as required by the law and are bound by this obligation.
The development comes a day after Jubilee climbed down on its onslaught against Ruto's allies, who have since switched allegiance to UDA.
Jubilee Vice-chairperson David Murathe on Tuesday told The Standard that President Kenyatta's wing had decided to go slow on UDA but insisted that they have to continue remitting their subscription.
"Some people felt they should be allowed to grow their party and we also grow ours. We don't expect them to be involved in our party activities. We also don't expect them to be involved in our activities. We will let them, but they will have to continue making subscriptions to the party," said Mr Murathe.