Mvurya meets parties in search of Coast unity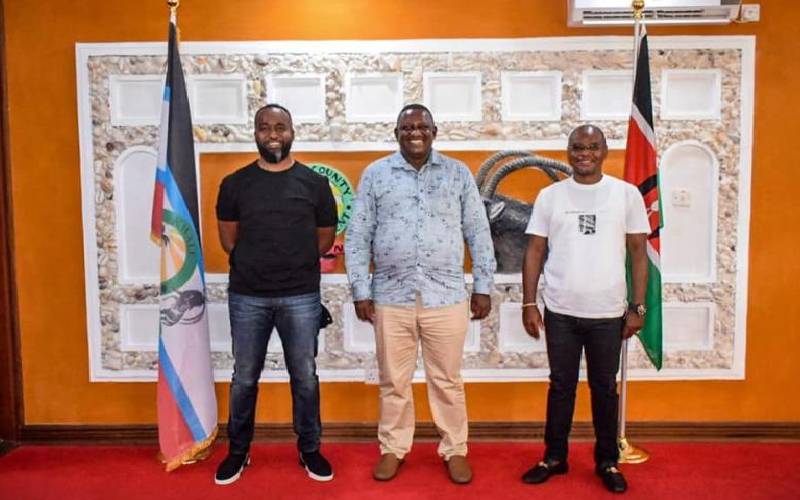 There is a fresh glimmer of hope for the elusive Coast unity after Kwale Governor Salim Mvurya agreed to revive talks between fringe political parties in the region.
Mvurya has now joined hands with his Kilifi counterpart Amason Kingi and Mombasa's Hassan Joho in a bid to establish a political vehicle that would assist them to negotiate with other parties. This is even as his two counterparts who are eying the presidency in 2022 try to consolidate support from the region.
Mvurya has been holding meetings with smaller parties in search of united support even though it is not clear whether the three governors would support one of their own in the 2022 presidential race.
Next move
His latest meeting was on Friday when he met Umoja Summit of Kenya (USPK) chairman Matano Chengo and his Shirikisho Party of Kenya (SPK) counterpart Abdulkadir Mwinyi. They sought his intervention to sustain the consultations that appeared to have hit a brick wall two weeks ago at a retreat in Kilifi County.
Mvurya said he was keen to see that the unity talks succeed before he declares his next political move.
"I am going to consult with Governor Kingi and other leaders in the region to ensure that they are on board."
"We will continue to talk and meet. Other regions are uniting and there is no mistake for us to also unite," he added.
A week ago, Mvurya met Kadu Asili leaders led by Chairman Joshua Kombora and Secretary-General Jimmy Ngala in his office and expressed support for the unity talks. And yesterday, Chengo said they were happy that Mvurya was showing immense interest in the unity talks just like his Kilifi counterpart.
"We hope to achieve unity with this kind of interest shown by the two governors so far," Chengo said, adding that they hoped Joho will soon come on board. Joho has already declared that he will hold rallies to bring the more than 1.7 million voters in the region together to support his presidential ambition.
"We suspended our campaigns because of Covid-19 but the journey has already started," said Joho, adding that he will hold campaigns countrywide.
Kingi did not respond to our calls yesterday, but a close ally said he was determined to unveil a political party that he will use to contest for the presidency before June. The three governors have, however, held several meetings, including one on March 24 when they met President Uhuru Kenyatta at State House, Nairobi.
Leaders of the Coast parties rushed to consult with Mvurya after the Kilifi retreat resolved that they would go for a coalition and not a merger as Kingi had preferred earlier. The Kilifi governor is yet to respond to the resolutions made at the retreat, which was attended by representatives of the Republican Congress (RC) Party of Kenya as observers.
Following the resolution, the governors and the party chiefs have the option of supporting one of the existing parties to field candidates in the Coast region or forming a new political party.
Ring-fence region
RC, the party associated with Tourism Cabinet Secretary Najib Balala, is the fourth in the Coast consultation but has been silent after it merged to form the Jubilee Party in 2017.
In an interview, the party Secretary-General Ibrahim Khamis said the region was ready for a party that could bring the people on board, and that he fully supported its search.
Mvurya has joined his Kilifi counterpart in pushing for the possibility of the three parties coming up with a formula where one of the political outfits could be used to ring-fence the Coast region.