Nancy Gitau: The iron lady fixing Uhuru's succession arithmetic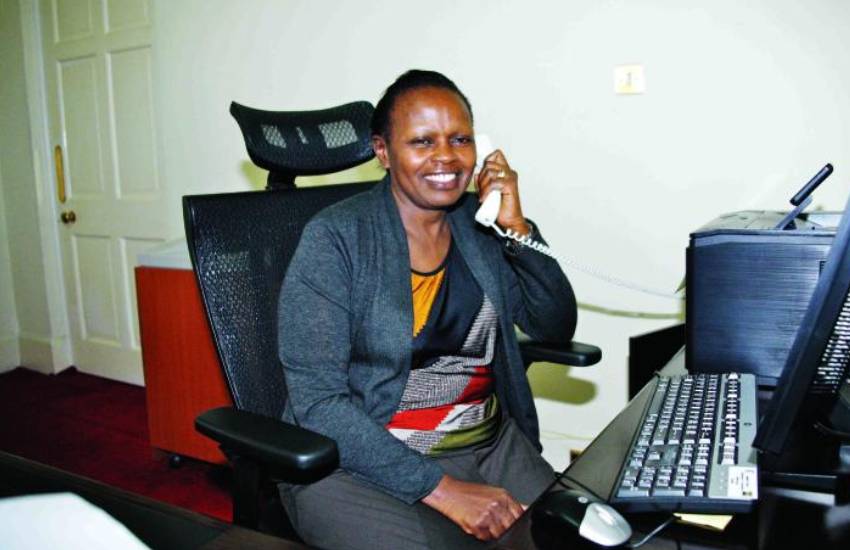 In Nancy Gitau's world of high voltage political consultancy, every little move she makes points to something greater than herself.
Unobtrusive, she is – in act and conduct – Kenya's political pangolin. We are only just beginning to understand the impact of her moves on political organisation and reorganisation of the country.
Not given to verbose and public appearances, Gitau's firm and stealth character has earned her the trust of regimes of former President Mwai Kibaki and now President Uhuru Kenyatta.
Rare in circulation, good at recreating herself and a master planner who relishes in creating compelling spectacles, Gitau has mastered the art of stirring up the waters to catch the fish, in the process becoming the most consequential political advisor to the president.
She had been roped into high-voltage politics back in the run-up to 2007 General Election by yet another powerful figure in retired President Kibaki's government – head of policy and strategy Stanley Murage.
Before that, she had headed the democracy and governance unit of USAid for many years, growing it to a behemoth that came to be the unofficial Kenya's fifth arm of government after Parliament, Judiciary, Executive and media: the civil society.
"She's a master strategist. I would say she's gifted in that space. Those who begrudge her prowess often come around to appreciate it, usually at a cost," Makueni Governor Kivutha Kibwana told Sunday Standard.
Prof Kibwana worked with Gitau in two instances. The first time was in the 90s while he worked at Centre for Law and Research International and Gitau was a progamme officer at USAid. Much later in 2008, they worked together at Kibaki's government as advisors.
Take a quick survey and help us improve our website!
Take a survey
From the two stints, Kibwana came to appreciate the quality of her person. He describes her as a humble, polite, brilliant and a "first-class public officer" only comparable to former head of civil service in late President Daniel arap Moi's government, Dr Sally Kosgey.
"She's that kind of person whose work speaks for itself. She needs zero validation. She's very effective in her work and you wouldn't even come to know it. Only the people close to her know the impact of her work," said Kibwana.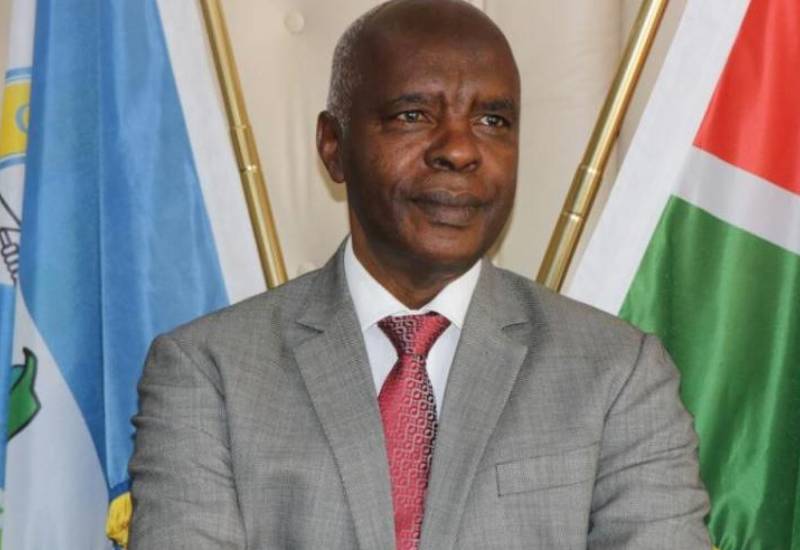 Gitau came to the centre of government in 2007, a volatile period in Kenya's history. The Kibaki government was smarting from a referendum loss, and intelligence briefs were unanimous that violence was inevitable after election.
NIS briefs had demonstrated that a Kibaki win would lead to a combined Opposition disputing the results, a possible attempts to form a parallel government, spontaneous ethnic clashes and heightened activities of criminal groups.
A Raila win, on the other hand, was going to be relatively better, unlikely to generate bigger violence especially if PNU conceded. Kibaki diehards could, however, reject results, putting the president under siege to the extent of refusing to hand over power, leading to civil strife, according to one scenario.
Gitau's genius went on an overdrive to bring stability, working behind the scenes alongside Murage to rope in then Official Opposition leader Uhuru Kenyatta to consolidate Kibaki's grip on Central, while also luring willing opposition, including Kalonzo.
It is at this time, it is said, that she earned the full trust of President Kenyatta, and his influential brother Muhoho Kenyatta.
Key role
"A master strategist. When her story is written one day, history will judge her kindly. She has had a key role to play on many reforms and progress achieved by the Kibaki and Uhuru administrations," a prominent woman leader who has worked with her says.
Gitau played a key role in shaping the flow and direction of the mediation talks of post-2008 era, and the political fights that ensued. One of the earliest victims of this period was Martha Karua, a Cabinet minister who had come a long way with Kibaki.
Despite playing a star role in 2007 politics, Karua was edged out of the victory table. A minister in the grand coalition government told Sunday Standard that the political purge entailed a series of carefully choreographed happenings that eventually saw Karua leave the government.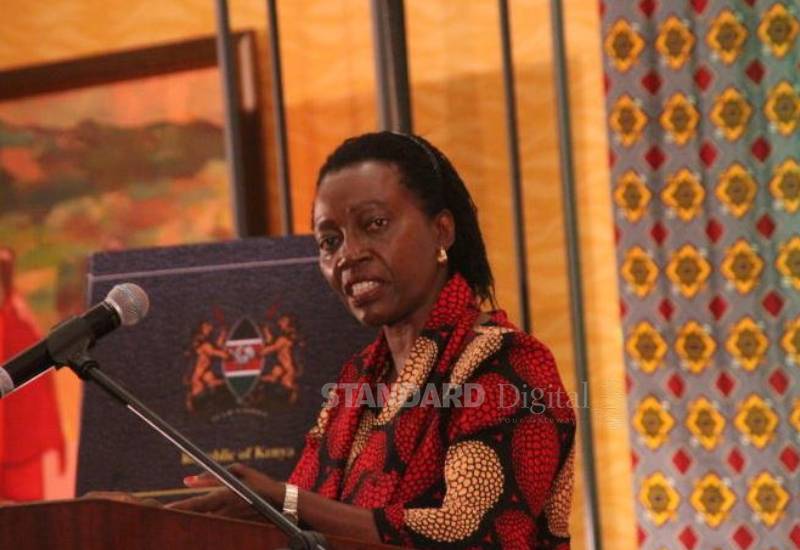 "Two advisors were planted into her docket, one on constitutional affairs and another on cohesion. Prof Kibwana, and Prof Kindiki, I think. Karua refused to work with them, and frustrated them until one of them quit," the minister said.
It is not clear if Gitau had anything to do with this scheme, and many others which saw Kibaki perfectly retain a lopsided power-sharing government with Raila. This included the strategic removal of substance and meaning from Raila's status as a PM, the sustained attempt to checkmate him with VP Musyoka and elevation of Kenyatta into a key player in succession politics.
Her genius would come into play again in 2012 when Kenyatta and Ruto, two protagonists in the 2007 violence, united in Kenyatta's favour and to Raila's disadvantage.
She was a key architect of the The National Alliance (TNA) dynamite that blew the country wild in 2013. From 2011, she had financed what was informally known as "deep end" operational centre in Lavington that grew wings for the budding party.
She populated it with youngsters, the likes of Johnson Sakaja, Dennis Itumbi, Patrick Ngatia, Eric Ng'eno, James Mureithi and David Nzioka among others, creating a new generation of operatives who continue to dazzle in backroom politics.
"She's good in spotting talent and the executors as opposed to the actual doing. But there is more to her. She understands the role and value of money in politics. She's the political soul and heart of MK, and not necessarily UK, because the latter is a politician," a source who took part in inception and evolution of TNA says.
Gitau is credited with coming up with the "tyranny of numbers" theory which was thrust on the intellect of Mutahi Ngunyi for publication and broadcast. Through it, Gitau's side won over a protracted fight with Kibaki's old-time insiders to have Kenyatta-Ruto cede the presidential ticket to an alternate and compromise candidate.
A subdued Kenyatta, who had already given up the ticket, roared back, emerging at a TNA event to blame "dark forces" for the momentary lapse in political judgement. History was made on that day at Mbagathi.
"I think one or two weaknesses are around her secretiveness, and blind loyalty. She is not into fashion and make-up, but is very keen on family," another close ally told Sunday Standard.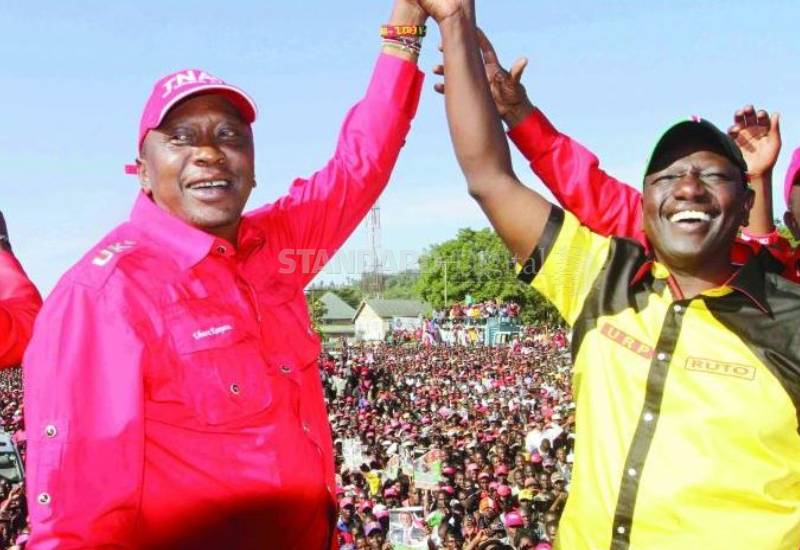 The 2013 first term of President Kenyatta saw hardball being played in local and international politics. The very civil society Gitau nurtured in the 90s was whittled down to a shell.
At the UN, Kenya was playing rough, almost decapitating the ICC, with Kenyatta describing it as a tool of declining imperial powers. The strategy worked and the cases against Kenyatta and Ruto were dropped.
Again, Gitau's role, if any, in these moves is hard to figure out given her backroom status. What is clear, however, is that at the prime of her power in Kenyatta's first term, she ran into serious turbulence.
Her name cropped up at the ICC courtroom, in connection with allegedly fixing Ruto's witnesses.
"She's good at what she does. A decent lady, quiet, hardworking and taking very keen interest in matters governance," former co-advisor in President Kenyatta's executive office Abdikadir Mohamed said.
The pair worked in adjoining offices at State House for about two years. Gitau left a year earlier in 2016 while Mohamed left in 2017. Just like the many people we tried to talk to about her, Mohamed was guarded.
"We worked at a very formal level so I wouldn't know about the claims that she's behind a lot of things happening. That would be rumours. The best person to talk to would be the gracious lady herself," he said.
Her leaving the Kenyatta government in 2016 was strategic. Earlier that year, a team of her associates at the political wing, working with consultants outside the country, summoned the DP for a political briefing at a command centre opposite State House.
Weigh down
"He was impressed on the need to drop and downplay the brand UhuRuto, on the basis that it was weighing down the ticket in some places. They were considering replacing him with Kalonzo Musyoka to balance out the image thing," a source at the heart of Jubilee's first administration said.
By this time, Gitau had also fallen out with the DP over the ICC claims. She had switched offices from State House to her private offices in Kileleshwa, all in order to ease tensions.
She was a reluctant facilitator of the 2016 merger of Jubilee parties, and quit just before the deal was sealed. Her last months in office were spent stymying constitutional changes as it was believed in her circles that it was not the right time for the change.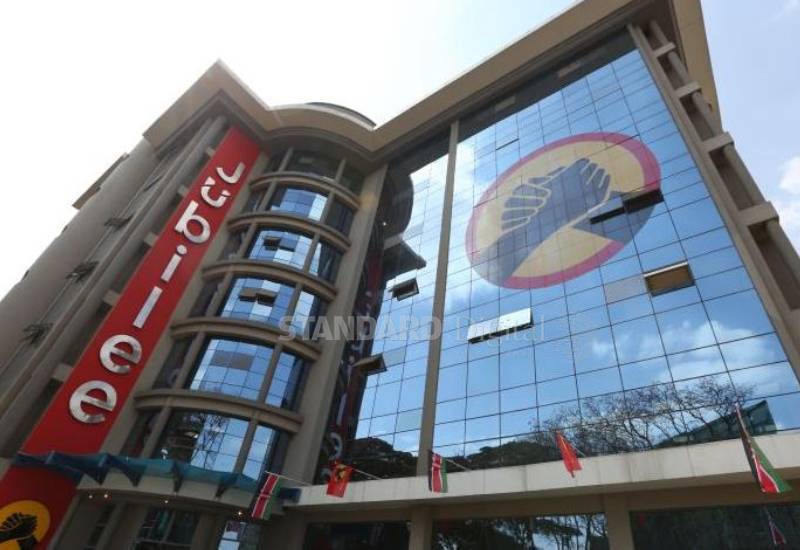 Okoa Kenya, of Coalition for Reforms in Democracy (CORD), hit a dead end, with parallel initiatives such as 'Punda Amechoka, Punguza Mizigo' giving it a run for its space.
"I will quit the government beginning August this year. I wrote to his Excellency the President earlier in the week about this matter. I am leaving the government a happy woman. I have accomplished a lot since February 2007," she told this paper on the week she quit.
She was right on the Jubilee merger. It proved chaotic, ill-thought-out, rushed and disastrous in the end. Some parties, like PNU, were forcibly incorporated; others such as Kalembe Ndile's TIP TIP whined endlessly about false promises, while many others reassembled in some other forms.
She moved on, but never quite moved. She just went under, becoming the connection between the political agenda of the government and the ministries. In 2018, the handshake happened, some say with little or zero involvement of her brains.
But she came back, albeit informally, to guide the handshake agenda, the Building Bridges Initiative, including the political assault on Ruto. David Murathe, the voluble Vice Chairman of Jubilee, did the talking for her camp.
New power structures emerged, Ruto was isolated and the purge in Jubilee picked up in earnest. The reggae dance of changing the Constitution went on an overdrive. A pattern of creating regional kingpins and striking the shepherd to scatter the flock took shape.
"She's very good at creating and sustaining lobby groups. She is in love with the idea of elders' programmes for political work, and takes direct interest in it," another source said.
She is also said to have played a significant role in Embrace Movement of BBI, the Kieleweke move to neutralise Tanga Tanga and the crafting of the agriculture reforms to win back Central to Kenyatta side.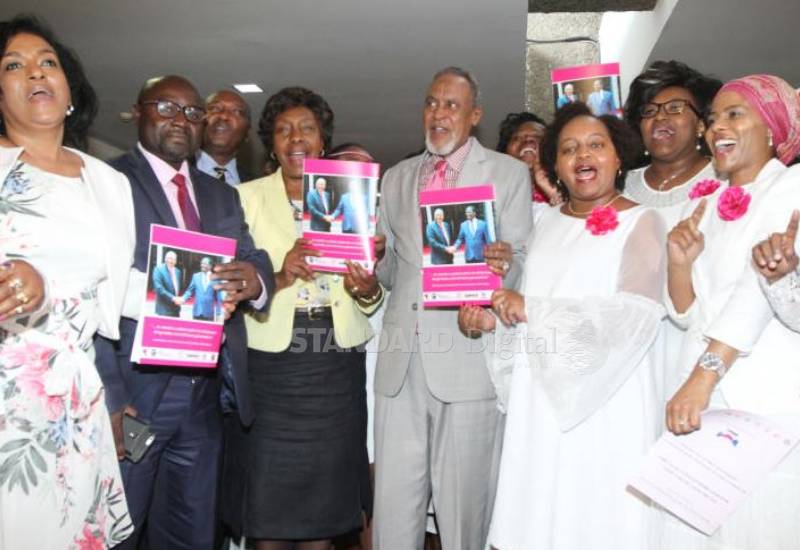 A top-ranking Jubilee official described her as a well-trained and experienced political scientist, calm in her approach.
Unbalanced conclusions
"Her main problem is her personal dislike for Ruto. It would be best if she were to adopt the attitude of a scientist, who looks at a subject without emotion and appreciates the political undercurrents of the moment," he said.
Tanga Tanga bigwigs in Central celebrate her for deploying "traditional policy interventions" to undercut Ruto in the region, which they contend boomeranged leading to his endearment to the masses.
Former Majority Whip in the Senate who recently joined the Tanga Tanga brigade Kang'ata Irungu was cautious on his comment on Gitau.
"I do not want to comment on my friend Nancy because we have previously worked very closely on many issues until we fell out politically on my strong support for Ruto. I consider her a friend," he said.
But Kang'ata affirmed the one theme which ran across all people we interviewed for this story, of Gitau's eye and support for talent.
"She was among the few top Jubilee advisors who believed I could win the senatorial race and she really supported me. For that, I am eternally thankful, but my support for Ruto has been consistent and it supersedes everything," he said.