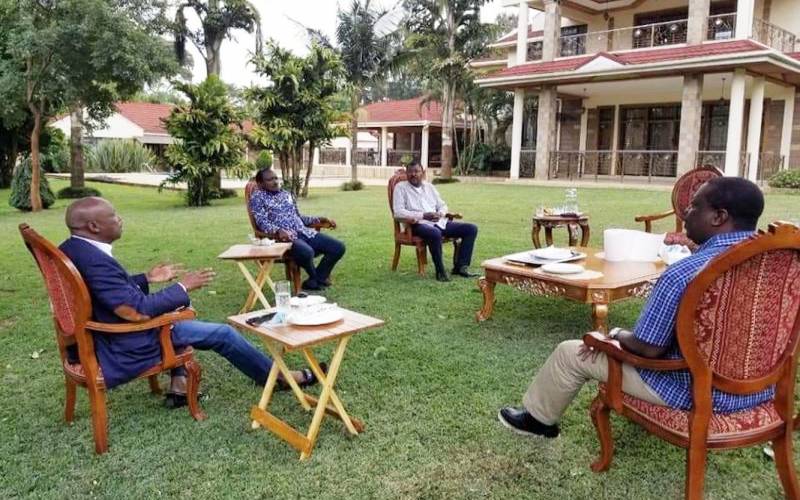 Amani National Congress (ANC) leader Musalia Mudavadi has hinted at bringing on board ODM leader Raila Odinga in crafting a new political alliance for next year's elections.
Mudavadi yesterday said One Kenya Alliance was open to working with the former premier, bringing a new twist to President Uhuru Kenyatta's succession battle amid claims of a scheme by State machinery to isolate Raila.
He also disclosed that the four principals in the new formation have agreed to go out and bring more political figures in creating a bigger alliance for the next battle.
The emerging alliance brings together Mudavadi, Wiper's Kalonzo Musyoka, Kanu boss Gideon Moi and Ford Kenya leader Moses Wetang'ula, and is said to have the blessings of the president.
Mudavadi cautioned that the new formation will not entertain personality discussions, but talks around how to address national issues affecting the common mwananchi.
"This is an emerging conversation, and if Raila feels that this is a conversation he buys into, we have no problem working with him," he said in an interview.
"But let's try and divorce it from the personality cult. What I have always told Kenyans is, can we grow out of a personality cult and start talking about issues. If you share our ideals, you are most welcome."
He said the new alliance, whose vision is of a better country, was ready for President Kenyatta's endorsement.
"The formation is an emerging process. We want it to be an all-inclusive alliance and to have all Kenyans to be part of it and to buy the vision. We want to have an economy that works for all Kenyans. We want to create jobs. We are going to seek out other leaders from across the country," said Mudavadi.
"If the ideas are for the benefit of the country, I don't see why the president cannot support such an idea. The president has his agenda of the Big Four to deal with. Some of them may converge with this emerging alliance."
The suggestion to re-unite with Raila comes barely months after Mudavadi, Kalonzo and Wetang'ula crafted the new alliance in protest against political betrayal by the ODM leader.
The four are partners in the National Super Alliance (NASA) that sponsored a Raila-Kalonzo ticket against President Kenyatta and his deputy William Ruto in the 2017 General Election.
Reneging on their pact
The trio have accused Raila of reneging on their pact of backing another party for the presidency after they supported him in the last contest. But Raila has rebuffed the demands, saying it was premised on the alliance winning the top seat.
It also comes weeks after Deputy President William Ruto also indicated he was open to working with Raila for purposes of the next elections. Ruto said he and Raila share the push to have national political parties as opposed to ethnic outfits.
The latest development comes against the backdrop of a delicate balancing act for Uhuru to keep Raila under his fold as he juggles managing his succession by propping up other key players in the 2022 game plan.
Uhuru is perceived to be behind the One Kenya Alliance, a move that has occasioned jitters within Raila's inner circle, as they claim a scheme to isolate the former premier in favour of the emerging alliance.
A recent threat by some ODM lawmakers to sabotage the Building Bridges Initiative (BBI) and to work with Ruto in the next polls saw Uhuru renew his political bromance with Raila by tagging him along to launch government projects in Nairobi.
The president's dilemma in managing the two camps so as to deliver the constitutional amendments as well as influence who succeeds him has been compounded by the bitter fallout with his deputy, who has run away with over 100 Jubilee lawmakers, leaving him exposed in Parliament.
He is also concerned with a possible re-union of Raila and Ruto ahead of the next elections.
Mudavadi yesterday denied that the renewed political engagement between the Handshake partners had thrown them back to the drawing board to re-strategise their 2022 game plan.
"Our meeting at the weekend had nothing to do with President Uhuru meeting with Raila. We were basically taking tea while discussing how the lockdown has affected many Kenyans," said Mudavadi.
A photo of the four leaders with a fifth unoccupied seat triggered speculations that they were expecting a high-profile political figure to join them in the Saturday mid-morning engagement. Some even suggested that it was the president based on the sitting arrangement.
But Mudavadi described it as "classic speculation that Kenya is used to", stating that there was more than one extra seat since they were joined by some MPs.
He said there were attempts to create a narrative that the alliance can only succeed if backed by the president, adding that they plan to bring on board all leaders who share in their vision for a better country.
ODM Chairman John Mbadi said the party's 2022 game plan had nothing to do with Uhuru endorsing their presidential candidate.
He said as much as they may work with some of Uhuru's allies, they do not bank on his direct endorsement as it would come with incumbency baggage.
"Why do you people want to give Uhuru powers to decide who becomes the president in 2022? The Handshake was not meant to influence 2022 polls and we are not looking forward to an endorsement," said Mbadi.
"Outgoing president endorsing you is a baggage. We should not engage ourselves about whether the president is with this group or the other. It is you people of the media who bring this interesting angle to this succession. When he met Coast governors it was a big political issue. Does it mean that because Uhuru is working with Raila, he should not work with anybody else?"
The National Assembly minority leader said it would be counterproductive for Uhuru to try organise and manage his own succession.
Emerging rift
Cotu Secretary General Francis Atwoli said the Handshake partners were in control of shaping the country's political landscape ahead of the next polls.
He dismissed claims that there was an emerging rift between Uhuru and Raila over reports that the president could be backing the One Kenya Alliance.
"All these people who are talking about succession don't know what the Handshake partners are up to. The Handshake partners are in control of the country's destiny through the BBI," said Atwoli.
He said Uhuru was in no way scheming to undermine certain leaders while propping others to succeed him.
"The president has no problem with anybody and for the sake of BBI, he will talk to everybody. He is the president of the One Kenya Alliance and all the other groups. When people were thinking that there was a problem, there was no problem because they were talking," said Atwoli.
"Even the president going to visit Raila had nothing to do with politics. People were visiting him after he was hospitalised. I also visited him."