Lack of money hindering many from politics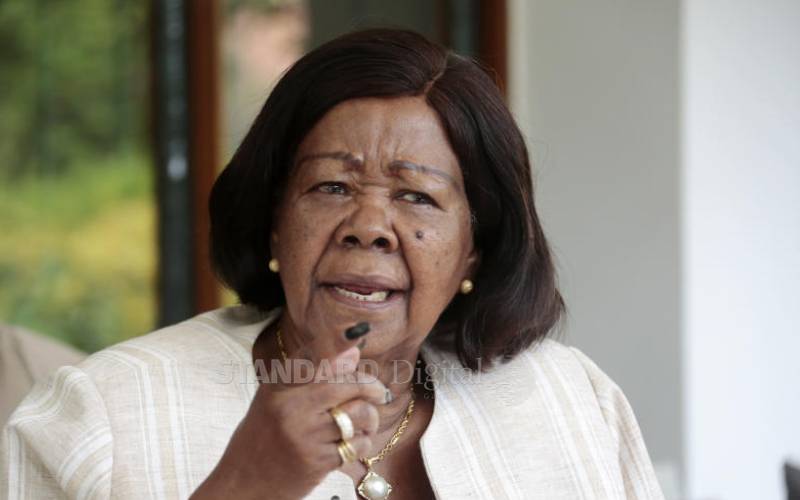 Former politician Nyiva Mwendwa has blamed lack of resources among aspiring women politicians in Kenya to be among reasons many women are not in political leadership.
She said this while speaking to The Standard at her Gigiri home in Nairobi last Tuesday ahead of International Women's Day.
"The issue that was and still is on the question of elections is lack of resources, especially during campaigns. Compared to women, men have money, which they can use to campaign during elections, while you find that a lot of women don't work or own properties and therefore you have to depend on the goodwill of other people for instance your husband if you are married," she said.
"He has to agree whether you have to enter into politics and use family resources or not," added Ms Mwendwa.
The solution to lack of resources, she says, lies in good education. "The good thing today, which has grown from my time, is that women have more resources although not as much as men. This is because, once you are educated and you get a good job, you learn to save and invest," said Ms Mwendwa.
She served as an elected MP for Kitui West Constituency between 1974 to 1979 and 1993 to 1997 for her first and second term respectively. She joined politics while aged 30 years in the early 1950s and retired from active politics in 2017while in her early 70s.
She recalls that during her time in Parliament, there were only about four women members including Dr Julia Ojiambo, Jemimah Gichaga - who was nominated, herself and a Ms Chemutai from Rift Valley. She says they faced discrimination and hostility as women in parliament. Men showed it by, for example, grabbing the receiver of the shared telephone off their hands while they were still speaking with someone.
At that time, she was in her 30s. "They (men) could even speak the uncouth language and there is nothing we could do because if you dared speak anything you would find yourself in trouble," said Mwendwa.
Inside the chamber (parliament), she said, it was better as they were given a chance to speak.
She also blames traditions or customs as another hindrance to women who want to venture into politics. "It's a belief in African culture that women are not supposed to be leaders and here you want to be an MP, Senator or Governor. I don't know any country in Africa where women are equal to men especially when it comes to leadership. It's always a man. Luckily, in a well-educated society, men are now seeing women as equal to them," said Ms Mwendwa. She remembers how her late husband encouraged her to go into politics, saying she is better than him.
Despite the challenges women face, she celebrates the achievements made so far by women in politics and leadership, including increased number of elected women in Parliament although not enough. Ms Mwendwa, who today says she looks after her investments in real estate and some coffee farming, laments that so many of today's young women are not ready to be advised as one of their failures.
"Today's women pretend to be a know-it-all - they will not take advice. We used to inquire a lot from Grace during our times but, today, it's difficult to advise young women. We cannot mentor them. Where I grew up, and in my childhood, you should not give unsolicited advice because the listener might get offended and they will not take it seriously," she says.