Success of BBI Bill proves it's reckless to count Uhuru out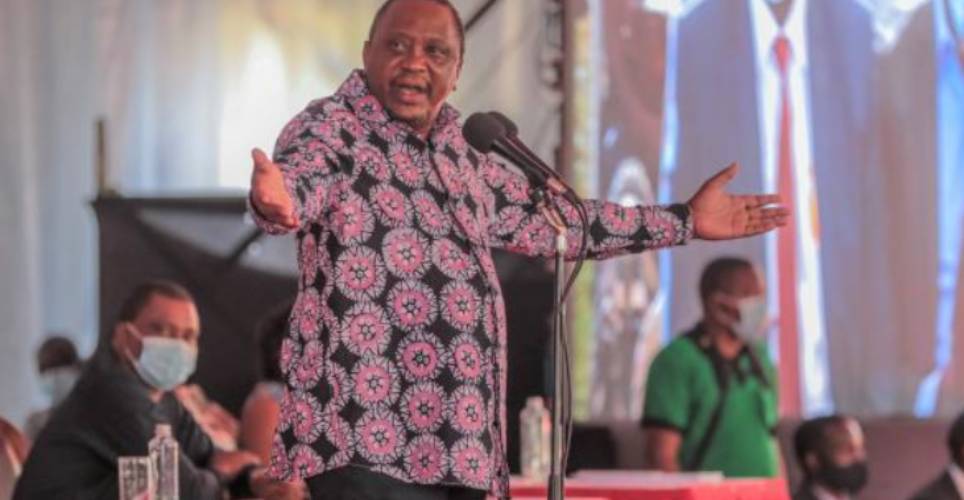 The overwhelming endorsement of the Constitution of Kenya (Amendment) Bill, 2020, by county assemblies despite widespread speculation that President Uhuru Kenyatta's pet project would face headwinds, is perhaps yet another surprise in the President's chequered political career.
It was even thought that the Bill, popularly known as the BBI Bill, would be rejected in his Mt Kenya backyard.
Writing on October 7, 2012, newspaper columnist Makau Mutua said: "There is nothing that shows Mr Kenyatta lives in a thoughtless utopia. He is a cold, calculating political animal. He knows what–and what won't fly."
In an interview before he was elected Speaker of the National Assembly, Justin Muturi, a long-time personal and political friend of President Kenyatta, said one quality of Uhuru he had noted over time is that he comes back with a bang after a daunting fall.
Uhuru and Muturi have been close friends from the 1990s. They met in Gatundu, the president's town village, where Muturi was a magistrate and Uhuru a horticulture exporter.
Muturi's analysis is proved by events in the president's political history. Uhuru's first venture into elective politics was in 1997 when he contested the Gatundu South parliamentary seat and lost.
Everybody wrote him off and made a mockery that much as Uhuru was the son of a political giant — first president Jomo Kenyatta — politics wasn't his forte.
After the humiliating defeat, Uhuru went underground. He resurfaced three years later and was nominated as MP and appointed to the Cabinet. Two years later, he was the ruling party's (Kanu) presidential candidate. He lost.
More trouble lay in wait as his party was evicted from the State-owned Kenyatta International Convention Centre (KICC) building and told to operate from the streets if they couldn't find an office elsewhere.
Nicholas Biwott made every effort to snatch Kanu from Uhuru and not just leave him in the streets like the Narc government wanted, but also without a political structure. Once more, Uhuru went off the radar and everybody put a nail in his supposed political coffin.
Back with a bang
Come 2007, the man resurfaced with a bang as leader of the official opposition party, Kanu. In that year's election, he was the most sought-after politician with President Mwai Kibaki angling to have him join his party, PNU, and the main opposition, ODM, wooing him to their side. Uhuru hitched his wagon to President Kibaki.
On the night of long knives in December 2007 when Kibaki was declared winner of the hotly contested presidential election, the public saw Martha Karua as the public face of the Kibaki campaign and his lead agent at the presidential tallying centre at KICC. Unknown to many, the man stealthily working behind the scenes to ensure Kibaki's re-election was Uhuru.
Indeed, after the ensuing chaos and formation of a coalition government in 2008, Uhuru, not Karua, was 'rewarded' by Kibaki with appointment as one of the two deputy prime ministers. The kamwana's (young man) star was shining despite being written off after the 2002 election.
Then came the Kofi Annan 'envelope' and Uhuru was one of six to be tried at the International Criminal Court in connection with the 2007/08 post-election violence. Once again, the son of Jomo was out of luck.
In 2013, he declared he'd run for the presidency even before determination of his case at The Hague. Many thought it was a bad joke. Even his main challenger in the ballot, then Prime Minister Raila Odinga, didn't find it necessary to put his best foot forward in the campaign as he assumed Uhuru would be mince meat on polling day.
Again, against all expectations, the electoral body declared Uhuru the winner. Raila protested and went to court. The court arrived at the same verdict.
Come 2017 and Uhuru and Raila were in another vicious face-off. Uhuru won round one when the electoral body declared him winner. Raila took round two when the Supreme Court nullified the results and ordered a repeat election.
Raila stayed away from the ballot and Uhuru smiled all the way back to State House. Not to be beaten, Raila declared himself the 'people's president'.
Everybody saw trouble galore ahead for Uhuru. With dark clouds gathering, light came at the end of the tunnel in a unity pact sealed with a handshake. Yet again, Uhuru was riding the tiger.
Those who have monitored Uhuru's rise point to several factors that have helped him navigate the treacherous political landscape.
Central Organisation of Trade Unions secretary general Francis Atwoli regards Uhuru as a 'true Machiavelli' who disguises his moves and intents. "He will stab you but you will never see the knife coming," he says, adding that he knew the president would 'eat' his deputy, William Ruto, long before the DP saw it coming.
The trade union leader, who was also close to Kibaki, says that unlike Kibaki who paid scant attention to politics even when it threatened his presidency, "Uhuru picks up every political signal and quietly makes his move even as he smiles with you."
Suna MP Junet Mohamed, who was the only person to accompany Raila on the day of the handshake, says he saw another side of Uhuru. With a light touch, he says the president is a 'snake charmer'.
"Before the afternoon of the handshake, Raila had been given 'all venom to bite' only to find Uhuru had no intention to rattle any snake."
Ndaragwa MP Jeremiah Kioni says Uhuru has a way of working crowds, noting that it only took one weekend to convince grassroots leaders from Mt Kenya that BBI was good for them. "In just 48 hours, he undid the dirty job Tangatanga had done for two years."
Kioni recalls the president campaigning in his constituency in 2013 where the crowd shed tears as Uhuru 'poured out his heart' and asked for votes. "When pushed to a corner, the man (Uhuru) is a deadly campaigner," he says.
Nairobi Senator Johnson Sakaja says the president puts his money where his mouth is. "You will never catch Uhuru giving handouts. He hates it. But come up with a good idea and he will throw open his purse for you."
Former State House Comptroller Franklin Bett says: "You only ignore Uhuru at your own peril. When push comes to the shove, he goes flat out and sets aside time and the resources to get what he wants."