Gideon says BBI will give small tribes a chance at the presidency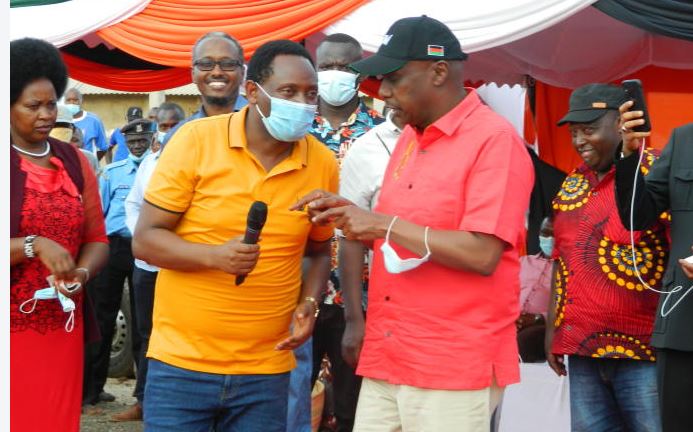 Baringo Senator Gideon Moi yesterday drummed up support for the Building Bridges Initiative (BBI) in Taita Taveta, saying the proposed law changes will help foster inclusivity in the country.
Gideon said BBI will bring an end to the practice where communities that have the numbers conspire to remain in power for good.
"Under BBI, two communities alone will no longer rule this country. Small communities will have a chance to rule this country as well," he said, even as he thanked MCAs for passing the Bill.
The senator was speaking at the Kaloleni Social Hall in Voi when he presided over a fund-raiser in aid of women's saccos in Voi and Wundanyi. Gideon gave Sh2 million and another Sh2 million from President Uhuru Kenyatta. The meeting was dominated by talk of the proposed referendum and the 2022 presidential succession.
Fafi MP Abdikarim Mohamed, Nominated MP Mohamed Dehiye and Baringo Woman Rep Gladwell Tungo drummed up support for Gideon to succeed President Kenyatta.
Gideon, however, said that the most pressing issue was to ensure that the Constitution of Kenya (Amendment) Bill, 2020, receives widespread support and becomes law.
Strengthen Kanu
He observed that Taita Taveta was once a Kanu stronghold and promised that measures will be taken to strengthen the party before the next polls.
"You will see Kanu leaders at the grassroots popularising the BBI and Kanu ahead of the referendum and the General Election. I will come later to tell you what position I will vie for in 2022," he said.
At the same time, Gideon urged Kenyans and politicians to respect President Kenyatta as he works to complete his term. "The President should be left alone to work without interference so he can complete his development agenda by 2022."
Taita Taveta Governor Granton Samboja, his deputy Majala Mlaghui, Voi MP Jones Mlolwa, County Assembly Speaker Meshack Maganga, former Taita Taveta Woman Rep Joyce Lay and more than 10 MCAs attended the function.
Gideon also met with the leaders at the Sarova Taita Hills where he said he would present a wish list from the leaders to Uhuru for action.
"We know that you are very close to President Uhuru Kenyatta. We are sending you to tell him that our community has been locked out of government jobs. During (Daniel) Moi's time, our community had ministers and permanent secretaries but today we have been locked out," said Mr Mlolwa.
What Coast wants from Raila in visit
Leaders cite historical land injustices, marginalisation and unemployment as main issues proponents of Building Bridges Initiative should address.