DP Ruto inciting jobless youths ahead of 2022 polls, says MP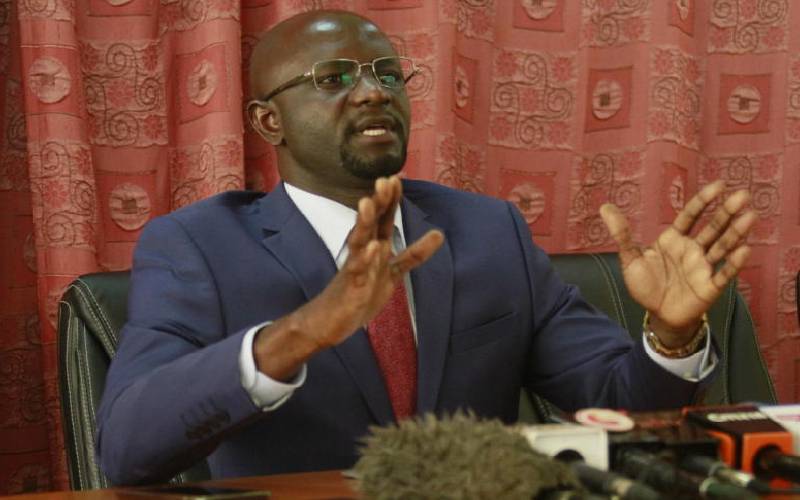 Alego Usonga MP Samuel Atandi has described Deputy President William Ruto's hustler narrative as a trap to hoodwink Kenyans into electing him in the 2022 polls.
Speaking during an interview on KTN News, Atandi accused DP Ruto and his allies of inciting jobless youths against other Kenyans to win the election.
"What Ruto is doing to incite jobless Kenyans to help them win the election, without any structure put in place on how unemployment will be addressed," he added.
He said the hustler narrative is a recipe for class war in the country, adding that if not dealt with in time will tear the country apart.
"There is nothing economic empowerment about the hustler narrative being championed by Ruto and his allies," he said.
Atandi said giving jobless youths handouts in rallies will not address Kenyans problem and challenged the DP and his allies to come up with policies on how to empower Kenyans.
Handouts
He challenged MPs allied to the DP to sponsor bills of empowerment in the National Assembly and the Senate on how to tame graft and create employment.
"Handouts cannot be sustained, let DP Ruto instruct his MPs to bring laws in Parliament on how real empowerment can be realised, not giving boda boda riders handouts," he said.
He told Ruto has no capacity to address problems facing Kenyans having being in government for eight years without any meaningful change.
"Kenyans must be careful, you cannot create a problem then later come and claim you are the one who can sort it out, where has he been?" he posed
Atandi urged Kenyans to back the Building Bridges Initiative (BBI) saying it is the only way the country will realise development.
The lawmaker said what the BBI seeks to do is to create a conducive environment where the economy can grow and create jobs.
He claimed Ruto is angry at President Uhuru Kenyatta for working with other political leaders to unite the country.
"The DP thought the government belonged to two tribes and is angry at President Uhuru for working with other leaders," he said.
He said DP is technically out of government and is only buying time to enjoy the trappings of power before he jump-ship at the last minute.
Seeking sympathy
Atandi dismissed claims by DP Ruto that he helped President Uhuru during his trial at the International Criminal Court (ICC) in The Hague.
The outspoken MP said it is President Uhuru who helped DP Ruto by nominating him to be his running mate twice.
"Contrary to the DP's remarks, its President Uhuru who helped him by picking him to be his running mate, so he should respect his boss and return the favour," he said.
He slammed the DP for peddling lies while campaigning in Mt Kenya region that he is the one who supported President Uhuru when he faced charges at the ICC.
"It is not DP Ruto who stood with President Uhuru, it is Kenyans who voted for him despite the cases," he said.
While touring Mt Kenya region last week, DP Ruto said he is the one who supported his boss when he needed help in 2012.
Speaking in Kiambaa during the fundraising for Boda boda, Ruto said he stood with President Uhuru during a critical time when he needed a friend.
"Those who are now ridding on 2022 endorsements, where were they in 2012? When we needed them they turned their backs on us and said we have a case at the ICC. Now they come from nowhere to seek endorsements," he said.