Ruto says critics of Hustler narrative are against change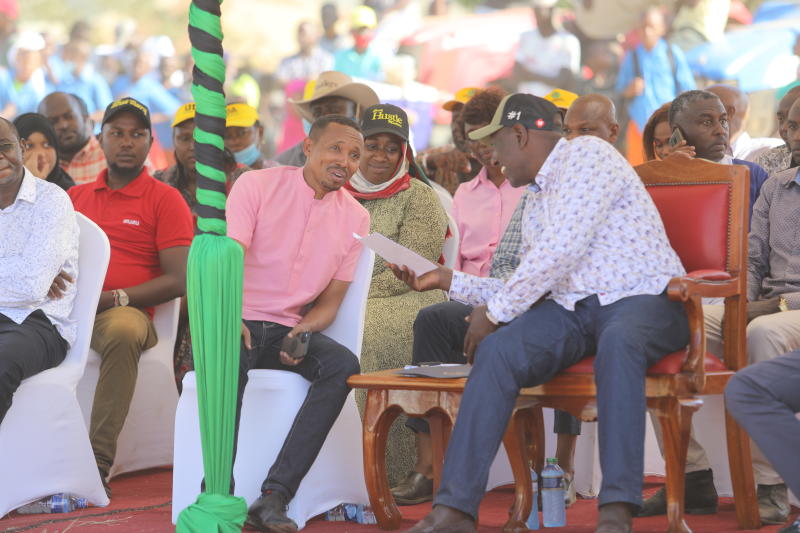 Deputy President William Ruto has accused President Uhuru Kenyatta of abandoning Jubilee's Big Four agenda to push for the referendum.
Speaking yesterday in Lunga Lunga Constituency, Kwale, Dr Ruto blamed ODM leader Raila Odinga for Jubilee Party woes, saying cracks started emerging soon after he struck a working relationship with Uhuru, and his allies took over leadership of some parliamentary committees.
"Raila should not lie to Kenyans that he is a Jubilee outsider. He has derailed the Big Four agenda and shifted government's focus to the Building Bridges Initiative (BBI) so as to share out positions," he said.
He added: "ODM has wrecked Jubilee after grabbing most parliamentary committee leadership."
The DP who has kicked off a three-day tour of the Coast, defended the Hustler narrative, saying it is geared at empowering mwanachi.
"This wheelbarrow narrative is a very serious and complex economic programme. Other parties with symbols like cockerel (Kanu), Umbrella (Wiper Party) and Orange (ODM) should tell us what they stand for," he said.
He hit out at critics of the Hustler narrative, saying they are selfish individuals who want to maintain the status quo.
"What is the problem with the Hustler nation, they want to maintain the status quo. Even if they say otherwise or oppose me, I will remain steadfast until Kenyans become equal," said the DP.
Ruto took a swipe at Raila, saying his Handshake with the President has scuttled the Big Four Agenda.
"Na huyu Kitendawili (Raila), he comes to Jubilee and he lies he is not in government yet the cracks emerged after he joined. He kicked out everyone and in the National Assembly, ODM has taken over chair of the committees of Finance and Education," said the DP.
He told critics to respect his opinion.
"We can still state our views with respect without fights and insults. Kenyans are at liberty and bright enough to distinguish the lies from the truths," said the DP.
He said BBI was all about creating positions for a few leaders at the expense of addressing problems facing mwananchi.
"Youth lack of jobs. Our focus is to create jobs to boost the economy. We are walking this journey together," he said.
The DP asked his supporters not to be scared by alleged persecution of his allies, saying they have changed the political narrative to focus on the poor.
"We told them that we will change the political narrative in this country from a discussion about positions to the issues affecting the common man. I'm happy that everywhere now the talk is about the wheelbarrow," said Ruto who addressed a gathering in Lunga, Kwale, last evening.
Earlier, the DP opened a police station at Mwangulu. All top police officers in the county were however conspicuously absent at the function.
Lunga Lunga MP Khatib Mwashetani urged Coast leaders to end rivalry and rally behind Ruto.
Kwale Governor Salim Mvurya did not accompany the DP as he was away in Nairobi.
Tomorrow the DP will tour Watamu, Kilifi County and later Kisauni, Mombasa County. On Saturday, Ruto will return to Kwale to inspect CDF projects in Kinango and later tour Jomvu and Nyali in Mombasa.