Do what you like with our letter, Wahome tells President Uhuru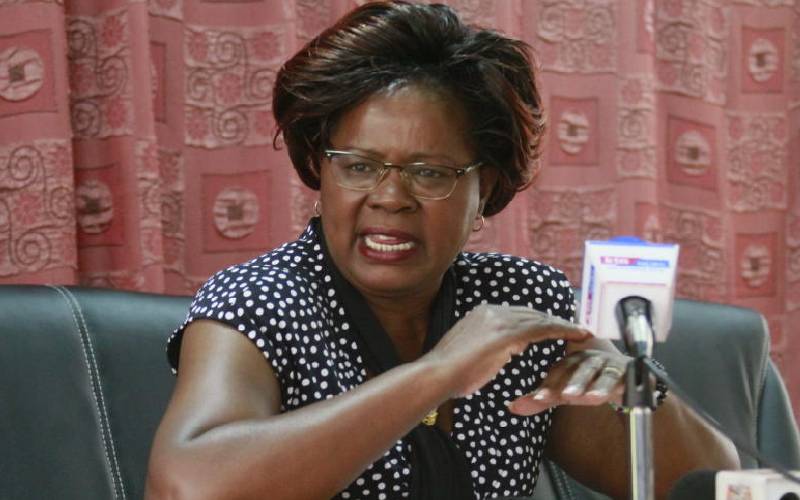 Kandara MP Alice Wahome has told President Uhuru Kenyatta to do what he chooses with the content of a hard-hitting letter written to him by pro-Deputy President William Ruto allies from Mt Kenya region.
Wahome said they opted to address the President through the letter after being blocked from attending a strategy meeting at State Lodge Sagana beginning today.
"It is not an ultimatum to him, we are just raising what we feel, as elected leaders, should be addressed and he can do what he chooses with the letter's content," she said on Friday during an interview at Spice FM.
In their letter, the leaders said they will not champion an agenda fronted by ODM leader Raila Odinga, the same person Uhuru cautioned them against during the 2013 and 2017 polls.
"We must be direct and truthful with you: We cannot sell Raila in our region or, indeed, any other imposed presidential candidate. You blame the leaders and people of the Mt. Kenya region for being reluctant to accept the Handshake and the Building Bridges Initiative (BBI). It is not their fault. The successful effort you made to persuade the people and render Raila unacceptable in Mt. Kenya cannot be undone in your lifetime," part of the letter reads.
On the economy, the leaders told Uhuru that the region is "limping and groaning" as businesses were closed indefinitely forcing traders mostly from Nyamakima, Gikomba and Kirinyaga road in Nairobi to retreat back to their villages while blaming the Jubilee administration of mismanaging the economy.
They blamed the move on policies of the Jubilee government saying import and export trade, which employed millions of traders from the region, was viciously disrupted when merchandise that formed the mainstay of countless enterprises was branded counterfeit.
They blamed President Uhuru for the disquiet in the region saying it is a result of the harassment and humiliation of political leaders who disagree with his administration using State agencies.
"After intimidation failed, our leaders were removed from parliamentary leadership positions and committees. These positions were given to ODM, the party we decisively defeated in the last election. The people of our region are not new to abuses of State power," read the letter
Wahome said Mt Kenya region are opposed to the BBI because it is being used to mistreat and sideline DP Ruto.
"People don't like the BBI because there has been an effort to keep away the DP Ruto from it," she said.
She said President Uhuru has failed to dialogue with elected leaders from Central Kenya and has opted to lecture and humiliate them in previous functions.
"Anytime we have a meeting, there has never been an engagement between us, he always humiliate us," she said.
Wahome said they (leaders) have been writing to President Uhuru to try to get his ears and tell him the state of affairs in vain.
"We have been writing letters to President Uhuru over the state of affairs in our region, I have written two letters to him the latest being in January 2."
The legislator said the fallout between Uhuru and Central Kenya leaders started before the Supreme Court ruling in 2017 when he (Uhuru) lectured them at State House for holding a meeting without his blessing.
Uhuru was upset after around 50 MPs met at Serena Hotel to discuss the region's interest before the State House meeting.
He warned them against giving conditions and making demands to government, adding that he was in charge of the government.
President Uhuru Kenyatta will meet MPs and MCAs from Mt Kenya at Sagana before tomorrow's convention.
The MCAs' meeting will begin at 9am before MPs are ushered in at 3pm for another meeting with the Head of State.
Download the BBI Judgement by all seven Judges - Civil Appeal No. E291 of 2021