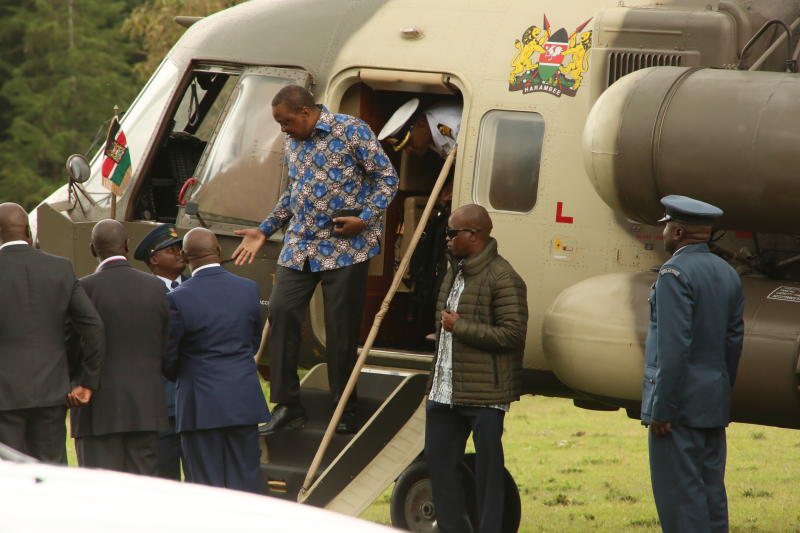 President Uhuru Kenyatta will once again this Saturday face his restless backyard of Mt Kenya when he addresses a convention of social and political leaders at the Sagana River State Lodge in Nyeri county.
The convention, for which invites are already out, is being held in a familiar place where Kenyatta retreats to speak to his backyard when faced with a rebellion in his vote-rich home region.
The area is seen to be growing weary of being left without a kingpin when the president retires in 2022.
The last retreat for leaders held here with the Head of State turned out to be a humbling experience for supporters of his Deputy William Ruto, none of whom got an opportunity to speak or hobnob with the president at the high table.
Close allies of the president are now said to agree that he needs the support of diverse political players in the region as the Building Bridges Initiative (BBI) enters the home stretch with approval required from legislators, MCAs and the public in a referendum.
The Independent Electoral and Boundaries Commission, on Tuesday announced the transmission of the Constitution of Kenya (Amendment) Bill to the county assemblies, following verification of over one million signatures.
The president is expected to address constitutional amendment that has not been received well in his backyard.
Two of Kenyatta's allies, Senate Majority Whip Irungu Kang'ata and Kirinyaga Govenor Anne Waiguru have raised concerns that the document was likely to face challenges in the region.
"Your Excellency, I concede I may be wrong. In fact, I wish I was wrong and that my views are a mere pessimistic view of things.
"However, if I am right and we do not take urgent remedial measures, I will pin myself permanently in the pillar of the shame of spectacular defeat," Kang'ata wrote to the president.
"The stakes are too high and the president seems to realise it. He might surprise many by giving players across the political divide a wider hearing than in the earlier meetings," one of the key backers of Kenyatta in the region said yesterday.
Reliable sources said the task of convening the delegates was being handled by the Office of the President (OP) with the respective County Commissioners delegated to take charge of inviting their MPs.
Governors are in charge of inviting their MCAs while Deputy County Commissioners are coordinating the invitations to women, youth leaders, religious, boda boda and matatu leaders.
Apart from County Commissioners, Cabinet Secretaries and senior government officials have been assigned different counties to mobilise leaders ffrom for the weekend meeting.
Yesterday, Health Cabinet Secretary Mutahi Kagwe and PS Nicholas Muraguri met leaders from Nyeri to brainstorm on the matter.
Welcoming move
None of the MPs The Standard talked to yesterday had received their invitation letters and most of them said they expected these to be sent through either the Majority Leader Amos Kimunya, Deputy Chief Whip Maore Maoka or Kirinyaga Senator Charles Kibiru.
Reliable sources at the OP said Kiambu will, by dint of its population and administrative size, send the biggest delegation of 300 while Meru will have another 200.
Tharaka Nithi and Laikipia will have the smallest delegations of about 100 people each.
Victor Kariithi, the Meru assembly Majority Leader welcomed the lobbying meeting saying he was impressed that invites had been sent out to players of all persuasion without discrimination.
"At the end of this meetings, I hope to see a more cohesive region that can be valued for what it is and not underrated," Kariithi said.
He added that position of MCAs on the BBI are likely to be more solid going forward as they will be based on a document now formally before the respective assemblies.
"Lobbying meetings whether in Karen, Sugoi or Sagana are encouraged as we shall hear more about the BBI from varied quarters," Kariithi said.
"But at the end of the day, county assemblies will make their decision at their respective sittings."
Joe Kaguchia, the Nyeri assembly Speaker said the president should engage the elected leaders first and sort out differences with the political class before meeting the larger group.
Nyeri MCA Kiruga Thuku (Chinga), a Ruto ally, however said he was yet to get an invite for either the Friday MCAs meeting or the main meeting on Saturday.
"We had already called off our pro-Ruto MCAs Nyahururu meeting for Nyeri, Nakuru, Nyandarua and Laikipia cluster set for Saturday and opted for Friday.
"However, if there is an another presidential meeting we shall still reschedule ours in respect of the Head of State," Thuku said yesterday.
He said pro-Ruto forces were also eagerly waiting to hear the president's message that will inform their next course of action.
"We are yet to be formally invited to that meeting but we are looking forward to it and will promptly be there when it is called," Maara MP Kareke Mbiuki said.
Rahim Dawood, the North Imenti MP, said he expects the president to easily sway the region towards the BBI.
"When the region's kingpin speaks, the tide will change and it will be momentous," Dawood said yesterday.
Although there has been a call for consensus among the local leaders, some Kenyatta-allied MPs yesterday maintained a hardline stance.
Legislators Kanini Kega, (Kieni) Ngunjiri Wambugu (Nyeri town), Peter Kimari (Mathioya) and Nduati Ngugi (Gatanga) said those opposed to the president should not attend.
They said the meeting will not just be about BBI, but for taking stock of previous similar sessions and their promises.
"Tanga Tanga MPs, of course, have no business attending this meeting since they have openly defied President Kenyatta's directives on early campaigns and are opposed to his BBI project," Kega said.
Kimari said the result of the Sagana meetings is open for all to see, citing "massive development projects of roads, water and electricity connections and the ongoing reforms in tea and coffee sectors."
He cited the construction of Sh27b Mau Mau cluster roads in Kiambu, Murang'a, Nyeri and Nyandarua; the Sh30b Kenol-Sagana-Marua dual carriageway; Sh3b Thika-Nanyuki railway line rehabilitation and ongoing water and irrigation projects in Muranga County.
Wambugu said the Sagana meeting will be a major stride in the BBI popularisation drive in the region and leaders will be able to synchronise their activities and schedules on how to take the campaigns to the grassroots.
Maoka, who confirmed the weekend meeting in an interview with a local TV station on Tuesday, said the president will likely give direction and indication of where he leaves the region when he exits the political scene in 2022.
"This is very critical. I don't know who would oppose such a regional political discourse," Maoka said.
Hardline stances
Former Mukurwe-ini MP Kabando wa Kabando however said Mt Kenya is always on focus because it is a hugely disorganised political region. He accused Jubilee of trying to impose BBI through a top-bottom approach.
According to Kabando, with the past Sagana Lodge retreats having failed to change the tide, he expected nothing much to happen from the latest attempt.
Pro-Ruto legislators in Mt Kenya were also breathing fire over the Saturday meeting.
Kirinyaga Woman Representative Wangui Ngirichi said nothing much would come from it.
"Some of us will not even attend the meeting because we have declared our political stand over the BBI and the 2022 presidential election," Ngirichi said.
Kikuyu's Kimani Ichungwa said they will reject the 'tribal meetings' that seek to galvanise the region along tribal lines.
"They should let us show them that Kenya can be run without tribes," Ichungwa added.