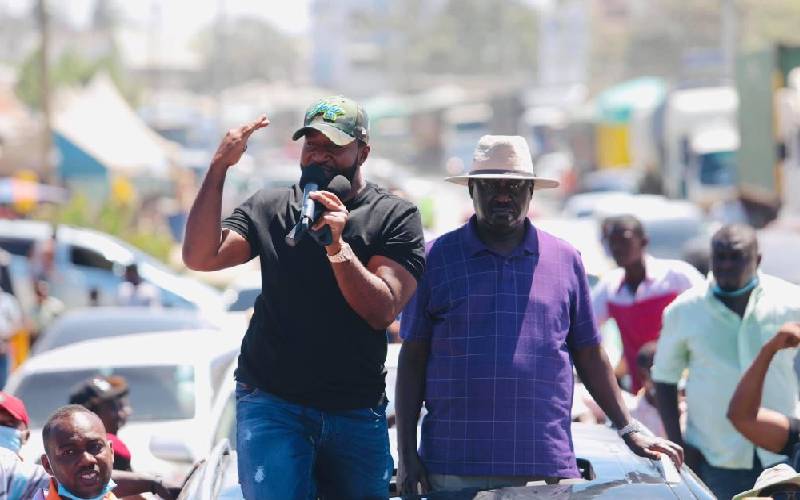 Mombasa Governor Hassan Jdismissed calls by Coast leaders allied to Deputy President William Ruto to form a new political party in the region, saying it will flop.
In a statement sent to media houses on Sunday, ODM Deputy Party leader described those behind the move as political rejects and fraudulent leaders being used by Ruto to divide the region for his political gains.
"The people behind this push are selfish leaders and those rejected in the previous elections who have essentially sold their souls to Ruto and joined his campaign of fraud and lies that all sensible Kenyans know is doomed to fail," read the statement.
He said politicians behind the new push are self-seeking individuals who like Ruto have nothing new to offer to the region apart from serving their own interests.
Read More
"There is nothing new in this push. It is the usual case of people trying to earn a living through fraud and conmanship whose godfather Kenyans know only too well."
Joho said the region has enjoyed unity pushed its agenda as a united region on the national stage under ODM and will not fall for Ruto's trickeries.
Joho told those rooting for a new party to join newly formed United Democratic Alliance (UDA) party and let the region choose between Ruto and BBI team.
"The DP allies should cut down on drama, join his UDA party and let people choose between Ruto and the agenda being pushed by President Uhuru and ODM leader Raila Odinga."
Resign from Jubilee and ODM
He hit out at MPs elected under ODM and Jubilee for openly opposing the two parties yet they lack the courage to resign and seek a fresh mandate in the newly formed Wheelbarrow Party.
"Like their sponsor William Ruto, these leaders lack the courage to say they have moved and they are ready to surrender their current positions and seek a fresh mandate."
"These are people want to say their parties have failed the people but still continue earning salaries and allowances on the basis of a mandate given to them by voters loyal to the same parties."
He described the MPs as political fraudsters and cons who doubt their popularity and will never be honest enough to ditch the parties they hate so much and seek fresh mandate using their new-found parties.
"They cannot and will not quit and seek fresh mandate because they are not sure they will win and they are not sure they are ready to be out of power. They are fraudsters and cons," he said
Handshake and BBI
Joho said the Coast region has gained immensely since the handshake between President Uhuru Kenyatta and ODM leader Raila Odinga and will remain solidly behind the two leaders.
Joho cited numerous development projects started at the Coast since 2018 saying the region is headed in the right direction under Uhuru and Raila.
"There are on-going development projects that have potential to change the fortunes of the region have continued to flow to the Coast from the National Government since the handshake," he said.
The Mombasa Governor also drummed up support for the Building Bridges Initiative opposed by Ruto and his allies saying if it passes, Coast counties and wards will get more money.
"The same people who want to form a party for the Coast opposes the BBI and its proposals to bring more money to the counties and wards, it is unheard of," he said.
Joho declared Ruto Cast region development enemy number one, saying his motive is to keep the Coast poor so that the Coast can vote for them.
"I can state without a doubt that the greatest enemy to the development of the Coast was and will always be, Ruto and the people eating from his plate, who now claim to want to form a party."
He said they will rally the region behind President Uhuru and Raila and campaign for the BBI proposal.
Some of the MPs from Coast allied to DP Ruto include Athman Shariff (Lamu East), Mohamed Ali (Nyali), Owen Baya (Kilifi North), Khatib Mwashetani (Lunga Lunga) and Aisha Jumwa (Malindi).
Kwale Governor Salim Mvurya is also Ruto's loyalist.