Raila tells off Ruto and critics as BBI headed to referendum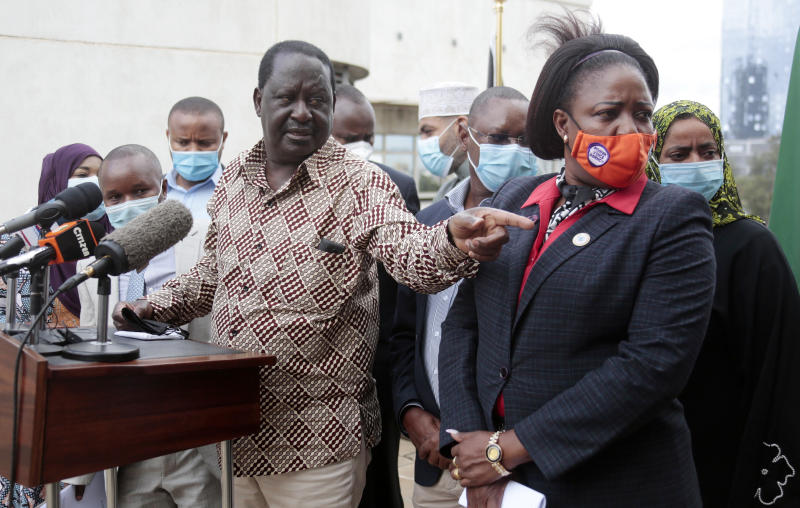 The stage for a contested referendum was yesterday set following a declaration by Opposition leader Raila Odinga that there would be no substantial changes to the document and insistence by Deputy President William Ruto that the document must be opened up.
Raila said the Building Bridges Initiative (BBI) report contains views of a majority of Kenyans, suggesting that the disgruntled interest groups can choose to support or oppose it at the referendum.
At the same time, Raila and President Uhuru Kenyatta are set to launch collection of signatures next week in what will effectively slam the door on any push to make changes to the report.
This as the former premier indicated that the country could go for a referendum as early as April next year.
Deputy President William Ruto, governors, Members of County Assembly (MCAs) and a section of religious have demanded substantial amendments amid push to have a non-contested plebiscite.
But Uhuru and Raila appear not keen on consensus-building on the document, in what is now set to result into 'Yes and No' camps once the Bill is published and signature collection rolled out.
Allies of the two handshake partners have been adamant that Ruto and those pushing for consensus were scheming to delay the process by demanding submission of new suggestions that would result into a third BBI report.
Addressing the press at his Capitol Hill office yesterday, Raila said people are free to have their opinion on the document but the final say will be made by the majority at the ballot.
"People have had an opportunity to talk about those issues, two years now. The clergy themselves had an opportunity to express their views," said Raila.
He made the remarks in response to Kenya Conference of Catholic Bishops who have opposed powers of the president to appoint prime minister and deputies, claiming the document was creating an imperial president.
Raila spoke after meeting political leaders from the Coast, who are pushing to address historical land injustices and management of the blue economy.
The ODM leader said the issues raised by the leaders from the region would be captured in the final document as they had been presented to the BBI task force during collection of views.
"We are not going to bring in substantive new issues in the BBI report. These are basically editorial issues which are being captured. There are certain issues which probably had been mentioned but were not captured, they are being added. That's what we mean by editorial works," said Raila.
During his State of the Nation address on Thursday, President Kenyatta side-stepped the many calls for consensus to ask Kenyans to "constructively and objectively consider" BBI.
He also called for "positive discourse with a view to effecting far-reaching changes" to fix Kenya's perennial challenges.
He asked Parliament to prioritise consideration of, among others, the proposed legislation on the administration of referenda.
Yesterday, Ruto insisted BBI must incorporate views of special interest groups, such as the clergy, to build consensus.
He reiterated his recent rallying call that it was unnecessary to divide Kenyans for or against the document.
"There is room for all views to be heard and implemented in the document. During the State of the Nation address, the president made it clear there is a debate on the document and several special interest groups have given their views. We need to harmonise the document," the DP said.
He dismissed calls by Nyeri Town MP Ngunjiri Wambugu that there was no room for views from leaders calling for consensus who had two years to give their views.
"I've heard what those people who are saying that we had two years to give our views but we should pose the question, how did we end up with a document with so many gaps after two years?" he poised.
Ruto was speaking at Mutathini village in Tetu Constituency after condoling with Naivasha MP Jane Kihara during the funeral of her mother Shelmith Njeri Kairu (Snr) and niece Shelmith Njeri Kairu (Jnr).
Other stakeholders
"The only way to harmonise the BBI is to give Kenyans time for consensus. You cannot dismiss the views of women, the church and other stakeholders who have voiced their views," he said.
He said the government must reassess the Covid-19 response, warning not enough was being done.
Yesterday, Raila announced that him and Uhuru have lined up meetings with governors, women leaders and MCAs between now and Tuesday.
It is, however, not clear how the two are planning to handle the raft of demands by the interest groups to avoid the risk of opposition ahead of the vote scheduled for next year.
MCAs are crucial in the process as they will be required to pass the Bill in at least 24 assemblies before it is taken to Parliament and finally to the people for a vote.
A meeting convened by the MCAs yesterday to take a stand on the document was banned by Interior Ministry because of a surge in Covid-19 infections.