Raila: Collection of BBI signatures to begin next week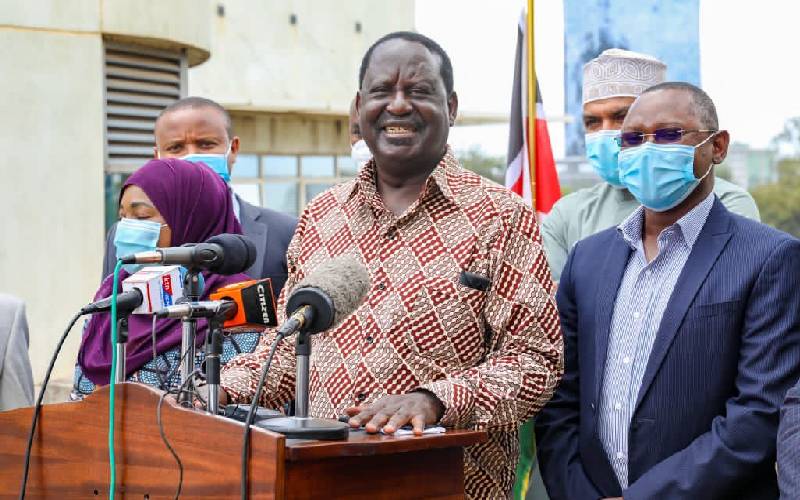 ODM leader Raila Odinga has said the collection of a million signatures for submission to the Independent Electoral and Boundaries Commission (IEBC) with the draft Building Bridges Initiative (BBI) Bill will begin next week.
Speaking to the media on Friday at his Capitol Hill offices after a meeting with coast leaders, Raila said the time for giving views was up, adding that the process has to move forward.
"We will be launching the collection exercise sometimes next week. We want that exercise to be done as soon as possible so that the matter can be handed over to IEBC," he said.
Raila said the BBI Bill should be ready by April so that the process can proceed to a referendum.
"This matter, as already mentioned before, should be concluded by the latest April next year. That is where we are as far as BBI is concerned."
Raila faulted a section of the clergy who have threatened to campaign against the report saying they had two years to address whatever views they are raising now but did not.
"The clergy had an opportunity to express their views for two years, they are right to express their reservations, it is a democratic society but we will go with the views of the majority," he said.
He further added that only editorial issues will be considered onwards, adding that new views will not be entertained or included in the report.
The ODM leader said no new ideas will be included and that only editorial issues will be captured in the report.
"We're not going to bring in substantive new issues, these are basically editorial issues which are being captured. There are certain issues which probably had been mentioned but were not captured, they're being added."
On Monday, after meeting a group of leaders from the pastoralist community who are pushing for amendments in the report, Raila promised the group that their views will be accommodated, giving an impression of a possibility for a review of the document.
But on Tuesday, in a statement, Raila ruled out any such amendments, saying "It is basically done and there is little likelihood that new ideas will be pushed into it.
Raila said the report can only be edited where it sounds vague or general.
This latest statement is likely to fuel more anxiety from Deputy President William Ruto and his loyalists who have vowed to oppose the report at the referendum set for next year unless their issues are addressed.