We will not add fresh views to latest report, Raila tells critics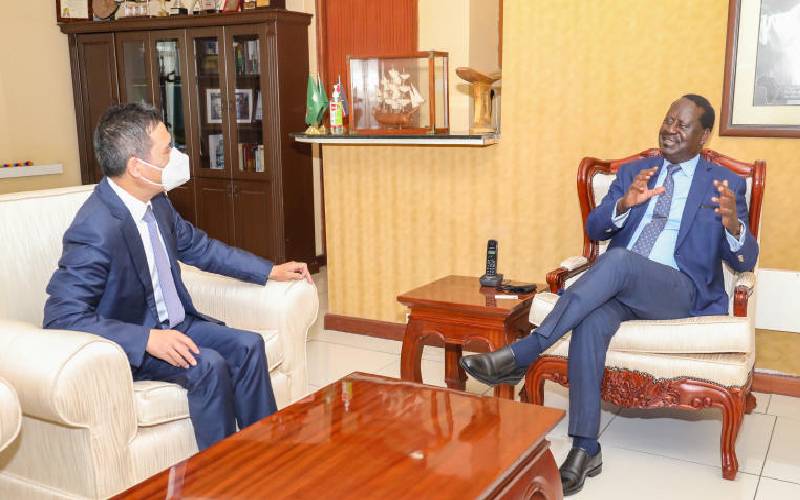 There are no chances of amending the latest Building Bridges Initiative (BBI) report.
ODM leader Raila Odinga appears to suggest that critics of the report and groups that have been seeking inclusion of their demands, will have to take the document as it is.
In a statement yesterday, Raila said they will only include demands of groups that feel their views were not captured in the manner they were presented.
"The report is basically done and there is little likelihood that new ideas will be pushed into it. However, there are groups that feel their views were not captured in the manner they were presented during the collection of views and those are the corrections we are promising to make," said the ODM leader.
He said no new views will be included in the document ahead of the planned referendum next year, except for editorial work to make the report explicit on certain proposals by groups which are vague, as is the case with pastoralists.
Implications
Raila made the remarks when China's Ambassador to Kenya Zhou Pingjian paid him a courtesy call at his Capitol Hill offices in Nairobi. They discussed local and global issues, including the BBI report, search for Covid-19 vaccine and the US elections and its implications to the world.
The envoy reiterated China's commitment to taking the lead in the search for a safe and effective Covid-19 vaccine and making it affordable and available to Africa. He pledged more support for Kenya's industrial development.
Raila called for a speedy return to multilateralism and co-operation in managing global affairs, including the Covid-19 pandemic and climate change and urged China to scale up support for infrastructure development in Kenya and Africa.
Earlier, allies of Deputy President William Ruto challenged President Uhuru Kenyatta and Raila to make public the implementation framework of the BBI process.
The DP allies demanded the creation of a Guaranteed Minimum Return (GMR) fund, which should be at least five per cent of the nationally raised revenue.
Led by Kericho Senator Aaron Cheruiyot, the group argued that although there are various concerns about the BBI report, the channel for presenting views has not been created.
"A constitutional amendment is a sacred national duty that should be divorced from the whims of partisan politics. They must be able to provide a clear mechanism where Kenyans with issues on the report can channel them," said Cheruiyot. The leaders argued that GMR fund will boost production of cash crops such as tea, coffee, milk, miraa, green grams, sugarcane, rice, cotton, macadamia, fruits, maize, beans, pyrethrum, coconut and other crops.
They noted that the fund will cater for a national fertiliser subsidy programme for farmers, fund agricultural research and extension services.
"We need to motivate our farmers by assuring them of an annual guaranteed minimum return on all their produce. There should be guaranteed returns for all minerals in the various counties including sand and iron ore," said Tharaka MP George Murugara.
The group further said allowing political parties to pick commissioners of the Independent Electoral and Boundaries Commission will be akin to leading themselves to slaughter house.
The leaders want the commissioners be picked by a select panel as provided for in the IEBC Act.
Already National Council of Churches of Kenya, Law Society of Kenya, women leaders, IEBC, Judiciary, People Living with Disabilities, among others voiced their concerns about the report.
Gender parity
Last week, the group, under the banner Frontier Counties Development Council and the Pastoralists Parliamentary Group gave 11 irreducible minimums they want addressed if they are to back the report.
Elsewhere, women leaders allied to Embrace Team faulted governors for demanding a free hand to pick running mates regardless of gender, saying it amounted to undermining efforts aimed at achieving gender parity.
Women Representatives Gladys Wanga (Homa Bay), Gathoni wa Muchomba (Kiambu), Fatuma Gedi (Wajir) and Priscilla Nyokabi (Nyeri) said they will not allow governors to undermine women in Kenya.
"What pioneer women leaders have been fighting for the last 50 years, what Chief Justice David Maraga was almost dissolving Parliament for has been addressed in the proposals. We shall not allow some governors to just write off those gains," Wanga said.
Muchomba said the proposal dictating that governors shall consider those of opposite gender as running mates was not only a win for women but men as well.
She said it was time for women to celebrate the gains in BBI and shun critics out to mislead them. "Through BBI, we shall have the restorative justice fund where we get Sh10 billion to compensate victims of rape and other injustices. Who can dare oppose that?" posed Muchomba.