Raila roots for BBI in West Pokot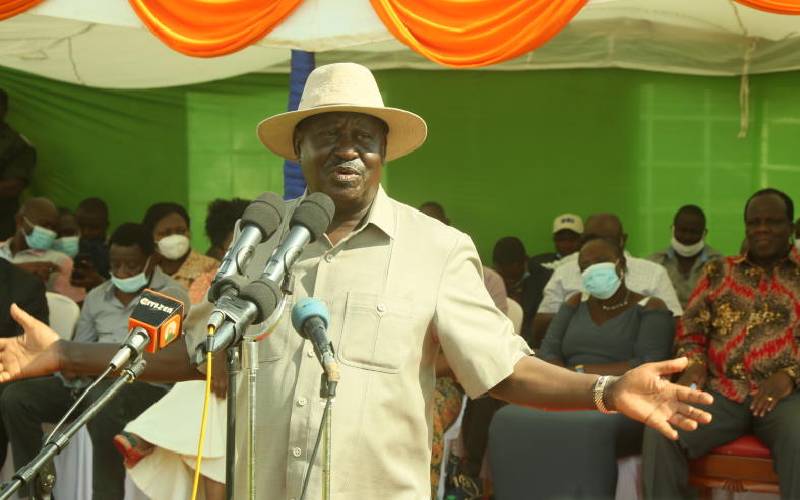 Former Prime Minister Raila Odinga on Tuesday urged residents of West Pokot to support constitutional changes proposed in the Building Bridges Initiative report.
Raila, while attending a fundraiser at the Dini Ya Roho Mafuta Pole Afrika in Sook, West Pokot, said the proposed changes will promote unity and resolve hiccups witnessed since the passage of the Constitution in 2010.
"At independence, our founding fathers had a vision on how to develop Kenya. But for many years we have not achieved that vision. Our young people don't have jobs, farmers are suffering, roads are bad, there is widespread poverty."
He told the residents of West Pokot that the proposals in the BBI report are aimed at ending discrimination, increase devolution funds and bring equity in the use of public resources.
He added that the BBI process will enable the country realise the dream of the 2010 Constitution through deepening of devolution and increasing representation.
"What we want is to actualise the dreams of the 2010 Constitution. This is why we have increased allocation to devolution to address the cries of Kenyans who say they have not seen development," he said.
Raila told the residents that the proposal to create a Ward Development Fund will bring equitable development in counties and address the lacking development in various parts of the country.
"We have additionally proposed five per cent of developed funds to every ward to bring equitable development in our counties. We have also brought mechanisms to resolve under-representation of women. BBI will bringing changes that we need," he said.
The ODM leader urged the residents to ignore leaders opposing BBI proposals, noting that the process is aimed at uniting Kenyans.
He added that the founder of Dini Ya Roho Mafuta Pole Afrika, Lukas Pkech, resisted colonial government and fought to establish indigenous African religion.
"I have come here to join you to celebrate your religion which has African roots. When Lukas Pkech started this church, he went through a lot of hurdles," he said.
Raila praised the church for promoting development through education and health projects.
West Pokot Governor John Lonyangapuo said leaders from the county met and agreed to fully support BBI.
"As a county we have met as leaders and engaged legal experts. We agree on the proposals to devolve 35 per cent to the county. This will mean West Pokot will get approximately Sh16 billion," Lonyangapuo said.