Leaders upbeat as BBI retreat enters second day in Naivasha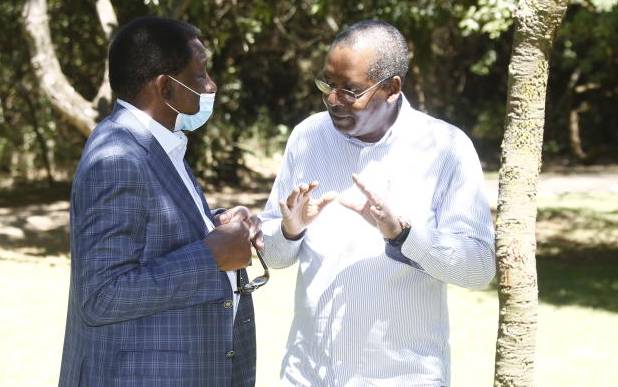 President Uhuru Kenyatta and ODM leader Raila Odinga have presided over the second day of Building Bridges Initiative (BBI) consultative meeting in Naivasha.
Over 300 parliamentarians drawn from both Senate and National Assembly are attending the retreat.
Journalists and non-parliamentarians have been kept at bay with leaders promising to do a media briefing later in the afternoon.
In an earlier interview with The Standard, Baringo Senator Gideon Moi said that the meeting shall involve having all leaders read from the same page.
"This process is paramount as it will bring Kenyans together. It is all about inclusivity and uniting our people, give them a bearing on the direction the BBI shall be implemented," he said.
Senator Moi reiterated that the document has far-reaching benefits for Kenyans hence the need for them to embrace it.
"With tax breaks to allow them to establish their businesses, incubators in the wards and Ward Fund, the youth have a reason to support this document," said Senator Moi.
He called on other groups of Kenyans to support the document and its recommendations.
"We should all join in with enthusiasm. Above all other benefits, all of us stand to enjoy unity and inclusivity that shall come with its implementation" said Moi.
The retreat comes amid complaints by pro-Tangatanga leaders who were not included among those invited.
"We should all practice patience. The BBI is not an event but a process. The rest will have a day organized for them to undergo similar training," he said.
He added "We are looking for inclusivity and reaching a consensus is one of the ways to achieve it. Everyone shall be brought on board to have a universally acceptable document."
On Sunday, National Assembly Majority Leader Amos Kimunya said the meeting is aimed at familiarising the parliamentarians with the BBI report.
"We have a team of experts who are here to explain to the MPs the BBI process, the contents of the report and how it seeks to address areas identified as causing disunity in the country," said Kimunya.
He added that the experts will give a breakdown of the BBI report and how it has addressed the nine-point agenda that came with the "handshake" between Uhuru and Raila two years ago.
The meeting comes at a time the Senate and the National Assembly are in disagreement over the report. Some senators feel proposals in the report have clipped the Senate's powers.
Kimunya said the meeting will not delve into issues raised by those opposed to the adoption of the report in its current form.
"There are people who want some issues added or removed from the report, but this shall not be part of our discussion," he said.
He insisted that the focus now lies in trying to find a way to address challenges that have come up after a court nullified some 23 laws passed by Parliament.
Download the BBI Judgement by all seven Judges - Civil Appeal No. E291 of 2021