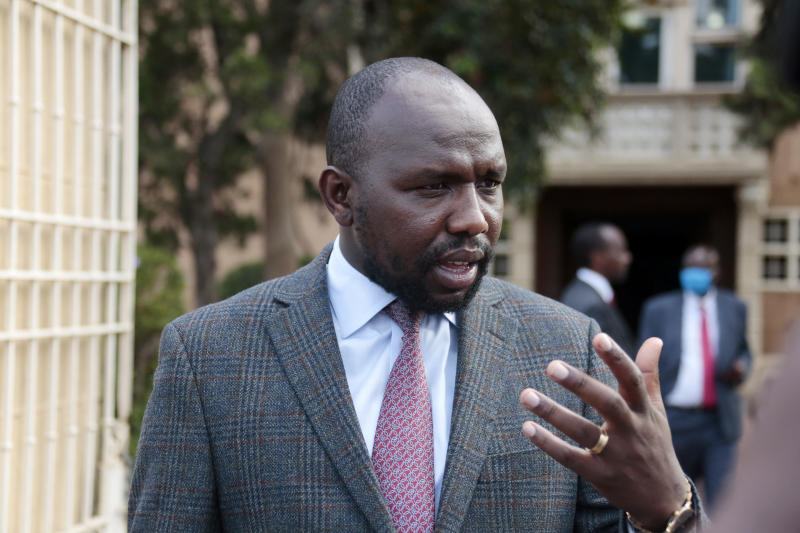 Elgeyo-Marakwet Senator Kipchumba Murkomen has alleged that political differences between President Uhuru Kenyatta and DP William Ruto could intensify the country's economic decline.
In the assertion made on twitter, Murkomen has called the contentious relationship between the president and his deputy as a "political joke".
"President fighting his Deputy isn't merely a Jubilee political joke. In international business terms that's called political risk. It's terrible. Being a nation that has borrowed heavily, the Shilling will keep falling and we shall pay heavily. Investors are already on wait and see state," read the tweet.
The tweet comes two days after President Uhuru Kenyatta attempted to calm the political tumult by asking for forgiveness during the national prayer breakfast at Statehouse in Nairobi where his deputy had also attended.
"If I have wronged you, I ask that you forgive me. And if you have wronged me, I forgive you. That is the only way we can move forward," the President told the gathering.
Murkomen's claims come when the country continues increasing its debt load. Recent data from the Central Bank of Kenya (CBK) shows that total public debt in the financial year ending June 30 went up by Sh840.9 billion to Sh6.65 trillion, almost 300 per cent more than where the current administration picked up from the Kibaki government.
With the debt cap recently raised to Sh9 trillion (3 trillion above the GDP), President Uhuru has the leeway of borrowing up to Sh3 trillion before the end of his tenure.
Kenya has recently gotten credit through a Sh 17.91 billion loan agreement with France and the European Union. The deals intend to target development projects such as opening up rural areas, public transport, emergency health response and access to water and sanitation services.
Murkomen has also been quoted saying that the president will be remembered by how he treated Kenyans and that a huge chunk of his legacy will be about his public covenant with Ruto and how he has "mistreated" him.
"We are still wondering what is this one sin that washes away all the good things Ruto has done for the president. For four elections he stood with Uhuru, is he really worth that?" said Murkomen in a past TV interview.
The Elgeyo-Marakwet Senator has not been shy in crediting Ruto for the success of Uhuru in scooping the presidency.
"Without Ruto, Uhuru would not even have been an opposition leader, forget the presidency, he would not have won, he would be the one being mistreated now, out of government," said Murkomen.