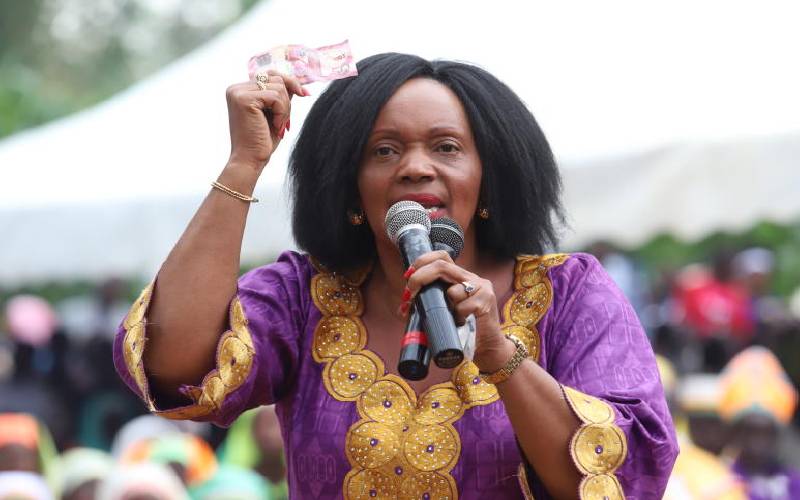 Kisumu Woman Rep Rozaah Buyu has emerged the best nationally in the latest Infotrak'S MPs performance rating.
In the survey released on Saturday, Buyu emerged position one with 61.5 per cent approval rating while her Homa Bay counterpart Gladys Wanga emerged second scored 61.0 per cent.
Lamu Woman Rep Rueida Mohamed emerged third with 60.0 per cent while her Samburu counterpart Leshoomo Maison was fourth with 59.1 per cent approval ratings.
Speaking to Standard Digital on phone, Buyu (pictured) hailed the ratings saying she is happy her work and prudent management of public funds have been recorgnised.
Read More
She attributed her good ratings to an inclusive approach she adopted which has seen her efforts felt in all corners of the county.
"Unlike other politicians who sometimes want to punish areas that didn't vote for them, I took a new path of embracing everyone and this has borne fruit," she said.
Buyu said to make her work easier and to ensure every part of the county is covered, she opened up offices in each of the seven sub-counties with one for coordination purposes in Kisumu Central
She said she divided Kisumu into various segment of age and economic activities to enable her to streamline her programmes and to help her respond needs of specific groups and segments.
"We did a proper mapping and identified each and every group's needs to help us budget well with the little resource we get," she said.
Unlike other politicians who delegate duties, Buyu said she personally get involved in various activities which have endeared her to the people.
Lobbying
She said due to little resources, she has been lobbying for projects from NGOs, County and National government to supplement their budget.
"With obvious budget constraints, I knock doors of various National government offices and other NGOs to pull projects that can help our people," she said.
Buyu also cited the empowerment projects she has initiated among the youth, the boda boda and jua kali sector as some of the areas that might have added her marks.
"I have paid close attention to talent nurturing amongst the youth, skill empowering training for girls after form four, value addition activities for jua kali sector, boda boda ownership empowerment project."
Kiambu Woman Rep Gathoni Wamuchoma was the worst-ranked at position 47 with an approval rating of 39.0 per cent.
Methodology
According to Infotrak, the performance rating adopted the Likert scale questioning style which uses 1 – 10 Scale where 1 is very poor and 10 excellent.
Infotrak said the rating for each elected leader were derived by getting the combined frequencies from all the respondents for a respective ward, constituency or county depending on the type of leader.
For Woman Reps the combined frequencies for all the wards in the respective counties are used.
"Each respondent provides a score or rating for the performance of the respective elected leaders based on their individual perception and understanding," read the statement.
The overall elected leaders' performance Index was then computed by taking responses from respondents in each respective county and the mean for that county calculated to determine the county's Optimism Index