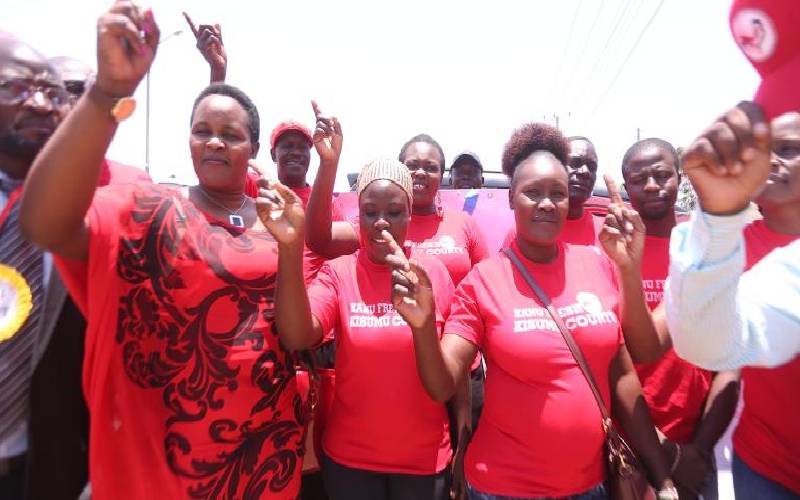 The Independence party-Kanu has embarked on a nationwide recruitment drive with a charm offensive of Opposition leader Raila Odinga's political bedrock of Nyanza region.
The rising enrollments and creation of branches intensified in the recent past has seen new members join the Baringo Senator Gideon Moi-led party.
Nyanza Kanu's regional coordinator Tom Ojanga said the people of Nyanza and Kenya as a whole need a political formation that can guarantee national cohesion and unity of the people of Kenya.
"Kanu is the only political party today that is non-divisive and has a countrywide network and acceptability in all regions and the experience to guarantee stability," said Ojanga.
"I am confident Kanu will be able to field candidates in all elective positions in Nyanza in 2022 and I believe it will do unexpectedly very well."
According to Ojanga, Kanu has been recruiting members and opening county branch offices and sub-branch offices in Homa Bay, Migori, Siaya, Kisumu, Nyamira and Kisii Counties.
Ojanga also told Standard Digital that the party will field candidates for all elective positions in Nyanza including the upcoming by-elections in Kisumu West Ward.
"We have been registering about 1000 weekly per county. This is the minimum number we register in every county. The online recruitment drive is bearing fruits," said Ojanga.
He also said only a non-divisive political formation like the Independent party will be able to provide an environment that will enable capital to grow and citizens to access capital.
Ojanga who is a former Raila's confidant and Orange Party International Network coordinator said although President Uhuru Kenyatta has been involved in many initiatives that provide access to capital for small and medium enterprises across the nation, capital investment fears instability.
"Kanu is the party that is able to build on those past achievements to create a new Kenya. It is the party of the future," he said.
Ojanga has been holding various caucus meetings of Kanu officials and members from various parts of the Nyanza region.
Handshake foundation
While giving reasons why he quit ODM, Ojanga explained that the formation of the National Resistance Movement (NRM) had extremist elements that sought to emasculate the economy and threatened national sovereignty.
"The creation of the NRM and planning of a People's Assembly under its 'Resist' banner was regrettable. I left ODM because of the extremist elements. The reasons that were advanced as a way to protest the result of the 2017 electoral contest are still very strong and are a serious threat to the Handshake," he said.
Ojanga worked very closely with Business Mogul Dr Chris Kirubi, President Uhuru's nephew Peter Kihanya and former State House Adviser on Legal and Constitutional Affairs Abdikadir Mohamed immediately after the 2017 polls.
"We laid the foundation necessary for the Handshake to occur," he said.