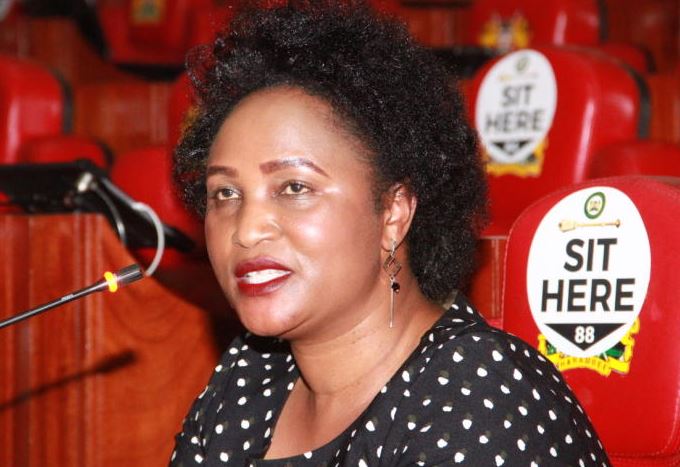 Office of the Registrar of Political Parties will approve or reject the registration of new political parties in the run up to the next poll.
Vetting of the nominee for Registrar of Political Parties (RPP) on Friday revealed how powerful the office is as it capable of hoisting or shattering political careers.
It was no secret that if confirmed by members of the National Assembly's Justice and Legal Affairs Committee, Ann Nderitu would, at the stroke of a pen, scuttle political dreams. It is this office that will approve or reject the registration of new political parties in the run up to the next poll.
Ongoing leadership disputes in various political parties will also be determined by the office holder, in what could see political heavyweights lose their official party positions or membership in the wave of coups.
The ruling Jubilee Party, Amani National Congress (ANC), Ford Kenya and Thirdway Alliance Party are all rocked with leadership disputes, some pending before the RPP.
Read More
The fear and anxiety by the political class was captured by Kirinyaga Central MP Munene Wambugu when he sought to have the nominee commit that he would not take instructions from certain quarters should the House confirm her nomination by President Uhuru Kenyatta.
"I want you to confirm to this committee that you will be fair, impartial and independent should we approve your nomination," said Munene. Nderitu said she has demonstrated to be impartial irrespective of who is watching her.
It also explains why the office has not been filled substantively since the enactment of the 2010 Constitution and the 2011 Political Parties Act that operationalised it as an independent office. Politicians have been accused of scuttling any substantive appointment; a scheme to ensure they continue manipulating those in acting capacity.
Nderitu has been holding the position in an acting capacity since August 10, 2018 after taking over from Lucy Ndung'u who, before moving to the Commission on Administrative Justice as a commissioner, had served for nine years, also in an acting capacity.
Questioned decisions
Nderitu was seconded to the office by the Independent Electoral Boundaries Commission (IEBC) where she was a manager in charge of electoral training.
Kwale Woman Rep Zulekha Hassan raised queries on the criteria used in approving registration of new political parties in the face of a recent decision by Nderitu to reject attempts to enlist Jubilee Asili, an outfit associated with Deputy President William Ruto.
The enlisting was rejected for not meeting the legal requirement which demands that a party should not resemble another. The office has also rejected an attempt to register Tangatanga Movement, which is also associated with the DP, as a political party.
Ruto and President Kenyatta seem to have fallen out, leaving the DP with no option but to scout for a new outfit for his 2022 presidential bid.
He has since hinted at jumping ship when the time comes. "There are reports that there are Kenyans who wanted to register a Communist Party and another group wanted to register Tangatanga Movement but you rejected them. What informed your decision?" asked Hassan.
"We could not register Tangatanga because a name should have some meaning. Tangatanga, even in the face value sounds offensive. The name could be popular now because of the current political environment, but years from now, will people still relate to it?" Nderitu posed.
The role of the office in quelling coup and leadership disputes also popped up with Bureti MP Japhet Mutai asking how the office will handle the current cases without disenfranchising some factions.
"As the regulator, what would you do to curb this trend of takeover of political parties? We know there is a dispute concerning Musalia Mudavadi tenure at ANC, in Ford Kenya there was an attempted coup. It is the same thing in Thirdway Alliance where Ekuru Aukot has reportedly been kicked out," Mutai said.
RPP has of late been in a spot for not taking decisive positions on disputes that have rocked various political parties. In several instances, it has been passing the buck back to the parties by asking them to exhaust their internal mechanisms. This has forced aggrieved parties to move to the Political Parties Disputes Tribunal (PPDT) to seek justice.
In Jubilee, Uhuru and Ruto's camp engaged in a fierce battle for the reconstitution of the National Management Committee (NMC). At one point, MPs allied to Ruto wrote protest letters to the office seeking a rejection of the proposed names.
But Nderitu referred them back to the party's internal dispute resolution mechanisms. Uhuru's side took the day after PPDT rejected an application by the Ruto faction.
It has been a similar circus in the attempted ouster of Bungoma Senator Moses Wetang'ula in Ford Kenya.
The opposing factions have moved to the tribunal and the High Court. Kanduyi MP Wafula Wamunyinyi and his Tongaren counterpart Eseli Simiyu led a team that toppled Wetang'ula. The duo then proceeded to install themselves as party leader and secretary general, respectively. That dispute is still pending at the High Court.
In the ANC case, the office was required to compel the ANC leadership to conduct elections of party officials. Angela Gathoni, a founder member, had accused Mudavadi of failing to give notice for party elections despite his term in office nearing its end.
Mudavadi would however convene a National Executive Council meeting to announce a new party constitution, which has since been rejected by RPP. The dispute is still pending. Yesterday, the registrar said political parties were independent and should be allowed to run their show.
"All said, political parties are registered for the business of politics and sometimes politics carry the day. It is upon the officials to cultivate good rapport with party members," Nderitu said.
Nderitu however noted that the office will focus on strengthening internal structures of political parties so that they can handle party disputes.