Leaders urge Gideon to work with Uhuru as 2022 beckons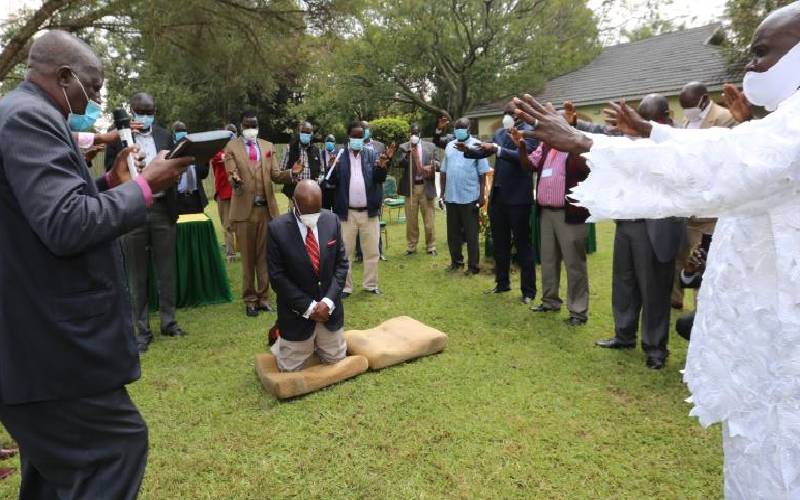 Baringo Senator Gideon Moi yesterday led a host of North Rift leaders in an interdenominational prayer service in Eldoret.
The leaders, including Elgeyo Marakwet Governor Alex Tolgos and MPs Silas Tiren (Moiben) and William Chepkut (Ainabkoi), said they will back President Uhuru Kenyatta's good working relationship with Gideon.
They said they will also support President Kenyatta's development and unity agenda.
The leaders urged the Kanu chairman to work closely with the president as he concludes his second term.
Recent changes
Gideon thanked President Kenyatta for supporting Tiren in the recent changes in National Assembly committees.
He asked Tiren to use his new position as National Assembly Agriculture Committee chairman to make changes that will better the agriculture sector.
"Our people depend on maize, tea and other crops and you have been an activist and now you are on the decision-making table. We trust that you will make things better," Gideon told Tiren.
He lauded Kanu members across the country for remaining firm in the face of political dynamics.
Gideon was blessed by the clergy in the church service organised by Kanu leaders from Nandi County and held at Kenmosa.
Tiren said the senator is in a better position to succeed President Kenyatta.
The lawmaker said politicians supporting the president's agenda will hold a series of prayer services in coming months.
Development agenda
He said leaders from the region will rally behind Gideon in ensuring the president achieves his development agenda.
"We fully support President Kenyatta's agenda by all means. He is guarding Kenya jealousy, but the one who will be coming to protect Kenya even more jealously after Uhuru is Gideon Moi," the Moiben MP said.
"This is the beginning of a journey that will culminate in better things ahead. We will work together with our clergy in this journey."
Tiren thanked the Jubilee coalition, which Kanu is part of, for trusting him with the Agriculture Committee chairmanship in the National Assembly.
Governor Tolgos said Kenya deserves a humble leader like Gideon.
He lauded the Kanu chairman for signing the coalition agreement with Jubilee, saying it has united supporters of the two political parties.
"I chose to work with Gideon because he is a leader who is humble like me and I was told that I had joined the opposition. Now Kanu and Jubilee Party are in one coalition," said Tolgos.
"Through that MoU, you made sure that Mr Tiren got back his Agriculture Committee chairmanship. Continue supporting Tiren because he has a difficult job of ensuring farmers' interests are taken care of."
Tolgos urged Gideon to defend top state officers from the Rift Valley from political persecutions and sackings.
He also urged him to back the president on the third generation of revenue allocation formula among counties, which is currently awaiting approval by the Senate.
The governor said the formula will help counties, including Elgeyo Marakwet, which he said have been receiving unfairly little allocation through the previous formula.
"We don't want this formula to break the unity of our nation. Through your leadership, we can break the deadlock and the country will have a win-win revenue sharing formula," Tolgos said.
Chepkut described Gideon as an approachable leader who can unite the country.
"Tell President Uhuru that we support him. We are aware of the current political turbulence. We thank him because he has the wisdom to weather the storm," Chepkut said.