Kositany, Tuju set to lock horns over Jubilee finances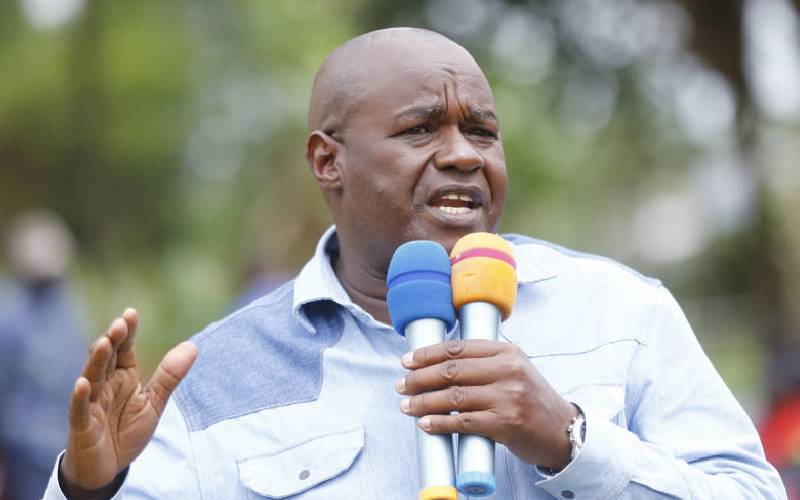 Leadership wrangles in President Uhuru Kenyatta's Jubilee Party have deepened with claims of embezzlement of more than Sh1 billion.
Yesterday, embattled Jubilee Deputy Secretary General Caleb Kositany wrote to Secretary-General Raphael Tuju requesting to be furnished with documents of the party's financial status.
Although in his letter requesting full disclosure of party receipts and expenditure Mr Kositany did not quote any figure, in an earlier post on his Tweeter handle he had published financial statements alleging Sh1.1 billion could not be accounted for.
This happened just a day after he linked his planned ouster from the party leadership to alleged misuse of funds and gave Mr Tuju seven days to make the particulars available.
The vocal Soy MP who is Deputy President William Ruto's ally said he was writing on behalf of 100 Members of Parliament and 500 MCAs who are Jubilee members.
The MP had sensationally claimed that millions of shillings being spent on tea and snacks at the party headquarters were part of a scheme to siphon public funds.
He called on the Office of the Auditor General to look into the party's financial records, claiming a section of officials were behind the alleged fraud. "They must stop running Jubilee like a kiosk. Our party has become a cash cow for a few," he said on his Tweeter handle.
Among documents he sought are approved budgets, procurement records, certified bank statements, finance and audit committee reports, tenancy agreement for the party headquarters in Pangani, Nairobi as well as a schedule of salaries and wages and pending bills.
In the letter dated July 13, the MP is seeking the approved budget for financial years 2016/2017, 2017/2018, 2018/2019 and 2019/2020.
"Share all approved financial records, reports and all committee minutes for the years in question, certified bank statements for all Jubilee bank accounts for the same financial years, including all cash books," he wrote.
Tuju acknowledged receipt of the letter and promised to table the documents at the next National Executive Council meeting.
He said the audit for 2016/2017, 2017/2018, 2018/2019 was available while that of 2019/2020 has been concluded and awaits the certificate from the new auditor, who is yet to assume office.
"These are public documents and you are entitled to get the copies from the Auditor General's office or the Registrar of Political Parties. The party cannot receive political parties funds without due compliance," he stated.
Kositany also requested for finance and audit committee minutes and internal audit report for the same period.
This in addition to schedule of all Jubilee Party county offices paid by the party, including copies of the lease agreements.
The MP wants the lease or tenancy agreement for the party headquarters and schedule of rent paid for the same period, copies of all expenditures incurred and paid for the financial year sought.
He wants to be furnished with all schedules and sub-schedules thereto, inclusive of all assets owned by the party and attached assets register for the financial year sought.
The MP also demanded schedules of donations in kind and or otherwise from any other party, including Chinese CPC, or any other members for the financial year in question.
"The schedule should include all contributions by elected and nominated members, including MCAs, MPs, schedule of all salaries and wages to staff for the same period and schedule of pending bills," he stated.
"May I get this information within the next seven days of this letter? I believe the seven days' timeline is achievable owing to the fact that the information sought is within your records. In the event that the same are not availed or substantive response made within the stated timeline, we shall be left with no option but to seek redress elsewhere," Kositany said in a letter to Tuju and copied to the Registrar of Political Parties Ann Nderitu.
Tuju censured Kositany for writing to some county assemblies to contradict communication from his office.
"You are on record as having taken the party to court that you eventually withdrew. Your latest letter 'demanding' documentation from the office of the SG, where you are the deputy and you proceed to give an ultimatum of seven days is puzzling if not some rather desperate political posturing," he stated in the response copied to party chair Nelson Nzula.