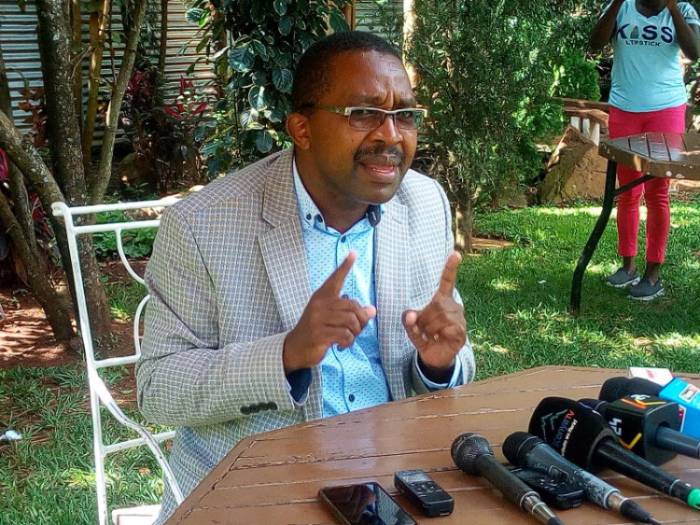 Political temperatures in Mt Kenya are rising as the race to succeed President Uhuru Kenyatta gains speed. Cleaned out by Jubilee Party which merged with majority of the smaller parties in the region in 2017, the political scene in the region is once again crowding with parties eyeing a share of the expected spoils in 2022. While President Uhuru Kenyatta has put his foot down in Jubilee Party, there is a feeling that the region lacks political direction. Members of his own party have in recent days started to test the political waters. It appears that Kenyatta's political base is unsettled in Jubilee Party, waiting for the tumultuous ride to be over to abandon ship.
SEE ALSO: 2022: Every man for himself
Already, former Agriculture Cabinet Secretary Mwangi Kiunjuri is building his political arsenal in The Service Party, a new party he has founded. Last week, Murang'a Governor Mwangi wa Iria, who is serving his last term as governor, announced he would use Civic Renewal Party (CRP) to seek a national elective position in 2022. Wa Iria confirmed what many had been suspecting since he was linked to the party which was registered last year. CRP was one of the recently registered parties targeting the Mt Kenya political base alongside Kiunjuri's TSP and Transformation National Alliance Party (TNAP) which has a provisional registration. In Meru, National Ordinary Peoples Empowerment Union, a party formed by Eala MP Mpuru Aburi, is meant to give the Mt Kenya East a say in 2022. The party seeks to fill the gap that was previously occupied by the Alliance Party of Kenya, formed by Governor Kiraitu Murungi but which folded up to join the Jubilee Party coalition. "Our goal is to make this the party of choice and of the future, both for Meru and Tharaka Nithi and the rest of Kenya," Aburi said.
SEE ALSO: Jubilee endorses former MP for speaker's seat
Sour taste
Kiunjuri said the coalition politics had left him with a sour taste in his mouth. "There is no way we are going to go the way of dissolving parties again. This is a party for the future and it will remain," he said. He said the region is undergoing a political realignment that would give all parties an even playing field and that it was imperative that Mt Kenya have more than one party with elected leaders. "Whether we (Mt Kenya) produce a president or not, we must have a party within the region that will be reminding the government of the day that it needs to do more for the people of the region," Kiunjuri said. Whether the parties will survive in the environment created by Jubilee Party or flounder in the two years before the country goes to another vote in 2022 is conjecture.
SEE ALSO: Jubilee summons Nairobi MCAs to discuss speaker vote
Faith Ndindiri, a London School of Economics trained development economist and political analyst, believes these parties are preparing themselves to be absorbed by the next special purpose vehicle. "Everybody is trying to see how they can have a seat at the table and realise they can't have it without a party," she said. Too many small parties, she said, can have a destabilising effect on the electoral system. "They are also transient and often without strong ideology. Those forming them are merely preparing to be courted for a coalition before the next election. "Mt Kenya is being "foolish" in thinking that they can form their own small vehicles and be able to achieve the big momentum we want," Ndindiri said. Kirinyaga Senator Charles Kibiru, however said everybody needs to be given the space for their political exploits. He however said the best option for the region would be fewer parties that have working structures. "We do not need everyone coming up with their own party otherwise we will be balkanising counties and regions," he said. Kibiru said that a proper direction for the region will come from the BBI document. Political waters in Mt Kenya are simmering and nearing boiling point everyday 2022 draws nearer. Former Gatanga MP Peter Kenneth has also entered the fray and is attempting to bill himself as next regional point man after President Kenyatta. On Wednesday, Kenneth was among elected politicians from the region at a lunch meeting whose intent is to lay out a political road map for the restive region. The meeting was hosted by National Assembly Speaker Justin Muturi Out of public office since 2013, Kenneth is trying to engineer his political resurgence but observers say his undoing in the past was his leaving it until late to resurface. "Kenneth has an opportunity to organise the region. It may sound far-fetched but we have a situation where the region feels like they have been left without a successor. "If he plays his cards right, he has a good national profile and just needs to have the gatekeepers admit him into the process because right now, he seems to be outside," Ndindiri said. The political analyst says the opportunity for Kenneth and Wa Iria lies in Kenyatta's silence over his successor.
Constitutional reform
With no apparent presidential candidate for the first time since the 1992 multi-party elections, observes say Mt Kenya region's strength might be in a party where it can dictate the political outcome. But the current situation mirrors the 10th Parliament where smaller parties from Mt Kenya such as Safina, Ford Asili and Sisi kwa Sisi secured a number of seats at the expense of the Party of National Unity (PNU) which was without a majority. However, with the ongoing push for constitutional reform, Ndindiri said it was a possibility that 2022 will be different. "The dispensation might change and we might have a parliamentary system," she said. [
Additional reporting by Boniface Gikandi and Phares Mutembei
]