Bungoma tycoon Nandalwe to help Waluke family raise Sh700m fine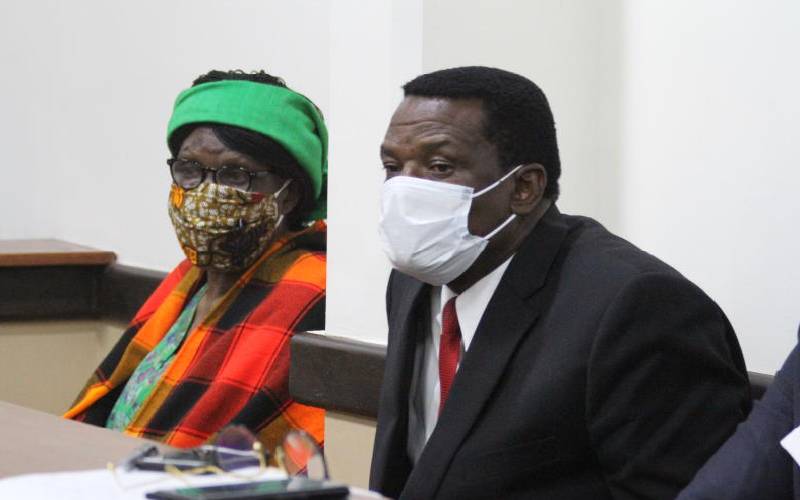 Bungoma tycoon and ODM politician Moses Nandalwe has said he will contribute 'something small' for Sirisia MP John Waluke to help him clear Sh700 million fine.
Waluke and his co-director Grace Wakhungu face jail or heavy or close Sh1 billion fine after being convicted for fraudulently receiving more than Sh300 million from a State agency.
Speaking to Standard Digital on phone, Nandwale said being from Sirisia, he has agreed to join the family and residents in contributing towards the MP's bailout kitty, but not to single-handedly raise the Sh700 million fine.
The 33-year-old businessman, who owns Nandwale Foundation, said though he hates corruption, he has decided to chip in after Waluke's family and locals requested him to do so.
"Locals are fearing that if their MP is jailed, it will halt services and it is along that line they have asked me like their son to come in," he said.
The flamboyant politician, however, refused to disclose how much money he is planning to give the family, saying it is a taboo in their community to make public what you give out to help a brother.
"Ask any other Bukusu out there, he will tell you it is against our tradition to disclose what we contribute, may be you can wait until that time I have given the family my contribution and ask them," he said.
Nandalwe dismissed those who claim he is playing politics with the matter saying he has also been approached by the MP's family.
"Some people think I am mocking my brother Waluke, yet the family has approached me and other Kenyans to come in," he said.
Nandalwe who is a close friend of Cotu boss Francis Atwoli and an ally of ODM leader Raila Odinga said Sh700 million was not small money hence the need to assist.
"Some people think raising Sh700 million is a joke, we are in this as Sirisia people and other leaders have also joined us," he said without naming the leaders.
He said his gesture should not be misconstrued to mean he abets graft, adding that giving his contribution will discourage his opponents from using Waluke's situation against him.
"If I don't help, you will see them run around telling people that I was part of the people who jailed Waluke and sometimes the masses will buy such cheap propaganda."
He added that sometimes in politics, sometimes you do what is politically correct and in the interest of the people you are aspiring to lead even if it could be wrong.
"I am doing what is politically correct and what suit the situation now, that is what politics has taught me," he said.
Mistaken generosity
Nandalwe also dismissed people saying he is rich, saying they were mistaking his generosity for deep pockets.
He said his generosity has earned him very many bad names, with locals made to believe he is very rich.
"Whenever I assist a school, a suffering woman gets a house, I give youths something small, they call me Dangote, Mr Money Bugs…it is missing the point, let us uplift our people with the little we have," he said.
The politician acknowledged that Waluke is still his opponent and that he will contest against him in the 2022 General Election but will still help him when he needs any assistance.
"I am ready to beat him anytime the elections are called be it in 2022 or now, but that does not stop me from assisting him," he said.
Waluke faces a 67-year jail term and a fine of Sh727 million for embezzling Sh300 million public funds through a maize scandal.
He is at risk of losing his property if he fails to pay the fine or win an appeal.
The Director of Public Prosecutions (ODPP) has said they will put up his property for auction to raise the money.
The MP's salary was also stopped by the Parliamentary Service Commission pending an appeal in court.