Raila doing well and in touch with local politics, says duo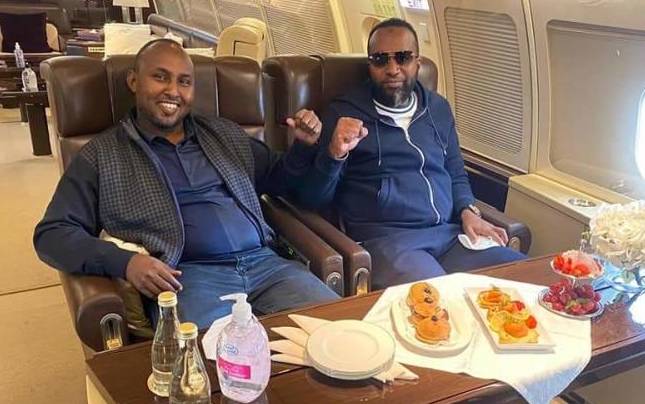 Mombasa Governor Hassan Joho and Suna MP East Junet Mohamed visited ODM leader Raila Odinga in Dubai where he is recovering after surgery and briefed him on what is happening back at home.
Joho, who is also the deputy party leader and Junet, ODM's director of elections, chartered a 19-seater Airbus A318 ACJ to the United Arab Emirates (UAE) to meet the opposition leader whose absence from the country has stymied political processes.
Joho and Junet said Raila was jovial and is longing to come back home after a successful operation at a German facility in the UAE.
Raila went to Dubai a few weeks ago for what his family described as a minor surgery.
He was accompanied by his daughter Winnie. About a week ago, Winnie shared a video of her father dressed in a blue short and an orange polo shirt, relaxing at the hospital.
"We met him and he was in high spirits. We had tea together and briefed him about what is going on back at home. He told us he was eager to be back home. We updated him about the political situation in Kenya and we laughed together," said Junet.
There has been heightened anxiety over the absence of the ODM leader despite his photos being shared online showing he is doing well. In his absence, the political scene has taken a lull.
While Raila was away, the Building Bridges Initiative (BBI) team finished its work and has said it is ready to handover the report. The team was appointed by President Uhuru Kenyatta and Raila following a truce between them. The two leaders had been at loggerheads over the 2017 General Election results which threatened to tear the country apart.
During his absence, also, ODM and Jubilee are deadlocked in sharing of the parliamentary committee positions. ODM has been keen on the control of the leadership of key committees that would shape the BBI process when it finds its way in parliament.
Also, in his absence, the Senate deadlocked on the third basis for sharing of revenue between counties, with President Kenyatta now issuing an ultimatum to the Senate to get its act together.
It is also during his absence that Uhuru finally opened up the economy but asked Kenyans to take up the responsibility of protecting themselves and their loved ones.
"He pleaded with Kenyans to be wary of the coronavirus pandemic and asked them to keep safe," Junet told The Standard last evening.
Before he left, Raila had been the top ranking political figure in Kenya to undertake a public test Covid-19 results of which he shared with the public.
"I took the Covid-19 test at Kemri in Mbagathi earlier today. I took the opportunity to appeal to all Kenyans to go for testing. A Covid-19 certificate is becoming an important document as we continue battling the pandemic," Raila said on June 14.
A day later, he tweeted: "Just received my Covid-19 test results which came back negative. I commend. Once again, I appeal to Kenyans to take tests, sanitise and observe social distancing."
Yesterday, his wife Ida Odinga told The Standard that her husband was recovering well and would be back soon.
"We thank Kenyans for their continued prayers and best wishes for his swift recovery. Very soon, he will be back," said Mrs Odinga.
Mrs Odinga has repeatedly assured Kenyans that the opposition leader is now in good health and will return soon.
"We decided that he stays a little longer in Dubai to gain full recovery and avoid visitation that would distract his recovery and this is based on his doctors' advice. He is in stable condition," said Mrs Odinga.
Yesterday, ODM chairman and minority leader in National Assembly John Mbadi said nothing can move on BBI until Raila is back.
"Until Raila returns, the discussions revolving around the BBI cannot start because it was the key principals, the president and Raila who hold the key to reforms," said Mbadi.
Mbadi said Joho and Junet went to visit Raila in their own capacities. He disclosed that last week, some top party officials and MPs also wanted to go but the decision was dropped at the eleventh hour after many expressed interest to travel.
"It was then decided that the idea be shelved to avoid mass travel," said Mbadi.
But he disclosed that the family had not decided on his possible return date opting to give him more time to rest. "We do not expect him to take longer than two weeks from now," said Mbadi.