Kimunya makes a false start after meeting turns messy, with 'dictator' chants over committee positions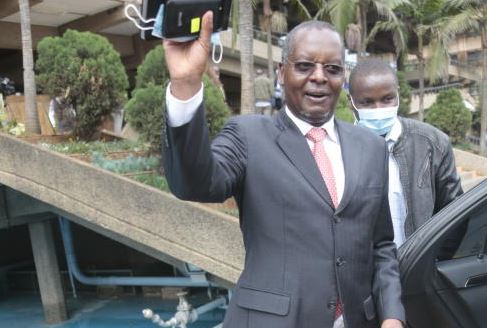 New National Assembly Majority Leader Amos Kimunya (pictured) botched his first major assignment in the House, as it emerged that the sharing of Jubilee purge spoils is not a walk in the park for the ruling party.
The Sunday Standard can reveal details of a chaotic select committee meeting presided over by Kimunya, where he declined to entertain any changes to the committee membership list despite pleas from both the majority and minority sides.
During the highly charged meeting, Kimunya is said to have shouted down his colleagues who wanted further consultations on the list, claiming it had been drawn by President Uhuru Kenyatta and he could not change even a comma.
As tempers flared, a ranking member of the House called Kimunya a dictator, telling him he had not been granted the post to dictate matters to them.
Committee members who attended declined to go on record about the meeting so as not to be seen discussing the matters in public.
"We thought Kimunya had changed and humbled, but the meeting was an indicator that he is the very same Kimunya. He declined to listen to us and adamantly insisted on pushing through the list only for him to eat the humble pie on the floor of the House," said an MP.
Multiple sources corroborated the unease meeting, accusing Kimunya of goofing on his fist assignment.
Mwea MP Wachira Kabinga, who attended the meeting, admitted that there were flare-ups, but which he said were expected given the sensitivity of the matter being discussed.
"It was expected that the meeting would be stormy. But all what I can say is that the Majority Leader will have a big kibarua (duty) going forward because he must consult widely for him to come up with a list that is acceptable to all parties," said Wachira.
Wrong assumptions
Yesterday, Kimunya admitted that there was tension at the start of the meeting, which he attributed to a "misplaced entitlement" that the committee was to kick out the Tanga Tanga allied MPs and deny them any committee business altogether.
"There are people who came with the thought that they were coming to pick and place. They came with this mentality that we are now the people to distribute the cake, but the mandate of the committee in placing membership is done in consultation with parties and the parties' leadership," said Kimunya.
"When I corrected them on the mandate before us some of them were a little uneasy, but we finally dealt with the matter amicably."
Kimunya, barely three weeks into the job after he succeeded Aden Duale, was chairing his first Committee on Selection to draft changes to committees to replace Deputy President William Ruto's allies, who had been de-whipped from leadership positions.
The changes in committees, sources say, were also meant to ensure President Kenyatta and Opposition leader Raila Odinga's Building Bridges Initiative (BBI) and Handshake agenda did not land on hostile committee members once the matters are brought to Parliament.
According to Minority Leader John Mbadi, the meeting was to make changes to the Justice and Legal Affairs Committee (JLAC) and the Committee on Delegated Legislation that were formally chaired by key Ruto allies - Baringo North MP William Cheptumo and Uasin Gishu Woman Rep Gladys Shollei, respectively. The two teams are critical to the passing of the BBI report.
The membership of these committees, the pro-BBI team argues, are tilted towards Tanga Tanga group allied to Ruto, and thus required a shake-up to ensure the BBI process would not face obstacles.
Another committee that the the pro-Handshake MPs wanted changed was the Budget and Appropriations Committee, which was chaired by Kikuyu MP Kimani Ichung'wah, a Ruto ally. A source said they needed to replace Ichung'wah with one of their own who would support allocation of funds for a referendum.
"Nasa did very well in the reconstitution of their committees. In JLAC, for example, they had brought their very best lawyers in the House - Otiende Amolo, Kaluma (Peter) and Anthony Oluoch - because they know this is the committee that will majorly handle BBI," said Kieleweke-allied MP who attended the meeting.
Rejected proposals
"But when it came to us, we rewarded some Ruto allies, some of who have strongly opposed the BBI like (Manyatta MP) Muchiri Nyaga and even KJ (Dagoretti South MP John Kiarie). It is like Kimunya just wanted to place hurdles on the passage."
Kimunya is said to have shot down proposals that the committees must be formed towards supporting Uhuru and Raila's agenda on BBI and the Handshake.
At one point he reportedly told a member that they were not there "to articulate and discuss BBI and the Handshake, or advance the positions taken by their party leaders, but to endorse the list".
But the Kipipiri MP dismisses the sentiments, saying majority of those opposed to his list are complaining because they expected to be given positions in particular committees as rewards for supporting the Handshake.
"We were not there to play factional politics. There were people who have this feeling of entitlement. They perceive themselves to have been more active in defence of their factions and thought we were reconstituting the committees to kick out members of the other faction. Sorry, I am not going to deny any MP their constitutional right of oversight," said Kimunya.
He said those complaining had their eyes set on being chair and vice chair of some committees and are now disgruntled after failing to clinch these positions. The majority leader said Jubilee Party would not cede ground on the membership, adding that it was the minority that ought to consult over their list. He said in Jubilee they would only reconsider cases where some members are in more committees than others.
Jubilee Party Vice Chairman David Murathe defended Kimunya, accusing both his party lieutenants and the Opposition of being unrealistic in the reconstitution of the committees.
Murathe said the list tabled by Kimunya had the blessings of the president and insisted that despite it being withdrawn, it would not be changed.
"There is no room for any further consultations on the list. The president knows the competencies of each of these people and has distributed the positions according to his belief on the capacity of each MP. Besides you cannot dictate which committee you want to serve in," he said.
Murathe said those complaining were disgruntled after they were not given leadership positions as they expected.
He told them to either take up the positions given to them or ship out. He told the disgruntled MPs to drop their sense of entitlement and admit that even Ruto allies had a right to serve in committees.
Sources also revealed that before the list came out there was intense lobbying, especially from members of Kieleweke, wishing to be included in some of the lucrative committees or leadership positions.
Complaints in the Kieleweke group were that some Ruto allies had still retained some powerful positions, citing the retention of Pokot South MP David Pkosing as the chairman of the Transport Committee. On complaints that some of the de-whipped MPs allied to Ruto had been given soft landing by being given membership to powerful committees, Murathe said it was the right of the legislators to be granted committee works.
"They are also leaders and still remain members of Jubilee. We only removed them from chairing the committees.