Respect President Uhuru or quit coalition, Kanu leaders tell Tangatanga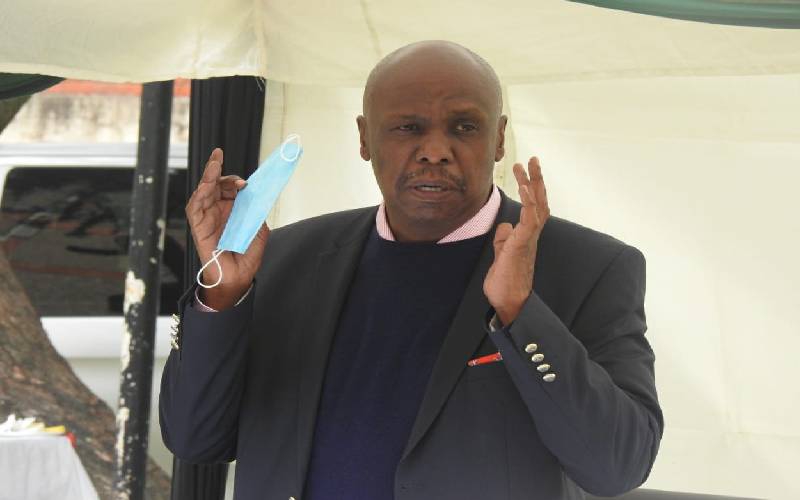 Kanu leaders have hit out at a section of leaders from Rift Valley for constantly insulting President Uhuru Kenyatta and challenged them to quit the Jubilee coalition.
Speaking on Friday during the party's NEC meeting at its headquarters in Nairobi, Senate Majority Leader Samuel Pogishio told politicians insulting President Uhuru to instead leave Jubilee coalition if they no longer believe in Uhuru's leadership.
"If you no longer believe in a leader or party, the best thing is to leave the party not to insult the President," said Pogishio.
"It is embarrassing that leaders from Rift Valley are the ones insulting President Uhuru despite all that he has done for the region," said Pogishio.
Tiatty MP William Kamket said the dwindling political fortunes of Deputy President William Ruto should not be misconstrued to mean President Uhuru hate Kalenjin community.
He slammed Kapseret MP Oscar Sudi for constantly insulting President Uhuru and spreading lies in the village that the Head of State does not like the Kalenjin community.
He cited Pogishio and Deputy Senate Speaker Margaret Kamar as some of the leaders from their community that hold senior positions in Uhuru's government and are ready to serve the masses.
"We are equally Kalenjins and will serve the interests of the Kalenjin community just like the like of Sudi did, we serve the same region and people," he said.
He cautioned the community against listening to lies being peddled by Tangatanga leaders that President Uhuru had abandoned the Kalenjin community just because they lost House leadership positions.
"Don't be driven into a corner to believe that the removal of some people from House leadership positions means the government is anti-Kalenjins that is hogwash," he added.
Pogishio said the independent party NEC resolved to push for more representation in various Parliament committees to help President Uhuru Kenyatta push his agenda.
He said Kanu is targeting various committees in Parliament adding that its members will be slotted into the committees to contribute for the betterment of the country.
"There people who hold these positions but no longer believe in the President, we want our members to be given these position to help President Uhuru to drive his agenda forward."
New pact
The NEC meeting according to party chairman Gideon Moi ratified their post-election coalition pact with the Jubilee party.
He said the party also resolved to back President Uhuru's unity drive and development agenda for the country.
"Today morning, I chaired the National Executive Committee meeting held at the Kanu headquarters, in which the members resolved to support our post-election coalition pact with the Jubilee Party," said Gideon.
"The NEC has also reaffirmed the party's support for President Uhuru's unity drive and development agenda for the country," he said.
Kanu Secretary General Nick Salat hailed the new coalition with Jubilee saying it has given Kanu more bargaining power inside and outside Parliament.
Salat said they will push for more representation in the National Assembly to help President Uhuru push his agenda for the nation.
"We are negotiating through our chair Gideon Moi to get our members into House committees to so that we can help the government push its agenda," he said.
"What we have achieved, where we want to go and will stand with the president. We need the right people at right places to push President Uhuru Kenyatta's agenda."
According to Salat, the NEC meeting also discussed party discipline, new membership among other issues.