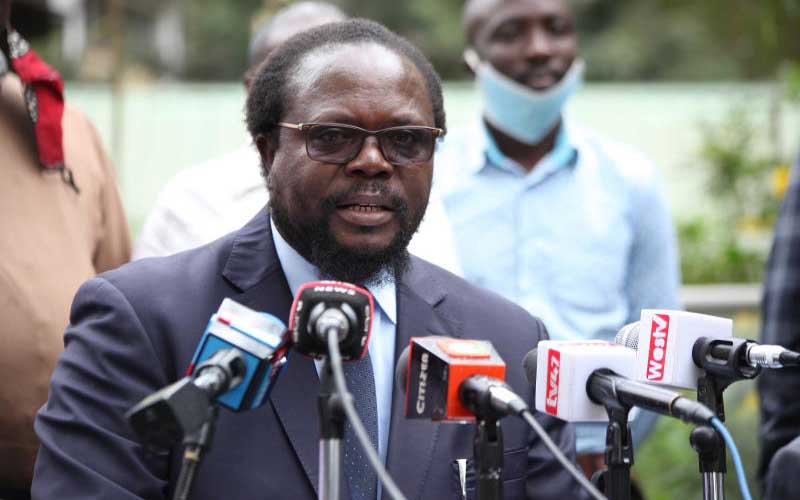 A High Court is today expected to pronounce itself on two issues that will determine the fate of the contested leadership of Ford Kenya party.
This is after a faction led by Kanduyi MP Wafula Wamunyinyi petitioned the court arguing that Bungoma Senator Moses Wetangula had filed a case in a wrong court without exhausting the provisions of the Political Parties Dispute Tribunal.
In a constitutional petition filed at the High Court, the Wamunyinyi-led faction cited Political Parties Act which categorised High Court as an appellate court in matters political parties conflict.
Section 41(2) of the Political Parties Act states that "An Appeal shall lie from the decision of the Tribunal to the High Court on points of law and facts and on points of law to both the Court of Appeal and the Supreme Court."
Through Rachier and Amollo Advocates, Wamunyinyi wants the court to rule whether it has jurisdiction to hear such a case for the first instance before the dispute is heard and determined at the Political Parties Dispute Tribunal (PPDT).
"This Honourable Court issued interim conservatory orders on or about 15th June 2020 pursuant to an application by the petitioner. This Honourable court did not have jurisdiction to issue the said interim conservatory orders, a fact that the petitioner intentionally failed to disclose," reads part of the petition filed on June 17, 2020.
Justice James Makau who is handling the case is also expected to pronounce himself on the issue of urgency which he certified in the Wetang'ula's petition.
This is after a complainant, Wycliffe Boiyo, a Nairobi resident, wrote to the Judicial Service Commission (JSC) complaining about how the Judge handled the issue of urgency.
Boiyo in his petition to JSC argued that the judge's order of urgency was mischievous and was meant to frustrate the changes.
He also wondered why a matter (court's jurisdiction to hear the case) that had been certified as urgent was pushed for mention 12 days later.
"I find this to be mischievous plot by the judge to ensure that the conservatory orders he granted would be extended on 29th June 2020. If the matter was urgent, why did he not fix the application for hearing on 29th June 2020, and not just mention or if he wanted a mention to confirm service and filing of responses why did he not fix a mention on a day earlier than 29th June, 2020?" he said in his complaint to JSC.
On June 8, the Bungoma lawmaker withdrew his case before the Tribunal and requested the PPDT to refer the matter for resolution by internal party organs.
However, Senator Wetang'ula moved to the High Court eight days later where he obtained orders putting on hold the changes that would see Wamunyinyi take over as party leader with Eseli Simiyu (Tongaren) retaining his Secretary General seat.
The petitioner also accused Wetang'ula of shopping for a friendly court to frustrate the management changes initiated by Wamunyinyi.