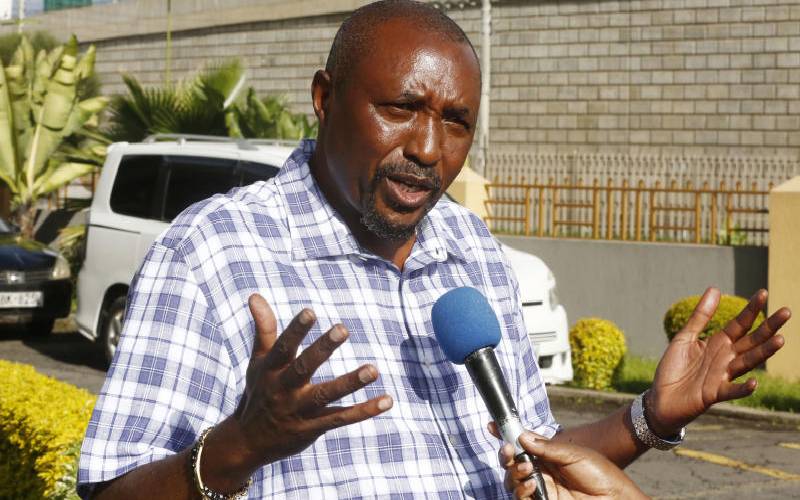 Deputy President William Ruto's allies have declared they will snub the Jubilee Parliamentary Group meeting to be chaired by President Uhuru Kenyatta this morning. MPs Kimani Ngunjiri (Bahati), Oscar Sudi (Kapseret), Caleb Kositany (Soy), Cornelly Serem (Aldai) and Didmus Barasa (Kimilili) said yesterday they would skip the meeting where President Kenyatta is expected to name new committee chairpersons to replace more than a dozen of the DP's allies ousted last week. "The president has invited us for a PG meeting tomorrow. In the recent meeting, we expected the president to come and unite us. Instead, he hurled unpalatable remarks at us. As an elder I left the meeting feeling sick," Ngunjiri said. "We have not stopped him from doing anything he wants and we are in agreement. Whether it shall be our expulsion from House committees or firing some Cabinet secretaries, we have no problem."
SEE ALSO: Governors wish-list to Uhuru on Covid-19
"We had standing orders at the National Assembly and Senate guiding how leadership and membership of committees was to be done. Unfortunately, the president changed that, making such appointments to be at his discretion," said Ngunjiri. The legislator said the president should not stop at taking any action against those he feels are likely to jeopardise his administration and in leaving a legacy that he desires. "Unfortunately the administration has turned to sanitising corrupt leaders who are in favour of the president. This is why we shall not attend the meeting. He has all the powers to make the changes," Ngunjiri added. He said Uhuru was attempting to adopt the political and economic systems of China, which was not applicable in Kenya's politics. "We can't just borrow what China's Communist Party is doing. This is what he is pushing for through the Building Bridges Initiative and the attacks on other smaller political parties," he claimed.
SEE ALSO: Uhuru: Inside last 735 days as President
Sudi alleged that foul language used during the last PG meeting was reason enough for him to skip today's. "I may be young, 40 years old, probably among the youngest leaders, but I won't take myself to a place where I will be insulted by a fellow man," said Sudi. The MP said the PG meeting was only aimed at rubber-stamping the president's predetermined positions. "There is no need for the president to call us to Nairobi when he knows well what his decision is and our attendance will not change it. He should just carry on with his plans, as he has shown us we have no stake in Jubilee," Sudi said. He explained that Jubilee members have recently been treated as outsiders in their party, adding that was among the reasons they decided to open the Jubilee Asili Centre.
SEE ALSO: Kenya's curse: Motion without movement
"There was no communication to members that the party was entering into agreements with other political parties. We have left Jubilee Party headquarters to them. Our new centre will serve those who have been mistreated," said Sudi. He lashed out at Jubilee Party Deputy Chairman David Murathe, accusing him of disrespecting elected leaders despite them being the financiers of the party he leads. "Murathe should quit using foul language while addressing us. He should note that we represent Kenyans and an insult to us is an insult to the population backing us. Our differences should not extend to personal attacks and on our families," said Sudi. Kositany said: "I will not be attending. The notice was short and I am out of town. Again, we are never given the opportunity to share our views. It will make no difference even if I were to attend. Let them go on with their meeting." "I have received the message but there is no agenda for the meeting. I don't see myself attending. If the agenda is to remove (National Assembly Majority Leader Aden) Duale, I have no business being there," said Serem. Barasa said: "I will not attend. I have constituency matters which are more important. We are not controlled by remote control."