ODM: We've no business kicking Mudavadi out of his Amani party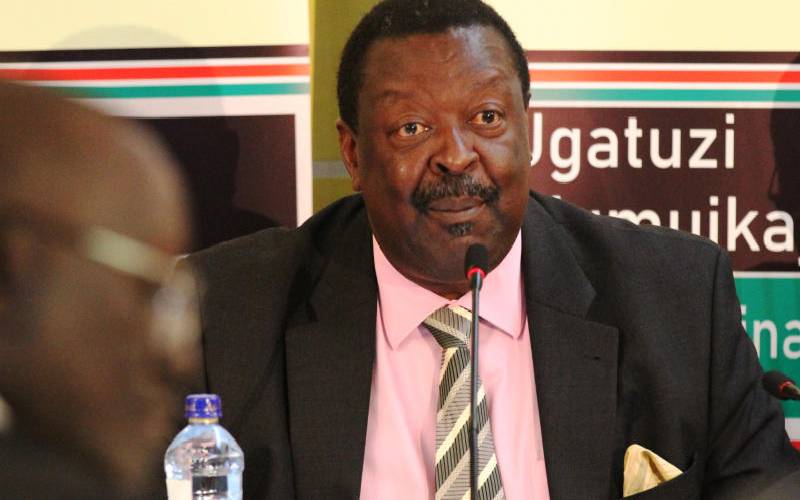 The battle for the soul of western Kenya continued to unravel yesterday as the leadership of political parties that enjoy a large following in the region fought for their survival.
Nasa coalition parties, Ford Kenya and Amani National Congress (ANC), are currently going through turbulent times and have blamed Raila Odinga's Orange Democratic Movement for their woes.
Bungoma Senator Moses Wetang'ula is fighting for leadership of Ford Kenya after a section of its leaders ousted him last week. He has taken his battle to the Political Parties Disputes Tribunal in a bid to stop his rivals from taking over the party. (See separate story)
In ANC, reports have emerged of a plot to oust Musalia Mudavadi (pictured) amid claims that an MP set to replace him developed cold feet at the 11th hour. Snippets of how the scheme allegedly came a cropper emerged on Monday just moments after some ANC lawmakers raised the alarm over the alleged plot to overthrow their leader.
Lurambi MP Titus Khamala, Justus Murunga (Matungu) and Tindi Mwale (Butere) told journalists in Matungu that the architects of the plot had attempted to convince them to dump Mudavadi and ANC for ODM. Lugari MP Ayub Savula, who is ANC deputy party leader, claimed to have received a call from Mudavadi last week demanding to know whether he was aware of plans to have him removed from the helm of the party.
"Mudavadi must have been briefed by his intelligence team about the arrangements, his voice was firm when he called demanding answers," said Savula.
He claimed he was under pressure from ODM to take the party reins from Mudavadi by Monday evening.
"A chopper was on standby to fly me to Nairobi where those behind the scheme awaited my arrival where a repeat of what happened in Ford Kenya could have played out," said Savula whose loyalty to his boss has been in question.
The development came a few days after Siaya Senator James Orengo's visit to Savula's home on Saturday to attend the burial of his father, Arthur Angatia.
Nasa meeting
Orengo declared support for the legislator's quest to succeed Kakamega Governor Wycliffe Oparanya in 2022.
"He (Mudavadi) must forge a working friendship with President Uhuru Kenyatta with focus on 2022. His adversaries have been feeding the president with false information that he is warming up to Deputy President William Ruto, they want to keep him far away from the head of state but Mudavadi ought to engage the president directly," said Savula.
Savula called on Raila to convene a Nasa affiliate parties meeting to deliberate on the sibling rivalry and other critical matters. But yesterday, ODM denied the claims levelled against it, saying the party's philosophy is non-interference in the affairs of other parties.
"ODM as the dominant political movement in Western Kenya, has no compelling reason to plan a coup in ANC against Mudavadi. We reiterate that the stated policy of the ODM party is that of non-interference in the internal workings of other political parties because as you all know we have issues of our own as we strive to perfect ourselves," said party Secretary General Edwin Sifuna at Chungwa House in Nairobi.
Sifuna said there are no circumstances under which ODM or any of its leaders would entrust a coup to Savula.
"We have stated that Mudavadi is a one-gear lorry hurtling down a hill unaided, on a long-term self-destruct mode, that has never needed the assistance of Raila or ODM, to crash into oblivion," he said.
He said left to his own devices, Mudavadi is a round-the-clock coup plot against himself, simply by his "uninspiring disposition, political inertia and inexplicable affinity for bad choices".
He said ODM has forgiven Savula for today. "However, we cannot fail to remind him that politics of the ledger, where his lips speak for the highest bidder, is not our brand."
Nominated MP Godfrey Osotsi also dismissed claims that he had been approached by ODM to wreck ANC.
Osotsi accused Savula of meeting a Rift Valley MP in Eldoret, adding that Mudavadi and Wetang'ula have been planning to join Ruto's camp but were blaming it on Raila.
In Nairobi, Ford Kenya interim party leader Wafula Wamunyinyi yesterday demanded that Wetang'ula vacates office as a sign of maturity in democratic ideals.
Wamunyinyi, who has been gazetted as the intended party leader by the Registrar of Political Parties, said the take-over of the party is not a personalised war against Wetang'ula.