Uhuru employing various tactics from his predecessors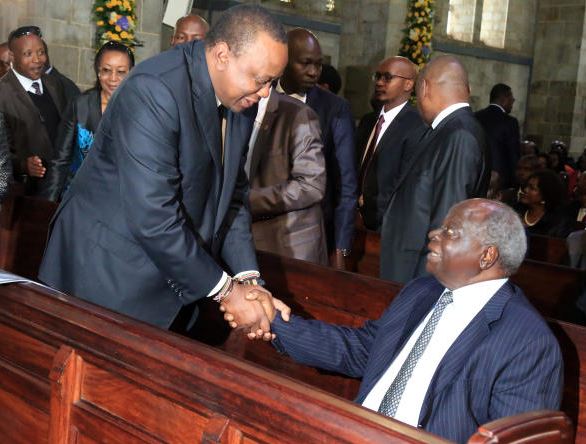 The last few years of President Uhuru Kenyatta's predecessors – except his mentor the late President Daniel arap Moi – were characterised by unmistakable docility, feeding the lame-duck myth that is now being crushed.
In the last days of their administrations, founding President Jomo Kenyatta and Uhuru's own predecessor Mwai Kibaki (pictured right), were running their affairs on the autopilot of bureaucrats and trusted allies.
At the time he was dying in his sleep on August 22, 1978, Kenyatta was running the country on autopilot, mostly from Mombasa where he was regaled with Coastal breeze and tribal dances.
When the fury of the "change-the-constitution" wave championed by his inner circle enveloped the nation, he did very little to stop it.
It took former Attorney General Charles Njonjo to slam the breaks on the chorus, after he criminalised the imagination of the president's death.
Exit Kenyatta and enter Moi. His initial days were defined by unity, peace and love themes until he was jolted by the 1982 coup.
He started showing his true colours there and then, and in the next years, he brooked no indiscipline from the three arms of government.
Given the length of Moi's rule, his last five years can be compared to Uhuru's last three.
In a way, Uhuru seems to be borrowing from Moi's script and only time will tell if he will repeat the mistakes.
Moi emerged from the 1997 electoral victory stretching his hand for a handshake with then National Development Party (NDP) losing candidate, the now inimitable and indefatigable Raila Amolo Odinga.
Kibaki ran the final show off Kenyatta's script – complete hands off, so detached that he took zero interest in the jostling around him relating to his own succession. The technocrats around him settled on Musalia Mudavadi as the safest pair of hands but were toppled by the alliance of Kenyatta and Ruto.
Uhuru appears to have learnt from his predecessors and is mixing various aspects of the lessons to be picked from each one of them. He is however resolute on one thing: that he will not allow himself to be dismissed as a lame duck leader.