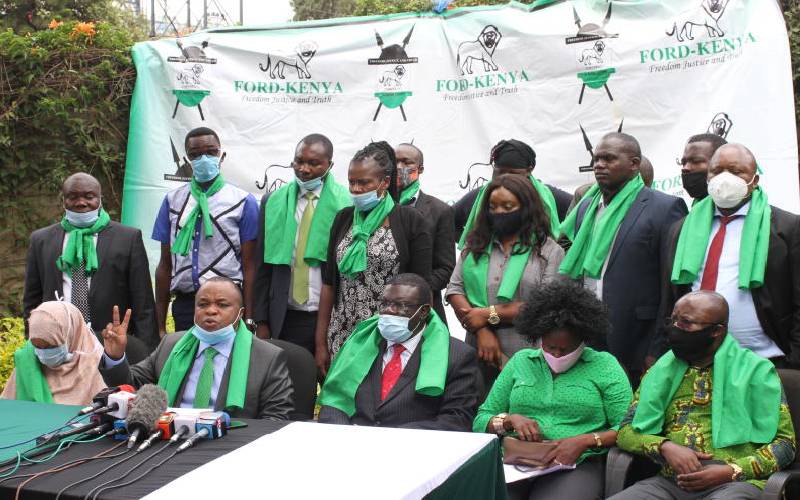 Two new community spokesmen, a grieving former spokesman, a dethroned party leader, a de-whipped chief whip and a boisterous schemer. This surmises the situation unfolding in Western, following a chain of events in the last few days, which has upset the region's political order and invoked a new wave of political soul searching. It is a multi-pronged fight; different leaders fighting for different causes, but all carrying with them the destiny of the vote-rich Luhya basket. Amani National Congress (ANC) leader Musalia Mudavadi is staking his all to reclaim his fast slipping community spokesman role.
SEE ALSO: Why plastics are not entirely bad
Kakamega Governor Wycliffe Oparanya and Cabinet Secretary Eugene Wamalwa are sticking their necks to give their fresh coronations as spokesmen, a meaning. Bungoma Senator Moses Wetang'ula is firing on all cylinders to save his dear Ford-Kenya from take-over by Eseli Simiyu team. And while Cotu Secretary General Francis Atwoli is regaling in his new "kingmaker" status, having triggered recent events, Mumias East MP Benjamin Washiali is staring at a bleak political future, following his demotion by Jubilee. The region is wailing in every direction as President Uhuru Kenyatta, Deputy President William Ruto and ODM leader Raila Odinga's shadows loom large. "Luhyas are not like other communities like Luo, Kalenjin or Kikuyu that follow their kingpins blindly. For them, they determine what they want and the leaders have to follow them and articulate their wishes," Prof Egara Kabaji told The Standard yesterday on the new wave of fight for the soul of Western. Disappointed by Monday's coup in Wetang'ula's Ford-Kenya, a group of 22 MPs from the region, together with Mudavadi, told Raila to forget the region from his political considerations. They said he has consistently taken their support for granted.
SEE ALSO: Why Sakaja and Murkomen could be kicked out of Jubilee Party
The coup was preceded by a luncheon hosted by Atwoli last week, where about 40 regional leaders endorsed Oparanya and Atwoli as co-spokesmen of the community to replace Mudavadi. "We state categorically that Oparanya, Atwoli and Eugene can't speak for the Luhya community. Our issues can't be canvassed outside our native land. Nobody is to organise us or presume to speak for us," the leaders allied to Mudavadi and Wetang'ula said. They later said they the two were the community's spokespeople.
No support at home
However, Oparanya and Atwoli responded immediately, dismissing the Mudavadi/Wetang'ula axis, saying some of them do not have support at home. Oparanya, who is also the chairman of the Council of Governors (CoG), maintained that he has always worked together with Luhya leaders and was amazed at the accusations levelled against him. "We have been supporting other candidates for presidency for years. Now is not the time for noise. Our opportunity is with the Building Bridges Initiative (BBI) where review of the law will allow the winner of a presidential contest not to take it all," Oparanya said.
SEE ALSO: Doctors demand extensive health cover amid Covid-19 fears
He faulted Mudavadi and Wetang'ula for putting roadblocks on the path for Luhya unity and always behaving as if they own the community. "I am a governor who runs the county from Kakamega. I am always on the ground. No one can accuse me of not knowing what is happening with our people. Show me the supporters of the two leaders. Western has four counties. Orange Democratic Movement (ODM) has three governors. Ford Kenya has one. Can Mudavadi and Wetang'ula claim to have support in Western?" Oparanya posed. He said the two leaders were at first reluctant to attend the BBI meeting hosted in Kakamega. "When they realised that is what people wanted, they dashed there at the last minute. Mudavadi is always addressing media alone at his centre in Nairobi. He can't claim to be speaking for Luhyas," Oparanya said. Atwoli was more scathing, dismissing the duo and their allies as sell-outs working for Ruto.
Popular leader
"I used my own resources to carry out research done by the University of Nairobi to find out a popular leader among the Luhyas. I used the same resources to make Mudavadi our Luhya spokesperson prior to the 2017 General Election. He can't turn round and accuse me," he said. At that time, Atwoli said, Wetang'ula was furious about naming Mudavadi the Luhya spokesperson. "He called me names but I want to assure them that I have nothing to do with what is happening in Ford-K and ANC. My party is Kanu and I shouldn't be dragged into local parties belonging to fence-sitters who have no idea of what is happening in Kenya," he said. Atwoli said the two do not have the majority support among Luhyas and his wing has the numbers. He is now accusing those who assembled at Wetang'ula's home as brigades of Ruto, out to use the Luhya community for selfish reasons. "Dr Chris Wamalwa and Ben Washiali are Ruto men. That is why they were removed from parliamentary positions. They can't purport to speak for Luhyas. We will resist them," he said. He said he is currently working on issues affecting workers and has no time for failures. According to Mudavadi, Western leaders need to own their space and not be intimidated into taking positions. He likened the quick succession of events in the region to people being forced to make choices at gun point: "We are being cocooned into a corner of loyalty for pledges. Today it is Wetang'ula, tomorrow it will be me and when you continue laughing at this unfortunate scenario, tomorrow it will be you and we will watch you suffer," Mudavadi said. On the Jubilee side of things, the battle between Ruto and Kenyatta has split the Jubilee pointmen in the region down in the middle. Senate speaker Kenneth Lusaka and Washiali can hardly see eye to eye. Navakholo MP Emmanuel Wangwe was made the National Assembly Chief Whip, replacing Washiali at yesterday's Jubilee coalition PG. Others like former CS Rashid Echesa and former Kakamega Senator Bonny Khalwale are lying low for now.