Uhuru, Raila rally troops, topple Ruto ally from top Senate position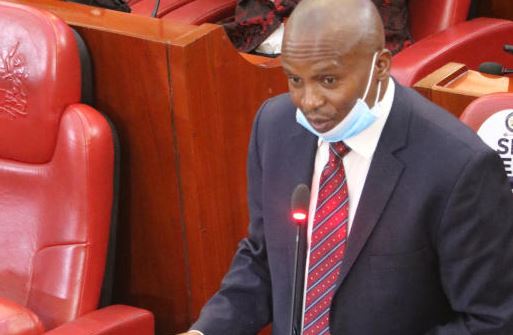 President Uhuru Kenyatta and Opposition Raila Odinga yesterday rallied 54 senators to fire Deputy President William Ruto's ally and Senate Deputy Speaker Kithure Kindiki (above).
Only seven voted to save the law scholar.
The irony of the vote of no confidence was that majority of the senators affirmed Prof Kindiki's competence, but backed his ouster because Jubilee Party (JP) had faulted him for being disloyal.
Quoting famous statesmen, philosophers, renowned poets and authors as well as the Bible, most of the speakers were clear that the removal was a political process rather than a question of competence or the conduct of the holder of the office.
Quoting TS Eliot, a renowned English poet, Siaya Senator James Orengo said Prof Kindiki, the Tharaka Nithi Senator, was guilty of "doing the right thing for the wrong reason."
To most of those who voted to oust the Deputy Speaker, it was not a matter of principle, it was all politics.
"This is all about politics of power, not principles," said Mr Orengo.
When it came to taking the vote, there was no doubt which way it would go.
"Alea iacta est (The die has been cast)... I vote Yes," said Baringo Senator Gideon Moi.
"I have come to accept that politics is very dirty... your goose is cooked. The best you can do is to leave and fight another day," said Narok Senator Ledama ole Kina.
Ole Kina should know better because he was de-whipped just two weeks ago when he offered himself to be chairman of the powerful Public Accounts Committee, apparently against the wishes of the party hierarchy.
Opposition senators jubilated at Kindiki's removal more than the JP Senators, who have in the past criticised the government for not respecting the rule of law and human rights.
Those on Kindiki's side, mostly from the Ruto camp, questioned why Senators allied to Raila were triumphant and readily available to do a hatchet job for Uhuru.
"We do not need to defend ourselves before you in this matter... if we are thrown into the blazing furnace, the God we serve is able to deliver us from it, and He will deliver us," said former Leader of Majority Kipchumba Murkomen, citing Daniel 3:16-18 on the tribulations of Shadrach, Meshach and Abednego before King Nebuchadnezzar.
Incidentally, ODM, Wiper and ANC who preached party loyalty on the floor of the House, have been victims in both the Eleventh and Twelfth Parliament, with members shifting allegiance to Jubilee, stood with Uhuru.
Against Opposition
In fact, in 2015, Temporary Speaker Senator Wilfred Machage went against the Opposition and supported Uhuru's State of the Nation address and addendum that contained 174 names in the infamous list of shame.
Then, the CORD coalition accused him of betrayal.
"Whoever they may be, two or four, the Senate is propagating the axis of evil. It calls into question the independence of the House. This is dictatorship," Nakuru Senator Susan Kihika said.
Speaker after speaker, members of Kieleweke and Raila camps, insisted on loyalty, saying all office holders served at the pleasure of their appointing parties and not the assigned functions as per the law that required neutrality.
Uhuru and Raila are reported to have issued firm instructions to the senators to sack Kindiki.
As if haunted by their conscience, they hid their reasons for throwing Kindiki under the bus in Biblical verses and famous quotes, with flowery attributes but pegged their decisions on an alleged party decision.
The sponsor of the Motion, Majority Whip Irungu Kang'ata (Murang'a) and seconder Mutula Kilonzo Jnr (Makueni), who appeared to be mocking Jubilee in its quest to teach perceived rebels a lesson, said Kindiki ought to be jettisoned because he had lost favour with the party.
"We don't have to give reasons. JP gave instructions to remove the Deputy Speaker after he failed to turn up for the Senate State House Parliamentary Group meeting and didn't render an apology," said Mr Kang'ata.
"PG's are very critical. They are used to topple or constitute governments. As a result, the party lost confidence in him.
"Politics is the ability to foretell what is going to happen tomorrow, next week, next month and next year, and to have the ability afterwards to explain why it didn't happen," said Mr Kilonzo Jnr, quoting Winston Churchill. It encapsulated the struggle the MPs had while sacking someone they had very high regard for.
Mr Murkomen (Elgeyo Marakwet Senator) and his Kericho counterpart Aaron Cheruiyot asked Kang'ata to provide the specific charges the Tharaka Nithi Senator faced, terming the House sitting a "kangaroo court."
"The Deputy Speaker is not being impeached, he is being removed from office and no lawyer is allowed here," insisted Orengo.
A bitter exchange ensued between Orengo and Murkomen, degenerating into a battle on academic prowess and seniority in the legal profession. Lusaka had to call them to order. Orengo are Murkomen are advocates.
The House was split into two halves as Uhuru and Raila-allied senators followed cue, rallying support for Kindiki's removal, while Ruto's camp cried foul, warning that the actions of the House would be documents in the annals of history.
Murkomen described the sitting as a dramatic collapse of the integrity of the House, as it was allegedly used to commit injustice.
"The credibility of this House as the watchdog has dramatically collapsed. I am not here to mourn the fate of my friend Prof Kindiki because nothing can harm a good man in life or in death. I grieve and mourn the deterioration of our democracy," said Murkomen.
"The House has been asked to effect injustice. The argument has been made that Kindiki is disloyal. There is no evidence that has been presented in this House," he added.
"We are here to discuss party loyalty, not your competence. You and I go through the same challenge, but I stand here to say that I am loyal to ODM and the party leader," said Kina.
Kakamega Senator Cleophas Malala described the Motion as a political process initiated by the party that handed the senator the job.
"What the good professor did not read was that this is a political process initiated by his own Jubilee Party. We love you as senators, but Jubilee loved you more," he quipped.
Kisii Senator Sam Ongeri reminded Kindiki that one could only serve at the pleasure of the appointing authority while observing that the same way his name was brought by the party was the same way he would be kicked out.
Decision binding
"The decision of the Speaker is binding and owned by the House," said Kitui Senator Enoch Wambua in reference to the establishment of Nairobi Metropolitan Service, where Kindiki made a ruling based on an adjournment Motion.
"Going forward, we should legislate on how to protect offices from Parliament from external forces," said Mithika Linturi, the Meru Senator.
Meanwhile, a senior State House official was on hand to tick the list of Senators filing into Parliament Buildings after a sumptuous 'state' lunch and a night at a top city hotel.
"The senators were booked at the hotel to avoid being compromised and as a precautionary measure to avoid excuses that some were out of town and could not make it for Special Sitting," claimed a senior Jubilee official.