Kindiki: This is my last word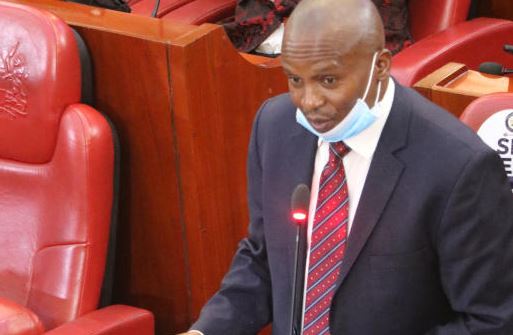 I stand accused of misdeeds whose particulars have never been brought to my attention, despite me consistently asking for them. There can be only two reasons for this travesty, that these trumped-up charges are woefully baseless and that my case is a fait accompli - I must be removed by all means whatsoever, even by unconstitutional ones.
I wish this Special Sitting was meant to discuss the plight of Kenyans living in abject poverty.
We are here for such an elitist triviality powered by petty, divisive and vindictive politics as the country hurts from collapsed economy, ravaging pandemic, floods and invasion by desert locusts that pose a real threat to our food security and national security. At such times, our Motherland needs solidarity of all, not hate and pettiness.
The die is cast against me. What bothers me is that the Constitution is once more being indecently assaulted. Some rogue citizens have made it their orgy of pleasure to humiliate freedom and truth with reckless abandon with little patience for procedural dictates of our Constitution.
The right to be heard and to be fairly tried in a judicial, quasi-judicial or administrative process would help clothe even a horribly evil process such as this with some form of legitimacy. Give a man a chance to defend himself, even if his defence is regarded inconsequential and an outcome has been predetermined.
My faith in God has helped me navigate even the deadliest of the storms of life with minimal injury or none. My more than one decade in academia helped me build moral resilience adequate to withstand the temptation of living an unprincipled life and resist the urge to pursue vanity.
President Uhuru Kenyatta, whom I am being accused to have disrespected, should know that I have always and will forever respect him. I have faith in him as leader of our party and will support him loyally to the end of his administration.
When I was Senate Majority Leader, I did my best to push Government Business in this House and to defend the president and his administration.
In recent times, I have been somewhat restrained as I observed the worrying political developments that threaten to polarise our country. Nevertheless, I remain optimistic of better days ahead for our nation. I freely forgive those who have crucified me. Those who scheme and connive to carry out wickedness should know that a lie cannot last long. As Mahatma Gandhi stated: "I shall not let anyone walk through my mind with their dirty feet" and "nobody can hurt me without my permission".
Those who think that I have made a mistake must understand that freedom includes the freedom to make mistakes.