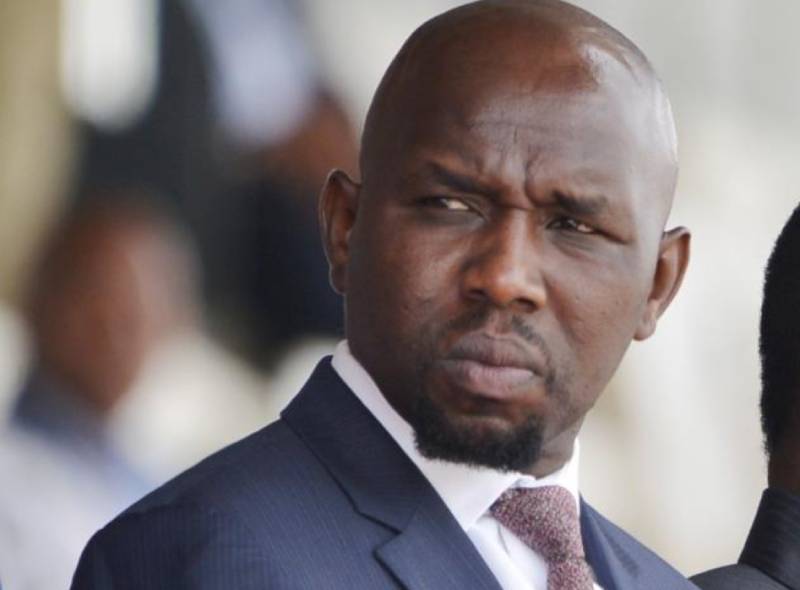 If ousted Senate Majority Leader Onesimus Kipchumba Murkomen (pictured) shares his love for the Bible with Shakespeare, he would no doubt have seen how Hamlet best captured his plight.
For seven years – and there is something Biblical about number seven – Murkomen did the best bidding for Jubilee, tearing apart political adversaries and bending over backwards to please the dynamic duo of Uhuru and Ruto.
Done well
From a destitute son of a squatter to a lawyer, a television pundit, a senator and a Senate Majority Leader, he had done quite well for himself or a lot of good had been done to him by providence. Over the years, and like Hamlet's Rosencrantz, he soaked up the king's – Uhuru – countenance, rewards and authorities.
"But such officers do the king best service in the end. He keeps them, like an ape, in the corner of his jaw, first mouthed to be last swallowed. When he needs what you have gleaned, it is but squeezing you and, sponge, you shall be dry again," Hamlet says.
Just like Rosencrantz, Murkomen cannot now understand how he is so dry this week. He has been a sponge all along, right from his heydays as 'Sky Team' member when he was flying high.
At the height of Sky Team bonanza, Murkomen, alongside current Deputy Speaker Kithure Kindiki, was flying high, literally, landing in Kenya's farthest corners every weekend to preach DP's gospel and to take on Jubilee's detractors. Then, nobody was too big for them. Armed with acerbic tongues and deep pockets, everyone was fair game. Until their masters jammed the joystick and the flight their gradual descent started. From the skies to the ground, the sponges were now dry again.
They struggled to regain their footing, especially after Murkomen was enveloped by the NYS scandal. He picked up the pieces soon enough but found himself fighting within his circles. In the run-up to the 2017 election, Murkomen had ran afoul of some of the DP's close allies who accused him of playing poker with their careers.
After the elections, Kithure found his footing and negotiated his way to Deputy Speaker's perch, from where he withdrew his fangs and watched the remnant of the Jubilee show unfold. He watched, as Murkomen persisted in his drive, throwing one punch after the other.
When Wiper Democratic Movement leader Kalonzo Musyoka attempted to change the Wiper party name to One Kenya Movement (OKM), he protested that he had already reserved OKM for Onesimus Kipchumba Murkomen. Kalonzo backed off.
When his main punching bag Raila Odinga pulled a fast one with the 'handshake' Murkomen found himself with no more enemies. Caught off-guard, alongside his boss, he was squeezed dry again. He now turned his fangs on his main sponsor, President Uhuru Kenyatta.
When the "nobody can stop reggae" craze picked up, Murkomen initially wobbled, appearing in several BBI editions before fading away. But it was his sterling performance at BBI event at Bomas that brought out his true mettle, not just as an orator but a brave soul.
Exit BBI and enter Covid-19, and Murkomen began to run his mouth, picking petty fights, exposing himself and dishing out choice Bible verses whenever cornered. On April 9, when Mutahi Ngunyi taunted the DP for allegedly "appointing himself co-president", Murkomen countered him, accusing President Kenyatta directly.
"You are tweeting for a person I KNOW. That PERSON is doing politics with COVID-19, a shameless evil scheme! His mission for two years has been to annihilate the DP politically. This is time for unity, not division. All governments in the world are utilising not sidelining their leaders."
When his own party leader negotiated a national government take-over of some of Nairobi County functions, Murkomen led the war in opposing it. "Let it be known that I, Kipchumba Murkomen, the Majority Leader of the Senate of Kenya, is never and will never be supportive of a military-run county called Nairobi. This House must call this government to order," Murkomen asserted earlier this month.
Later, he declared Parliament dead.
Soon thereafter, Uhuru struck in the dead chambers and surprisingly, Murkomen was alive to protest. He appeared for a lonesome press conference, where, even the table on which the microphones were placed, had, literally, turned!