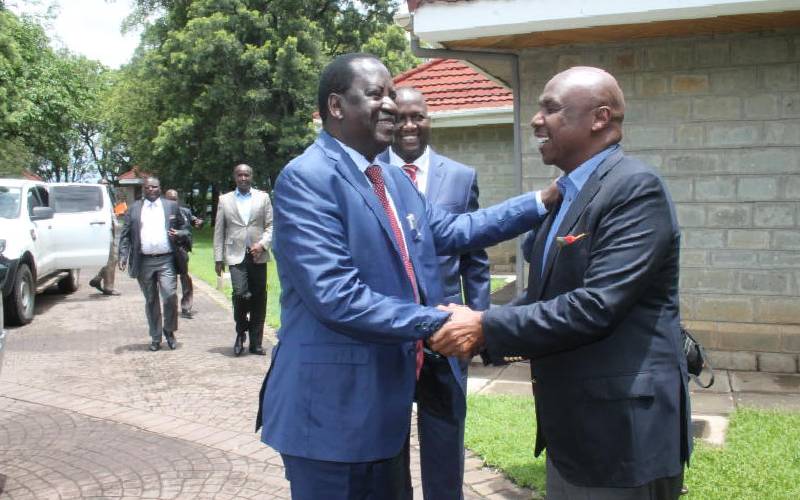 The Orange Democratic Movement (ODM) has said the post-election coalition pact between Kanu and Jubilee Party will not affect its 2022 election preparations.
Party chairman John Mbadi and Secretary General Edwin Sifuna assured supporters that the coalition that has torn Jubilee down the middle will not water down the Handshake between President Uhuru Kenyatta and ODM leader Raila Odinga.
In separate interviews with The Standard, the two leaders revealed that the opposition party was also weighing options of entering into coalitions with other "like-minded" political parties, including Jubilee.
"The relationship between the President Kenyatta and Raila is still intact. The two still have unaccomplished political agenda to pursue ahead of 2022 General Election," said Sifuna.
Alliance building
Read More
Mbadi and Sifuna said they had not yet entered into a formal agreement or signed a coalition pact with Jubilee Party as Kanu has done, but their alliance was still building.
Sifuna said, "coalition governments are usually formed when no single political party has a clear majority and competing parties instead negotiate to work together."
He said ODM was keen on pushing for electoral reforms to guard against election malpractices.
Mbadi said coalitions form before or after elections for the common goal of either party to win election or form a government or to constitute a working majority in Parliament.
"ODM has a right as a political party to propagate its political ideology," he said.
Sifuna said ODM was also pursuing a coalition with President's party, Kanu and other like-minded political peers.
The two leaders spoke only a day after President Kenyatta chaired a meeting at State House Nairobi that saw key allies of Deputy President William Ruto removed from Senate leadership positions.
Mbadi said the minority side in Parliament had nothing to do with the changes in Jubilee.
"Let the Jubilee cohorts who have been busy building walls instead of bridges sort out their own political tribulations," he said.
Negotiations
"But of course ODM will go into negotiations for coalitions with Raila Odinga as our presidential candidate. We have never picked a new one."
Sifuna said it was the prerogative of the party leader to guide them in new arrangement.
Mbadi said they will only support government policies where they benefit the public and criticise where they are inconsistent with the will of the people.
He asked Kenyans to brace for a formal Raila-Uhuru pact.