Man recalls Moi and Thatcher visit to a dusty Mumias town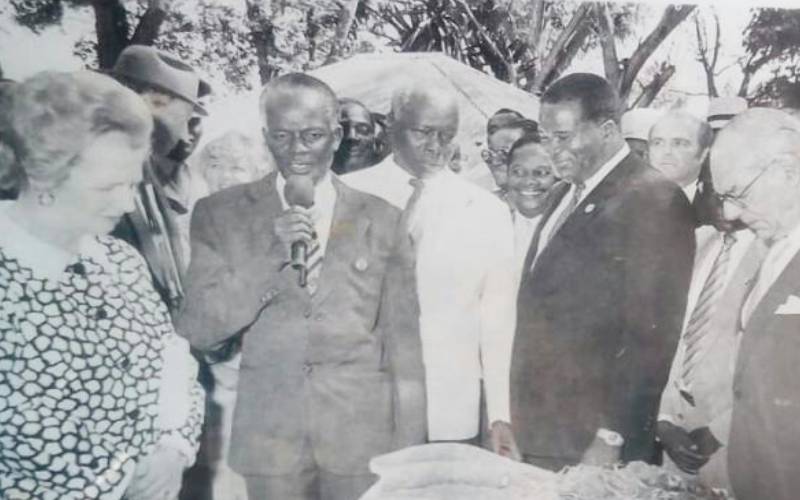 Patrick Rapando Wambani recalls that sunny morning on January 6, 1988 when Shinda Town in Mumias, Kakamega County, hosted two high profile guests.
His father, Nabongo Japheth William Rapando Wambani, had just been named the best sugarcane farmer by Mumias Sugar Company. At the time, the British government was following up on the lives of former colonial chiefs who had aided their rule in Kenya.
Nabongo Wambani was one of them, earning him a coveted visit from UK Prime Minister Margaret Thatcher during her state visit to Kenya.
News of the planned visit by the British premier and the Kenyan government had spread across the kingdom, and people had lined along the road hoping to catch a glimpse of the British Iron Lady.
The former PM was in the company of her husband Dennis Thatcher and President Daniel Moi, who was her tour guide on the day, leading the way with his signature rungu which he held in his left hand. The two were met by multitudes who had braved the heat all day.
"When she arrived in the town she greeted people with her white gloves on, but when she entered our homestead she removed them and greeted us with her bare hands," he recalls.
Days before the visit, President Moi had phoned Nabongo Wambani to inquire if he was aware of the visit, and he had confirmed he was.
According to Wambani, this was testament of the former president's down to earth demeanour.
On the day of the visit, Thatcher, her husband and Moi signed the visitors' book. Thatcher and Moi signed the book while seated, but Mr Thatcher did so standing, something that did not escape President Moi's curious eye. Mzee then asked Dennis why he had signed the book standing.
"Dennis (Thatcher) said that protocol did not allow him to sign the book seated and Mzee was surprised," he recalls.
Thatcher was equally curious and had taken note that the team that entertained them resembled one another. Upon inquiring, Mzee Moi informed her that they, all 21 of them, were Nabongo's children before bursting into laughter at Mrs Thatcher's surprised look.
"He told her that this was common in Africa because of polygamy and that family planning had not taken root," Wambani adds.
The two later visited the farm where Thatcher harvested some cane before addressing a small crowd that had been allowed into the homestead. She commended them on their farming methods. Wambani remembers the former president as a generous man.
The presidential visit came with good tidings for the royal family, and the entire kingdom famous for its vast sugarcane plantations - as Moi would launch a borehole he had sunk using his own funds.
This was aimed at increasing productivity as farmers here largely depended on rain-fed agriculture. Later, the former president addressed the public, encouraging them to diversify their crops in order to attain food security.
Wambani hails from the Wanga community in Western region famous for the Wanga Kingdom that has, since the death of Nabongo Wambani in 2009, split into two rival factions, one led by his brother Nabongo Morris Wambani.
He was in line to take over from his father, but customs could not allow that after he had twins. His daughter, Beryl Ambani (one of the twins), was about nine years during the visit.