Mzee chose hymn to theme his send-off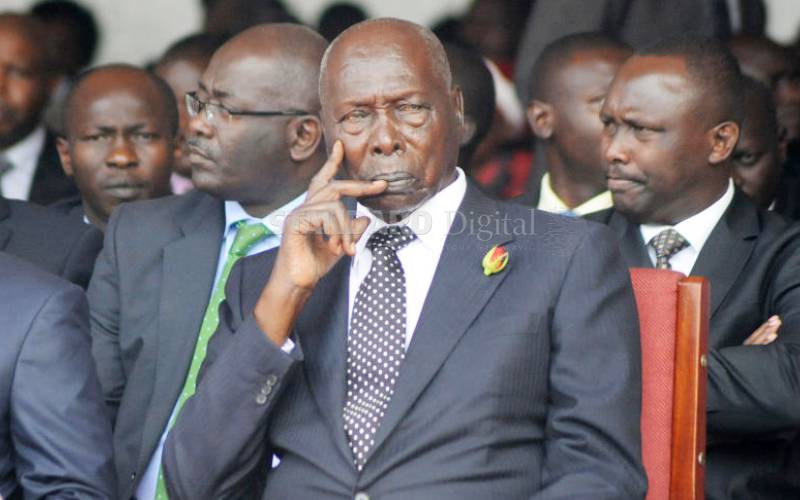 Former President Daniel arap Moi chose the song he would love to be sang at his funeral, The Standard can reveal.
While launching his music book in 2010, Moi choose 'Forever with the Lord', a powerful song in the Golden Bells, to be played when he would finally be laid to rest.
"Former President Moi loved music and in 2010 when he was launching a music book, he told me 'Forever with the Lord' is a good song. 'You will sing this song the time I will rest'," Fred Ngala, the then chair of Presidential Music Commission and the current Director of Music at Kabarak University, said.
Love for music
Moi's love for music, particularly hymns, according to Prof Ngala, remained immeasurable.
He cherished sweet melodies and had a soft spot for hymns. Four hymns always topped his favourite list. They include 'Amazing Love', 'Take time to be Holy'.
"He loved hymns. At one time, he told me he believed hymns were well constructed and had deep theology and full of doctrinal content. There was no way one could separate the former president and music, and he used a lot of resources to promote the music industry," said Ngala.
And just as a rising sun sets, Moi seemed to have picked the powerful hymn that talks of end of life and eternity.
"Here in the body pent, Absent from Him, I roam, Yet nightly pitch my moving tent. A day's march nearer home," the lyrics read in part.
"So when my dying breath shall rend the veil in twain, By death I shall escape from death... And life eternal gain," it says.