US envoy calls for people-led BBI, asks leaders not to hijack debate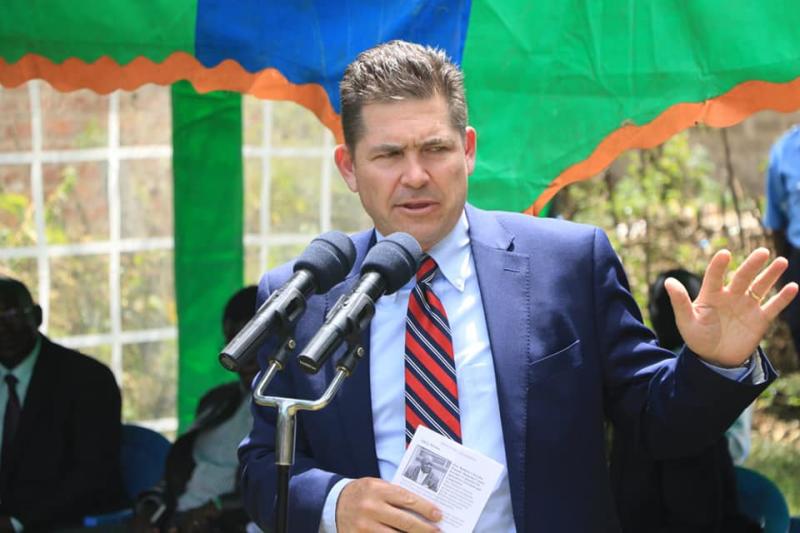 US Ambassador to Kenya Kyle McCarter (pictured) has told politicians to stop hijacking the Building Bridges Initiative (BBI) debate and allow the committee of experts and Kenyans to own it.
Mr McCarter urged Kenyans to take the BBI initiative seriously saying that it is all about them and warned the political class against isolating wananchi.
"The United States expects an honest conversation among all Kenyans and a process that's not hijacked by a section of politicians," he said in Bungoma yesterday.
The envoy announced that the US expects an honest conversation about BBI that will be good for all Kenyans and not a document that will benefit a section of the political class. "Sometimes the conversation may be difficult and the politicians might not agree but that is democracy," he said.
"Kenyans can differ over various opinions in regards to the BBI but they must do it in a peaceful way because they know what is good for the Kenyan future."
McCarter urged Kenyans to maintain peace while having a national conversation to avoid rifts and tension. "Kenyans should stop politicians trying to divide and bring tension, tell them stop."
Fight terror
At the same time the envoy said the US was committed to ensuring the success of devolution. "We believe that devolution is here to stay and any government that supports devolution brings development close to its people and ensures transparency," he said.
McCarter assured that the US was committed to help Kenya fight terror especially Al Shaabab saying the recent Lamu attack had made the two forces more vigilant. "We are committed to ensure that US is the best friend Kenyan can ever have and we will always help fight its enemies," he said.
The ambassador further promised US's continued investment in health, education and agribusiness to change livelihoods.
McCarter lauded Bungoma Governor Wangamati's initiative to assist bright but poor students. He said the US will partner with the county government to ensure that the students complete their studies.
Bungoma County has sponsored more than 600 students to secondary schools in the past two years.
Governor Wangamati said all governors were committed to ensuring that the BBI sails through to help strengthen devolution and eradicate poverty.
Download the BBI Judgement by all seven Judges - Civil Appeal No. E291 of 2021