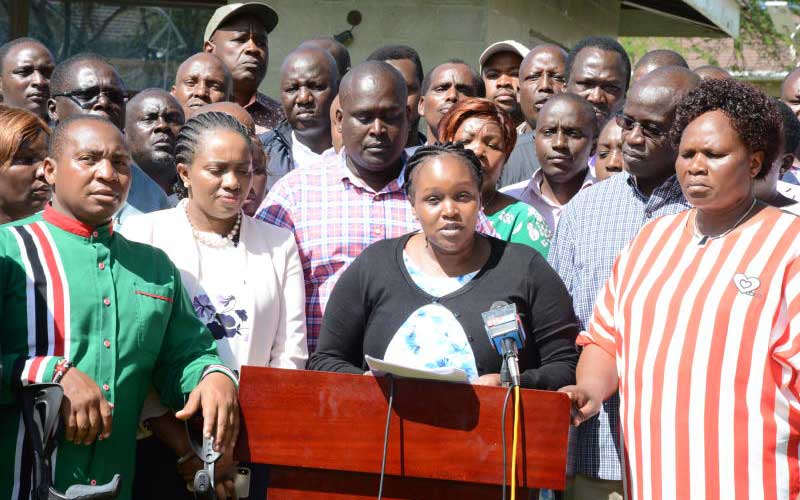 A major political clash is in the works as leaders allied to Deputy President William Ruto plan a conference early next year on the Building Bridges Initiative (BBI) report. President Uhuru Kenyatta and Opposition leader Raila Odinga have also panned a similar meeting for the same month. During the public unveiling of the BBI report at the Bomas of Kenya two weeks ago, Uhuru and Raila asked Kenyans to read the document ahead of a national conference in January. On Wednesday, the president said he would not take lightly those opposed to the BBI report, adding that he will be in Mt Kenya region to engage them.
SEE ALSO: Murathe pitch for Raila presidency stirs storm
In a tirade at Mang'u Catholic Mission where he launched a church-sponsored hospital, an angry Uhuru warned politicians whom he said had been shifting positions on their support for the report, saying "enough is enough". He said a group "that has been opposing the report has now changed tune" but were still misleading Kenyans on the document through endless politicking. "They think I am a fool because before we made the document public, for one month they traversed the country creating unnecessary tension and anxiety. Now after we released the report, again they are misdirecting Kenyans. They are confused people who have no direction," said Uhuru. But
Sunday Standard
has learnt that Ruto allies are planning to have a gathering of elected leaders from a majority of the counties across Kenya, to come up with a position on the BBI. On Friday, 97 MPs from Rift Valley met in Naivasha in an emerging wider strategy to build consensus in the build-up to the national conference.
SEE ALSO: Uhuru in surprise city tour
Soy MP Caleb Kositany said there will be more consensus meetings across all regions before the national event. Pokot South MP David Pkosing, in a sudden about-turn, said they had agreed with the BBI report in the spirit of unifying the country and were now ready to move on. "We are not going to be stuck on one issue, we now are looking at the implementation stage, Parliament or referendum, we welcome both," he said. Yesterday, Eldas MP Adan Keynan, who is the North Eastern Parliamentary Group secretary, said they supported the BBI report, echoing the position of their Tanga Tanga colleagues. "We had our pleliminary meeting and endorsed the document. We will soon go on a retreat to critically look at it and galvanise support," said Keynan.
SEE ALSO: Irony as Mt Kenya differs on new cash sharing formula
He, however, refused to divulge details of the event but said the process that started in Embu would ensure all regions are brought on board. "We want to have every region read the document and have their position on it, we will then agree on the way forward in the national event. We want to give all Kenyans an opportunity to be heard," said Kositany. Last week, a group of 45 MPs from Mt Kenya region met met in Embu, and whereas they agreed to support the report, they opposed its implementation through the referendum route. In the Naivasha meeting, Ruto allies vowed to support the document in whichever form. "We will support the report as it is and have agreed to have it implemented through the means that will be agreed," said Kajiado South MP Katoo ole Metito. Politicians allied to President Kenyatta and Raila have favoured the referendum route, saying the report must be taken to the people. Last week, a section of Rift Valley leaders asked the President and Raila to constitute a team of experts to fine-tune the report. They said the team will prepare a platform for ordinary Kenyans to engage on the report to avoid politicians hijacking and driving the debate. The team, led by former Bomet Governor Isaac Ruto, said Uhuru and Raila should task the committee to develop Bills necessary for actualisation of the BBI proposals after taking into account fresh views from Kenyans. "That the Bill or Bills be subjected to public scrutiny and ratification through the 47 county assemblies," said Ruto. Kiambu Woman Rep Gathoni wa Muchomba preferred a people-driven process and referedum, saying the report cannot be trusted to "crooked" legislators. "All MPs, including those seated here, are crooks who cannot be solely trusted to midwife the nation's destiny," she said in Kirinyaga. In Nairobi, MPs from Western led by Jubilee National Assembly Chief Whip Ben Washiali met yesterday and also agreed to "fully" support the report and asked for Parliament to be given an opportunity to look into most of the proposals. Washiali said they had built consensus among Ford Kenya, Jubilee and ANC leaders and will support amendments to the law in both houses of Parliament when they come up.