Mudavadi: How Moi's bag of tricks kept us guessing
POLITICS
By Nzau Musau | Dec 7th 2019 | 4 min read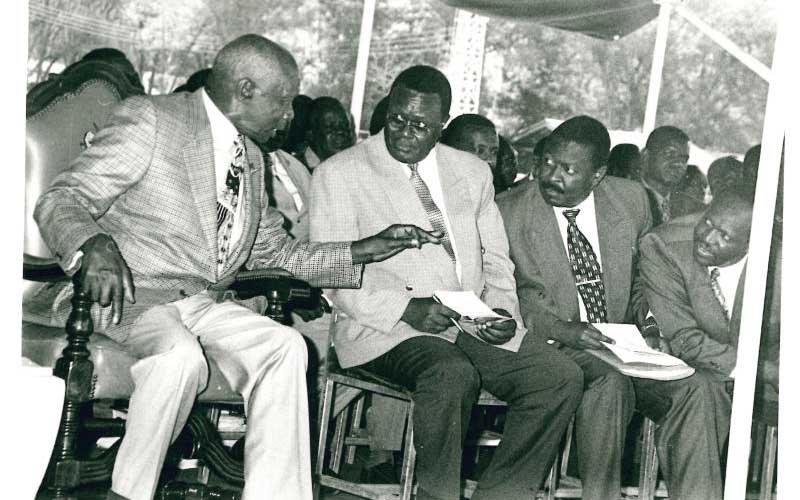 In ANC leader Musalia Mudavadi's memoir, Soaring Above the Storms of Passion, the political wizardry of former President Daniel arap Moi juts out in the open.
A political masterstroke, Mudavadi says Moi kept things spinning until the most opportune time to strike. He was also a political realist who knew when to give in and when to hold out.
The repeal of section 2A of the Constitution in 1991 was one such moment. When then "oppositionists" reached a crescendo in their demand for pluralism, Moi stole the thunder off them by forming a special parliamentary sub-committee led by his Vice President George Saitoti to study the demands.
Despite traversing the country collecting views, Mudavadi says, Saitoti's committee report came out as "something of a whimper." He describes the report in not so colourful words.
"When Prof Saitoti gave his report, amid obvious filibustering, it was only to say Kenyans were by and large very happy with Kanu. Apart from a few issues here and there, the professor of mathematics said, Kenyans were of the view that Kanu was leading the country in the right direction," he writes.
Protests
And so, there would be no need to change the Constitution. After listening to Saitoti pensively and delegates tear the opposition apart at the Kanu National Delegates Conference in November 1991, Moi pulled a fast one on them all:
"I can see that you do not understand how the world works. Kenya is not an island. We are part of the world and the world is changing," he began to wild protests of no, no, no after which he said: "If they want many parties let us give them."
The pomp and razzmatazz that engulfed the emergent opposition parties and their initial rallies sent the Cabinet in shivers. Mudavadi says Moi rebuked them as cowards and comforted them at the same time.
"Why do you allow a single rally in Nairobi to worry you? We have the whole country behind us. You will see what happens," Moi told them in the wake of the Ford rally in Kamukunji.
He says despite the show of might opposition was displaying, Moi was totally unfazed. He told them that opposition would split by election and was exuberant that Mwai Kibaki had left his Cabinet. He thought it would help him.
"Don't joke with me when it comes to politics. You will see what happens," he said after Kibaki's exit.
Later one they would watch in bemusement as Ford luminaries began to quarrel about the location of their party offices and as two factions emerged to present papers to the Attorney General Amos Wako, the latter who gleefully registered the two.
He proceeded to beat them in the election and again in 1997 and it was on his final term that his true colours as a master tactician showed. He refused to appoint a VP after the election and kept the whole country guessing.
When he eventually gave in, it was in resentful manner telling Kenyans that the appointment would not vary Kenyans lives in any meaningful way. It was clear as noonday sun that Moi had very little regard for Saitoti yet he had reappointed him.
In the period after this, Moi would go on to keep everybody in suspense as a number of his supporters flirted with the idea of extending his term. It would later emerge that he had zero interest in an extension yet he never stopped them.
Despite being on his last term, he also began negotiating merger with Raila Odinga's NDP outside his political circles, surprising his trusted lieutenants like Saitoti and Joseph Kamotho.
The entry of Uhuru Kenyatta too and his eventual unveiling was a closely guarded secret with only a few people being in the picture.
"It was instructive that people like Henry Kosgey and Joshua Kulei, President Moi's close associates, were as early as 1998 whispering of possible Uhuru presidency," Mudavadi notes.
Through his political wits, Moi was however able to create an air of expectancy around every ambitious soul in Kanu so that everyone thought they would be the ones. On the other side he was rallying them to unity scaring them that they would be swallowed by the opposition if they did not.
"His promissory note was just that, promissory note. Whether you could bank it was another question altogether," he writes of the various impressions Moi gave to everyone in the succession race.
He however, kept his cards close to his chest. So much so that when he picked on Kenyatta in a rally in Kapsokwony, everyone was taken aback.
"I suspect however that Uhuru, William Ruto and may be the President's son Gideon knew what was happening and the bombshell that was about to drop. So too, could have been Jirongo," Mudavadi says.
No pulling back
He says this announcement threw him off balance because Moi had been like a father to him. At first he pulled out alongside the rest but came back to the fold a little while, and was appointed Vice President.
The task of defeating a united opposition was quite arduous, he admits. They nevertheless trudged on selling their candidate. There was no pulling back for Moi even when indications were apparent they were losing.
When the loss to Kibaki eventually happened, Moi would stoically drive alone to Uhuru Park to hand over instruments of power. Mudavadi says he watched the whole handover on TV at State House.
Later Moi came back to State House where two choppers waited on him to ferry him to Kabarak.